Posted on
Tue, Feb 23, 2010 : 6:02 a.m.
Ann Arbor police chief to City Council: 'We can't afford to lose a police officer'
By Ryan J. Stanton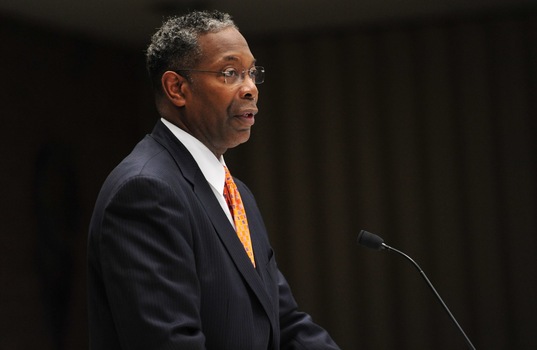 Ryan J. Stanton | AnnArbor.com
Police Chief Barnett Jones expressed concern Monday night that any further staffing cuts in the Ann Arbor Police Department could have serious consequences.
Specifically, he said, it could hinder proactive policing methods that have helped solve crimes in neighborhoods - like a rash of burglaries on the Old Northwest Side that officers investigated and put a stop to last year.
"If we lose those police officers, I may lose my proactive ability to do things like that," Jones said.
The city's ability to maintain adequate police services dominated the discussion Monday as the Ann Arbor City Council met for another budget working session.
The city is trying to close the gap on a $5.2 million deficit in the general fund for the fiscal year that starts in July. Because public safety makes up nearly half the general fund budget, police and fire services face the largest cuts, and the jobs of several police officers and firefighters are on the chopping block.
The police department already has $3.8 million in savings worked into its fiscal year 2010-11 budget due to cutbacks last year - mostly by eliminating vacant positions and offering early retirements. The city offered buyouts to officers and expected 18 to go, but 24 took the offer, along with two dispatchers.
The police department has been asked to trim an additional $1.98 million from its $26.5 million budget to meet a 7.5 percent reduction target administrators asked all departments to make.
In the police department, that means the potential elimination of another 17 positions by laying off nine sworn police officers and getting rid of seven positions in the community standards division and one management assistant.
"We can't afford to lose a police officer," Jones told council members Monday night. "Since 2000, we've gone from 216-plus police officers down to 124. Our reality is we have been doing the best we can ... but we're at a point where there are some quality of life issues. As a police chief, I cannot stand here and say I can afford to lose any more police officers."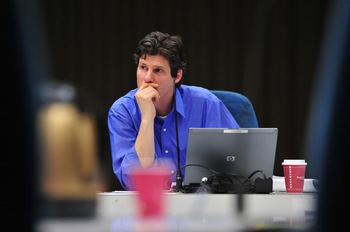 Ryan J. Stanton | AnnArbor.com
City Administrator Roger Fraser told council members not every department in the city will be affected equally by the budget cuts. When it comes time to make final decisions, he said, some departments may see cuts greater than 7.5 percent, and some may see a lesser percentage.
"What we're challenged to do here is to come up with a financial plan so we can live within our means," he said.
Mayor John Hieftje reminded those in attendance that many other cities in Michigan are facing budget challenges.
"I don't think there's any city left in Michigan that hasn't been going through some really, really tough decisions, and we're going to be doing it for the next several months," he said. "But things usually brighten up a little bit by the time we get to (approving) the budget. ... It always looks darker until we get to the point where we really have to make decisions."
Council Member Carsten Hohnke, D-5th Ward, brought up the fact that increasing revenue also is an option. The two leading ideas are a city income tax and a Headlee Amendment override.
Hohnke, who hasn't been in favor of either of those ideas, said the city needs to understand what size work force is right for each department, including police, and what the right levels of compensation are before revenue options are considered.
Jones told council members police officers actually generate revenue for the city. He said each traffic officer brings in $110,000 per year in revenue. He said community standards officers bring in about $7,700 each from code enforcement, not including money written for parking violations.
Jones' plan for cuts in the police department would reduce the number of community standards officers from 10 to 5, which he acknowledged isn't ideal and would reduce services. Community standards is a division of the Ann Arbor Police Department that enforces the city's various codes and ordinances.
Jones said he has spent the last three years and seven months as chief finding creative solutions to shift officers to keep an adequate number patrolling the city's streets. He said he's pulled some officers away from other areas like surveillance and drug enforcement, and he's running out of officers to reassign.
"We're getting to a point where if I lose any of those officers, I'm going to have to diminish some of those areas," he said, adding it will involve setting new priorities. "There are some things that I'm looking at that, if I lose those police officers, would change how we do business. If a person has an accident on the street, they may have to come back to the station to fill out the report."
Council Member Marcia Higgins, D-4th Ward, went on record Monday night saying she is not in favor of the level of cuts being proposed in the police department. She also said the city should engage residents to get feedback on the budget in the coming months, possibly with a town hall meeting.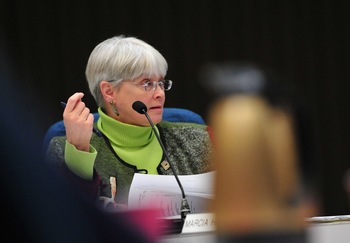 Ryan J. Stanton | AnnArbor.com
Council Member Sabra Briere, D-1st Ward, wasn't in attendance Monday but relayed a "white paper" she authored on the city's budget problems via e-mail to council members and Fraser. Briere states in her paper the city cannot keep making incremental changes - they must be systemic changes.
In other discussions Monday night, city officials talked of the possibility of outsourcing emergency management services by contracting with the sheriff's department.
Jones advised against it, saying it was best to keep that function in house so the city can control when emergencies are declared. He also said the city has received $2.2 million in emergency management grants in the last 10 years and could lose its competitive edge for that funding.
Council members also engaged Dan Rainey, director of the city's information technology department, in a discussion about possibly outsourcing IT functions. Rainey advised against it.
Rainey said the city and county have been collaborating on IT initiatives for the last two years to save money. Of the city's $5.6 million operating budget for IT, he said, $2.7 million goes toward personnel costs for 22 employees, and the rest goes toward software and other operating costs.
He said the city already is getting the lowest price possible for the software, hardware and other services it uses. And as for outsourcing staff, Rainey said his job and two project manager positions would have to stay. That leaves the city with 19 people who earn a blended rate of $50 an hour, which Rainey said is cheaper than can be found by outsourcing.
The City Council's next budget session is March 8.
Ryan J. Stanton covers government for AnnArbor.com. Reach him at ryanstanton@annarbor.com or 734-623-2529.