Ann Arbor police continue to follow leads in Bank of America robbery, but no arrests have been made
Posted on Fri, Oct 22, 2010 : 10:35 a.m.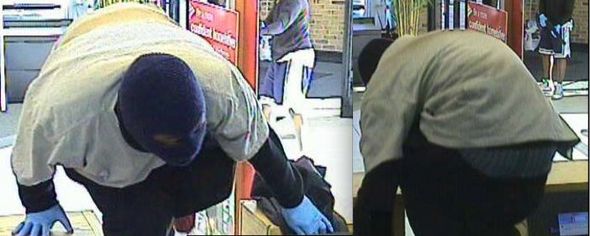 Updated story: Ann Arbor police recover all the cash stolen in Bank of America robbery; no arrests have yet been made
Ann Arbor police say they're continuing to follow leads in Thursday's brazen mid-morning bank robbery, but no arrests have been made.
Police Lt. Angella Abrams said this morning that police do not have any new updates to release on the case today.
Investigators are continuing to follow up leads and released photos of the robbers in the hopes that someone may recognize the clothing or other features.
The two men drove a stolen car to a Bank of America branch in the 3200 block of Eisenhower Parkway at 10:13 a.m. Police said one of the men was armed with a rifle, which was left behind.
One robber fired multiple shots in the direction of the tellers, but no one was injured, police said. After one jumped the counter and grabbed cash, they fled on foot, leaving the stolen Dodge Stratus behind.
They were in and out in about a minute, police said.
The robbers were last seen in the area between Packard and County Farm Park.
Police also said they're continuing to investigate whether the robbery could be linked to two other similar bank robberies last fall.
The first is the Nov. 5, 2009, robbery of the same bank. In that case, two masked men entered just after 9:30 a.m. and stole cash, police said.
Police said the Sept. 22, 2009, robbery of a Chase Bank branch near St. Joseph Mercy Hospital in Superior Township also is similar. In that case, two masked men wearing gloves forced employees to the floor and left a stolen car behind when they fled, police said.
In both Thursday's robbery and the Chase Bank robbery, a vehicle stolen from Pittsfield Township was used, police said. Both of last year's similar bank robberies remain unsolved, police said.
The robbers in Thursday's heist were described as black, in their 20s, short and stocky. One was wearing dark-colored sweatpants, a light-colored T-shirt, ski mask, latex gloves and orange tennis shoes. The other was wearing purple basketball shorts, a dark-colored shirt, ski mask, latex gloves and light-colored tennis shoes.
Anyone who has information on last week's bank robbery is asked to call Det. Michael Lencioni at 734-794-6930, ext. 49317, the tip line at 734-794-6939 or e-mail tips@a2gov.org.