Posted on
Sun, Dec 18, 2011 : 5:55 a.m.
Ann Arbor Police Department losing 205 collective years of experience with retirements this month
By Lee Higgins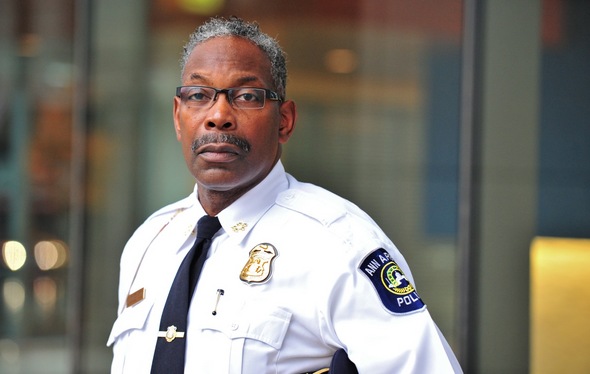 Ryan J. Stanton | AnnArbor.com
Nine Ann Arbor police officers with a combined 205 years experience, including the head of the department's detective division, have retired or will retire by the end of this month.
However, Police Chief Barnett Jones said he doesn't expect it will affect the department's ability to investigate crimes.
"We're losing a lot of experience, but there's a lot of experience behind the experience," he said. "In this department, the people waiting to be promoted have been preparing for that next level."
Among the nine are Det. Lt. Mark St. Amour, who heads the detective division, and Det. Sgt. Brian Jatczak, a supervisor in that division who was heavily involved in investigating seven attacks on women during the summer. So far, no arrests have been made in that case.
Also retiring are Sgt. David Strauss, Sgt. Andrew Zazula, Det. Greg Jones, Officer Pat Codere, Officer Samuel James, Officer Jeffrey Flynn and Officer Craig De Voogd. Zazula, a patrol sergeant, had the longest tenure at AAPD, having worked there 28 years.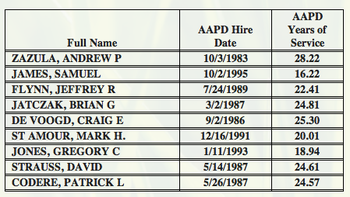 Four of the positions being vacated are from the command staff. To fill the nine positions, Jones plans to rehire three officers who were previously laid off.
Then the department will hire six new officers. After that, there will be promotions to fill the command staff positions.
Hundreds of police officers in the state are without jobs, so there is a good applicant pool, Jones said.
"The mayor and council are allowing me to fill every position that is being vacated by a retiree," he said. "I'm very happy with that decision."
Jones said the men retiring will be missed.
"There's a wealth of experience and community attachment and community knowledge," he said.
The men retiring "deserve to be honored" for their service to the community, he said. A coffee hour is being planned for the officers and their families. Jones said he expects there will be some good-natured harassment, some pats on the back, some tears and some great smiles.
St. Amour, who is retiring after 20 years, said he felt it was time to move on. Early next year, he plans to hike the Appalachian Trail, which has been a "lifelong dream."
After the hike, he plans to look for another job. St. Amour said what he enjoyed most about the job was working with the people of Ann Arbor.
Det. Greg Jones, who is retiring after 19 years, also said it was time to move on. He worked for two other departments, he said, and has the utmost respect for the AAPD.
"I wouldn't want to commit a crime in Ann Arbor because these cops here that I work with are the absolute best I've ever seen," he said. "They go after criminals with a vengeance, and that's the kind of department I want to be a part of."
Lee Higgins covers crime and courts for AnnArbor.com. He can be reached by phone at (734) 623-2527 and email at leehiggins@annarbor.com.