Ann Arbor officer bicycles in Police Unity Tour for uncle slain in line of duty
Posted on Tue, May 29, 2012 : 5:57 a.m.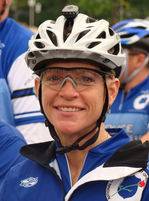 Courtesy photo
Ann Arbor Police officer Kathleen Vonk was 3 years old when her uncle, Wayne Vonk, an officer with the Grand Rapids Police Department, was killed in the line of duty.
It was 1969. After being robbed, a storeowner flagged down Vonk, who was on duty at the time.
"When they stopped the car, they got out and there was a physical struggle. They shot," Vonk said.
Even though he'd been hit, Vonk's uncle managed to call in the suspects' license plate number. The men were caught and sent to prison. Vonk's uncle didn't make it.
Now, in his honor — and in remembrance of all fallen officers — Vonk and approximately 1,450 other cyclists rode 300 miles over a few days on the East Coast in the Police Unity Tour.
Vonk recently participated in the event, which took her from Jersey City, N.J. to Washington D.C. from May 9 to May 12.
Vonk first did the ride in 2010. She rides, fittingly, with members of the Grand Rapids Police Department, where her uncle worked. In order to go on the tour, participants need to raise $1,750 to benefit family members and other survivors of fallen police officers.
"I've always said I'd do it once before I retire," said the 22-year AAPD vet, who is due to retire this winter. Before coming to Ann Arbor she served as an officer in Grand Blanc.
Courtesy photo
Vonk said she thought she'd only do the ride once, but she has now completed it for the third straight year.
"It was such a positive experience the first time. It's pretty amazing," she said. "Entire schools would be out on the side of the road holding signs."
Fire departments, local business and residents also come out to cheer on the cyclists, who receive an escort from police on motorcyclists throughout the route.
There are several ceremonies once the tour pulls into the nation's capital, including one at the National Law Enforcement Officers Memorial, where Wayne Vonk's name is carved into one of the walls.
"Every police officer should go at some point throughout their career," Vonk said of the memorial. "Every cadet should go to experience what can happen in the line of duty."