Posted on
Wed, Feb 15, 2012 : 1:46 p.m.
Ann Arbor Police Department promotes 4 command officers
By Paula Gardner
The Ann Arbor Police Department has four new command officers following promotions that took effect this week.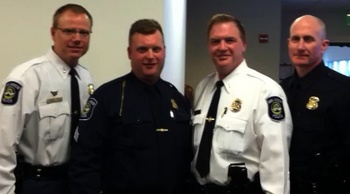 AnnArbor.com
Jim Baird
and
Robert Pfannes
are now lieutenants in the department, and
Dan Iverson
and
Mike Scherba
are sergeants.
The promotions were celebrated in City Hall on Tuesday, as Chief Barnett Jones introduced each officer to a crowd of about 100. The officers wore the new uniforms, and each man had a family member pin his new badges to his shirt as part of the event.
Officers are taking on new responsibilities as soon as they complete their orientation, said Deputy Chief John Seto.
Pfannes has 14 years with the Ann Arbor Police Department. His prior assignment was Professional Standards and Detective sergeant. He's now assigned to the detective bureau.
Baird has 19 years with AAPD. His prior assignment was sergeant of the Crime Response Unit. His new assignment is Professional Standards lieutenant.
Scherba has 10 years with AAPD, and he previously was a patrol officer. He's now a patrol sergeant.
Iverson has 15 1/2 years with the AAPD, most recently serving as detective. He's also now a patrol sergeant.
The promotions were possible due to several retirements in 2011. The department's last lieutenant promotion was in June 2005, while the last sergeant promotion was in March 2007.