Posted on
Fri, Oct 1, 2010 : 11:38 a.m.
Victims bound during robbery at medical marijuana clinic in downtown Ann Arbor, police say
By Lee Higgins
As three men were robbing a medical marijuana clinic in downtown Ann Arbor, binding the people inside with duct tape, two police officers rushed in and confronted them, Police Chief Barnett Jones said.
The men — two armed with guns — stole cash and marijuana during the Thursday evening robbery and refused to go down without a fight, Jones said.

In the end, six officers responded, taking all three suspects into custody before they left the building, police said.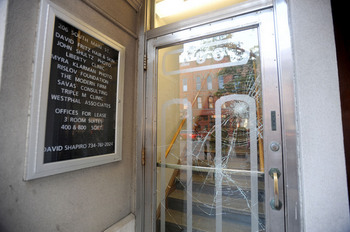 "The officers did great work," Jones said. "They had to fight with suspects they knew were armed. They were able to control them, detain them and unarm them without any shots being fired."
None of the victims, officers or suspects reported injuries after the 8 p.m. robbery at Liberty Clinic in the 200 block of South Main Street, Jones said. At least four men and women were bound with duct tape.
A total of seven people, including an employee, were inside when the robbery occurred an hour before the clinic was to close, police said.
"One of the victims had her whole head and face taped, which included her hair," Jones said.
A witness who called 911 to report the robbery cut his arm, but it's unclear whether he received medical attention. He cracked a glass door as he ran out of the building, police said. Officers responded to the scene within minutes of receiving that call, Jones said.
A fourth man found inside the building was arrested on outstanding warrants, Jones said, but has not been linked to the robbery.
The three robbery suspects are from Milan, Detroit and Hamtramck. They were taken to the Washtenaw County Jail. So far, no charges have been filed as detectives continue to investigate.
Liberty Clinic opened in February and is being run as a non-profit caregiver collective network, which enrolls both registered patients and caregivers as members. As of June, the clinic had 1,200 members and more than 100 caregivers. In August, the City Council approved a four-month moratorium on new medical marijuana dispensaries to come up with zoning regulations for them.
Jones said he is not aware of any other robberies at medical marijuana clinics in the city.
Ann Arbor City Attorney Stephen Postema said his office will continue to investigate several issues surrounding medical marijuana clinics, but declined to elaborate.
Lee Higgins covers crime and courts for AnnArbor.com. He can be reached by phone at (734) 623-2527 and e-mail at leehiggins@annarbor.com.