Ann Arbor principal: State achievement gap label unites AAPS staff, promotes 'no more finger pointing'
Posted on Mon, Sep 17, 2012 : 5:57 a.m.
Although the state's new Focus School designation highlighting achievement gaps at Ann Arbor schools has spurred its share of confusion and complaints, one district principal has found a silver lining.
Superintendent Patricia Green named Terra Webster, principal at Logan Elementary School, somewhat of a secret weapon in her plans to eliminate the district's achievement and discipline gaps.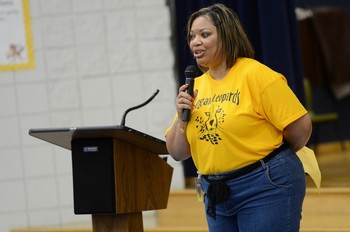 Melanie Maxwell | AnnArbor.com
Webster and
Jazz Parks
, principal at
Tappan Middle School
, have been recruited to lead the professional development associated with Green's plans.
While Webster agrees the Focus School designation is nothing more than yet another label, she said the publicity the district received these subsequent weeks after making the list was a good motivator.
"It's out there now, the world has seen it. No longer can people say, 'It's not us. It's those districts around us.' Or, 'It's not me and my kids. It's the kids on the other side of town, or in a Title 1 school,'" Webster said.
"The labeling increased our sense of ownership. People can no longer use the excuse that only our financially stressed families or families with single parents are low achieving. … This really has become everyone's problem. … It's equal. Across the board. No more finger pointing."
On Aug. 2 when the Michigan Department of Education released its annual school report cards, 27 of Ann Arbor's 33 buildings were placed on a list denoting those schools with large discrepancies between their highest and lowest 30 percent of performers on state examinations, such as the Michigan Educational Assessment Program test and the Michigan Merit Exam.
Webster said the Focus School designation has united teachers in buildings across the district and has given everyone, teachers and administrators alike, a sense of urgency.
"During professional development (in August), we reaffirmed our commitment to one another and our commitment to students. Teachers are becoming more active members in the strategic process. We now know the students who are in that gap. The gap may be 30 students or it may be two. Regardless, a spotlight was shown on where those students are, and we've made a commitment to attend to them at all costs."
The focus of Webster and Parks' leadership, according to the achievement gap plan, will be working to eliminate Ann Arbor's inconsistencies in: grading and assessment practices, knowledge of culturally responsive teaching techniques, instruction practices and the use of supportive interventions.
While parents and students may not notice a lot of changes in the classroom this year as it relates to the achievement and discipline gap plans, changes will be taking place, Webster said.
At Logan this fall, students in the gap are being assigned an adult mentor to be a reading buddy or just to check-in with the student from time to time — to put some "additional focus, additional attention" on that student, Webster said.
She said everyone from the front office staff to the daytime custodians is getting involved in this initiative.
"The parents may not see it, but what they will see is hopefully an increase in their child's success. … We hope the child will start sharing stories — more teachers are interacting with me other than my classroom teacher," Webster said.
Personalized learning plans and culturally relevant teaching will be a big focus this year. Webster said knowing a child's likes, interests and passions can be crucial to helping a struggling student grasp the material, especially at the elementary level.
All of Ann Arbor's 21 elementary schools were named to the state's Focus Schools list.
"Sometimes just knowing this student is a football fanatic and incorporating that into your math lesson is all the hook that that student needed," Webster said.