Posted on
Fri, Apr 13, 2012 : 5:58 a.m.
Ann Arbor principals partner with local businesses to learn about customer service
By Danielle Arndt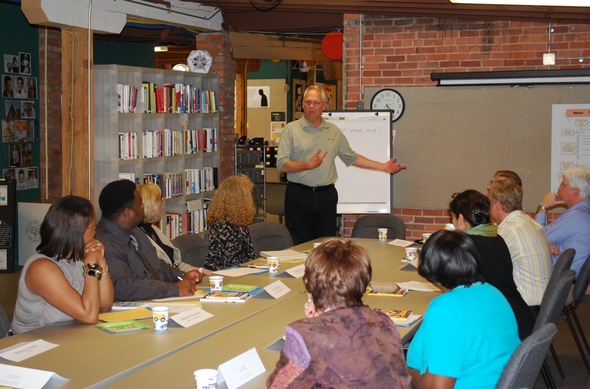 Courtesy photo
This story has been updated.
Eight Ann Arbor school principals have voluntarily enrolled in a six-month program to improve how they approach customer service within their buildings.
The Ann Arbor Public Schools Educational Foundation (AAPSEF) launched the Principal and Business Mentor Program in January after learning about a similar program in Toledo.
Wendy Correll, executive director of the AAPSEF, said the purpose of the mentor program is to strengthen the ties between the schools and the Ann Arbor business community, while helping school administrators enhance their daily management skills.
"There were a couple of topics that rose to the top when we talked to Eileen Kerner (of Toledo) in the summer of last year, and customer service was one of them," Correll said. "It's also something that I know is a strength of our business community's. So why not tap into it?"
Annette Ferguson, business partnerships and volunteer coordinator for Ann Arbor Schools, said the program also exposes principals to various industries and careers that students might be interested in going into.
In a school climate discussion in February, Ann Arbor Board of Education members reviewed the results of a two-year climate survey. The results showed principal accessibility and approachability were areas of concern for parents, teachers and students who completed the survey.
Correll and Ferguson worked with Andy LaBarre of the Ann Arbor/Ypsilanti Regional Chamber to recruit prospective business mentors. Each principal was assigned a business leader to partner with throughout the course of the program, so there are 16 people involved in total.
Correll hopes these mentor relationships will continue even after the program is finished.
A $1,000 grant from Johnson Controls was used to fund the program. Half the money was put toward supplying food, beverages and shared reading materials. The remaining $500 will be awarded to one principal on June 19 at the district's retirement and awards banquet.
Each principal will submit a customer service plan for a shot at the $500. The plan will be treated like a grant proposal and the foundation will select the winner. The money will allow the winning principal to implement the customer service plan at his or her school.
Correll said the customer service plans could include anything from bringing in a facilitator to create a dialogue with school staff, signage to better guide visitors through the building or supplies to redress the main office to increase functionality.
The group has met on three occasions, once per month. The initial meeting introduced the principals to their respective mentors.
In between monthly sessions, participants visit one another's workplaces as "homework" that continues the conversations, Correll said.
Rich Sheridan of Menlo Innovations hosted one of the sessions and led the principals on a tour of the company.
Correll said Sheridan talked about the book he is writing — titled "Joy Inc." — and thinking outside the box to meet customers' needs. At an earlier session, participants brainstormed about who in a school environment should be considered a customer. Teachers and other staff made the list, with principals admitting that school employees are often not thought of as customers because the focus is on making parents and students happy.
Ferguson said Sheridan described how Menlo employees rotate projects every week to keep creativity flowing and to stay satisfied and energized at work. Correll also told how Menlo set up a small nursery at the office to satisfy a new mom who was very valuable to Menlo's team.
"What worked for Menlo may not always work at the schools but it was an opportunity for principals to think about what components and themes they could incorporate into customer service at their buildings," Correll said. "The whole point is to generate ideas and dialogue about what others do in certain situations at their workplaces."
Principals today must be knowledgeable in a variety of areas, she added, citing human resources, strategic planning, change management and money management as just a few examples.
The principals that volunteered to participate in the initial mentor program were Michelle Pogliano of the Preschool and Family Center, Roberta Heyward at Bryant Elementary, Bill Harris at Eberwhite, Monica Harrold at Northside, Che Carter at Pattengill, David DeYoung at Wines, Ed Broom at Scarlett Middle School and Sheila Brown at Ann Arbor Technological High School.
Ferguson said in general across the state, teachers feel like they are doing more with less as funding and programs are being cut.
"Job satisfaction is being impacted," she said.
Both Ferguson and Correll said they hope the business-principal mentor program will return in the fall and continue to grow. Next year's topic likely will be determined by feedback from participants, Correll said.
"Obviously we are restricted by funding and interest on the part of principals, but we saw a lot of enthusiasm from those we approached this year," Correll said.
Staff reporter Danielle Arndt covers K-12 education for AnnArbor.com. Follow her on Twitter @DanielleArndt or email her at daniellearndt@annarbor.com.