Posted on
Thu, Mar 3, 2011 : 2:20 p.m.
Many Ann Arbor property owners can expect to see reduced property assessments
By Ryan J. Stanton
In the coming days, Ann Arbor property owners will receive their 2011 property assessment and taxable value notification letters in the mail.
City Assessor David Petrak says many residents will see a decline in both figures, as property values continue to go down in Ann Arbor.
So, are taxes going down?
"That's always the complex question," Petrak said, noting property taxes are calculated by multiplying the taxable value by the millage rate.
"Total taxable value is going down — down about 2 percent, I think, is the latest budgetary projection we've been making," he said. "And collectively assessments are going down. But to the individual person, that doesn't mean a whole lot, because there are some neighborhoods where the assessments are going up this year."
City records show total city property tax collections in Ann Arbor grew from $54.1 million to $81.9 million from 2001 to 2010, but growth has slowed in the last few years.
Total taxes netted by the city's general fund in the last three years have remained stagnant at about $51.2 million. And the adopted city budget for 2010-11 estimated general fund tax revenues would go down to about $49.4 million this year.
The city's most recent audit shows the total taxable value (real and personal property) in the city grew from $3.2 billion to $4.89 billion from 2001 to 2009, and then ticked down for the first time in 2010 to $4.86 billion — a drop of close to $30 million. The city's total direct tax rate also has fallen from 17.13 mills to 16.8 mills over the last decade.
Due to the unforeseen effects of Proposal A, many property owners may be confused about the changes in their assessed and taxable values, city officials said.
The city publicly released the following information on its web site today to help explain the factors involved in the sometimes confusing calculations:
Proposal A
In 1994, Proposal A was passed by Michigan voters and was designed to limit the amount property taxes could increase in any given year. The effect was to limit property tax increases by the lesser of the rate of inflation or 5 percent. This held true even in years when there were double-digit property-value increases. This calculation became known as taxable value. Property taxes are calculated by multiplying your taxable value by your millage rate.
Taxable vs. Assessed Value
Taxable value differs from the assessed value. The assessed value represents 50 percent of the market value of a property. In most cases, the taxable value is simply a mathematical calculation based on the previous year's taxable value because Proposal A limits the annual increase. In many areas in Michigan, Proposal A has created a large difference between the assessed value (half the market value) and the taxable value (amount on which a property owner pays taxes).
Areas that are seeing a decrease in market value will also see a decrease in assessed value. However, this may not cause a decrease in taxable value or property taxes. The Consumer Price Index (CPI) is a measure of inflation. The CPI for the 2011 taxable value in Michigan is 1.7 percent. A property owner's taxable value will increase by 1.7 percent unless the property's assessed value is lower than the taxable value. Properties that have a taxable value that is very close to the assessed value and are located in a declining market may very well see a decline in taxable value and property taxes.
The following two examples are provided to help clarify this confusing calculation. Both examples assume a 2010 market value of $300,000 and a 2011 market value of $275,000 with a 2010 CPI of 1.7 percent.
Example 1
2010
Market Value = $300,000
Assessed Value = $150,000
Taxable Value = $98,000
2011
Market Value = $275,000
Assessed Value = $137,500
Taxable Value = $99,666
Example 2
2010
Market Value = $300,000
Assessed Value = $150,000
Taxable Value = $145,000
2011
Market Value = $275,000
Assessed Value = $137,500
Taxable Value = $137,500
Examples Explained
In example 1, the market value decreased, but the taxable value increased by the CPI 1.7 percent because the taxable value is still less than the assessed value.
In example 2, the market value decreased and the taxable value decreased as the taxable value can't be higher than the assessed value.
For property owners who have owned their property for a number of years, Proposal A created a smoothing effect on their taxes. In years with rapidly increasing property values, property owners saw a limited increase in property taxes. As illustrated in Example 1, it also will mean small increases in property taxes in years where property values are stagnant or declining.
Appeals Process
Taxable value is simply a mathematical calculation and typically can't be appealed. The assessed value is 50 percent of market value and can be appealed if it is believed to be too high. A reduction in a property's assessed value will not reduce property taxes unless the reduced assessed value falls below the taxable value.
For more information, contact the city assessor's office by calling 734-794-6530 or e-mailing assessor@a2gov.org, or visit the assessor's website.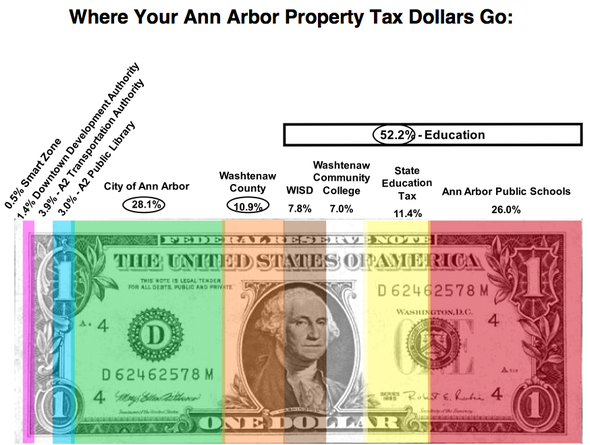 Ryan J. Stanton covers government and politics for AnnArbor.com. Reach him at ryanstanton@annarbor.com or 734-623-2529.