Posted on
Wed, Nov 9, 2011 : 2:59 p.m.
Ann Arbor school administrators ask: How do we cut $14M from next year's budget?
By Paula Gardner
How can the Ann Arbor Public Schools shave another $14 million from its budget?
That's the question that will be facing the district's administration and Board of Education over coming months - and the reason AAPS scheduled two public forums in the next week, including one on Thursday.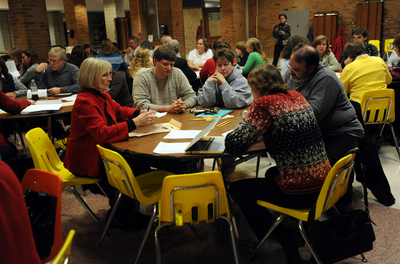 Earlier this year, the district was looking at a deficit of $15- to $21 million. By the start of the school year, AAPS had to trim $16 million from the $183 million budget that the school board passed in June.
This year, the district is looking at a $14 million deficit, according to Robert Allen, deputy superintendent.
That means the district faces yet another year of cost-cutting, which could result in teacher cuts, additional fees and staffing or program adjustments.
"We really are just trying to gather input from the community," Allen said. That input, he added, "will have huge impact as we move forward."
Community forums typically are held early in the calendar years, Allen said. This year's forums are happening before the district compiles a draft budget by January.
"We want the budget to be reflective of what public would like to see," he said, in terms of what is cut or not cut.
This year's budget, passed in June, included trimming 62.3 teaching positions and realigning district-wide transportation, a move that caused controversy as the school year started. An effort to realign high sports also drew parent outrage as the changes were announced, then later amended.
So far this year, Allen said, no unanticipated cost increases are striking the district. Health care costs continue to rise an estimated 10 percent per year, he said, and he added that the student count appears to be coming in close to flat.
State funding remains an unknown, he said. The district receives $9,020 in per-pupil funding, but state officials won't announce until early 2012 what that figure likely will be in the school year that starts the following fall.
"Right now we're planning on it staying constant," Allen said.
One cut not likely to happen in the 2012 school year is a building closure, Allen said. That's a time-consuming process that, on the elementary level, needs to include redrawing district lines, he said.
After the draft budgets are done, the district expects to schedule additional public forums to explore their impact, Allen said. Those meetings should be announced in January.
The forums are scheduled for Thursday, Nov. 10, at Huron High School's Cafeteria and on Monday, Nov. 14 at Pioneer High School's Cafeteria Annex. Both forums start at 6:30p.m.