Posted on
Thu, Jan 10, 2013 : 11:57 a.m.
Ann Arbor Public Schools asks students, parents to stay home if they feel ill during flu season
By Amy Biolchini
As influenza continues to spread throughout Washtenaw County, Ann Arbor Public School officials are asking parents and students to stay home if they have symptoms, according to a communication from the district.
Symptoms associated with the flu include, fever, chills, cough, sore throat, runny or stuffy nose, muscle or body aches, headaches and tiredness.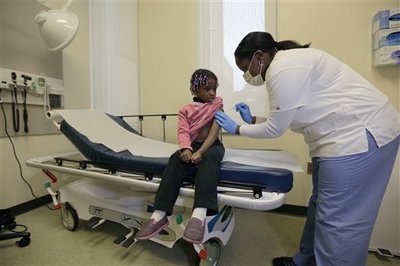 AP Photo
In some cases, more often in children than adults, symptoms include vomiting and diarrhea.
AAPS asks that when reporting an absence to a student's school that the guardian let the school know if their student is ill with flu-like symptoms.
Flu season began earlier than usual this year, and activity is now widespread both locally, in Michigan and across the U.S.
According to the most recent data available from Washtenaw County Public Health, 27 individuals have been hospitalized with the flu as of Dec. 29. The department plans to update their figures Thursday afternoon.
Flu season likely has not reached its peak in the county yet, according to Susan Ringler-Cerniglia, spokeswoman for Washtenaw County Public Health.
No deaths have been reported in the county to date, although four deaths in Michigan have been attributed to the flu season this year.
Emergency room staff at both University of Michigan Hospital in Ann Arbor and St. Joseph Mercy Hospital in Superior Township has reported individuals presenting with flu-like symptoms recently.
Nationally, the Centers for Disease Control and Prevention reports the predominant strain of flu circulating is the more severe, Type A H3N2. This year's vaccine includes H3N2.
Amy Biolchini covers Washtenaw County, health and environmental issues for AnnArbor.com. Reach her at (734) 623-2552, amybiolchini@annarbor.com or on Twitter.