Posted on
Thu, Sep 6, 2012 : 2:59 p.m.
Ann Arbor ranked safest in state for pedestrians; city wants to keep it that way
By Cindy Heflin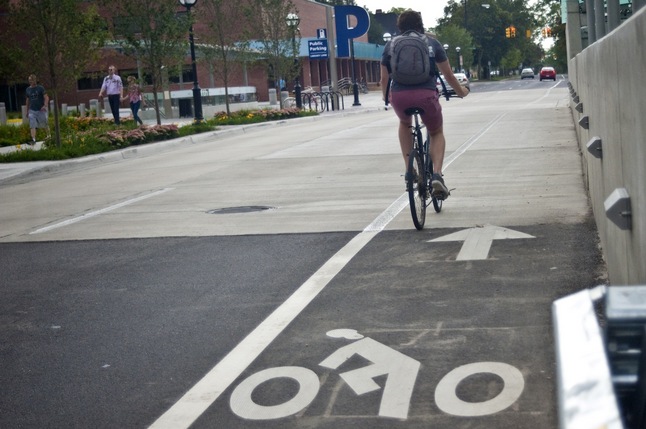 Joe Tobianski | AnnArbor.com
Despite the recent furor regarding pedestrian safety in Ann Arbor and the crosswalk ordinance that drivers love to hate, statistics show the city is the safest metro area for pedestrians in Michigan.
A 2009 report by the
Surface Transportation Policy Partnership
and
Transportation for America
ranked Ann Arbor first in pedestrian safety among 15 metro areas in the state in a 2009
report
. The groups developed a pedestrian safety index based on the average number of pedestrian fatalities by the percentage of people walking to work.
Ann Arbor scored a 7.8 on the index. (Lower numbers are better.) Bay City was rated the next safest, with a score of 28.2. Flint came out worst with a score of 168.9.
The number of vehicle-bike crashes over the past five years ranged from 34 in 2007 to 63 in 2009. The number of vehicle-pedestrian accidents in the city over the same five-year period ranged from a low of 43 in 2009 to a high of 63 in 2011.
The city's safe ranking is a testament to its efforts to make roads and sidewalks safe for all users, said Eli Cooper, the city's transportation manager. Those efforts include the painting of bike lines throughout much of the downtown and the installation of flashing crosswalk beacons and special pedestrian crossing lights known as HAWK signals.
The pedestrian safety ordinance, which originally required drivers to stop for pedestrians approaching a crosswalk and has since been modified, was passed in 2010 but not enforced until last fall. It sparked an outcry from drivers and was blamed for several rear-end crashes.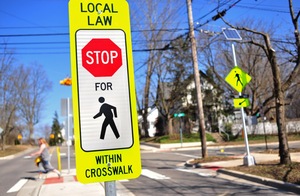 Ryan J. Stanton | AnnArbor.com
The numbers about pedestrian safety are interesting to note as the city welcomes thousands of University of Michigan students back to town and prepares to host the first U-M home football game of the season. This week, the city urged residents to exercise some common sense and common courtesy to keep the streets and sidewalks safe for all.
For pedestrians, that means use designated crosswalks and be sure to give drivers enough time to see you and stop. At night, wear light-colored clothing to be more visible.
For bikers, that means follow the rules of the road and use bike lanes whenever possible. Bikers must obey all traffic signals. If they use sidewalks, bikers must yield to pedestrians, the city says. In Ann Arbor, they're also required to use front headlights and rear reflectors after dark. The city's advice also includes the most obvious bike safety rule of all: Wear a helmet.
For drivers, that means stop for red lights and slow down for yellow ones. Be alert for pedestrians and stop for those crossing or about to cross streets.
Also, drivers need to share the road, the city emphasized. "Bicyclists are legally entitled to ride in the road whether a bike lane exists or not," the city said in a news release. Drivers should pass cyclists carefully, providing 3 to 4 feet of space between the motorist's vehicle and the biker, the city advised.
Above, all, don't text and drive. It's illegal in Michigan.
Cooper says he sees plenty of distracted drivers around the city. Those include people talking on phones and even those trying to find their way with GPS devices.
But Cooper said the prize for the most unsafe behavior he sees around town goes to bikers. He often sees them riding the wrong way on city streets. That's never safe, even in a bike lane, he said.
You can find the city's safety tips and other information about walking, biking and driving in Ann Arbor on the city's website and subscribe to online notices of road and lane closures.