Posted on
Wed, May 15, 2013 : 3:11 p.m.
Ann Arbor remains a thriving community decades after decriminalizing marijuana
By Ryan J. Stanton
Larry Gabriel, former editor of Metro Times, writes in a new column that Ann Arbor is "a showplace for the state" and "a place that marijuana activists look to with a gleam in their eyes."
He notes Ann Arbor remains a thriving community — atop a listing of Michigan "Hot Spots" on the Pure Michigan website — long after it decriminalized marijuana in the 1970s.
"With the University of Michigan, the U-M hospital, the annual art fair, a popping downtown and plenty of people walking the neighborhoods, an abundance of jobs and a low crime rate, Ann Arbor is the kind of place that lots of cities would like to be," Gabriel writes.
As more and more cities in Michigan move to soften the penalties for possession of small amounts of marijuana, and as state lawmakers consider legislation introduced by state Rep. Jeff Irwin, D-Ann Arbor, to decriminalize marijuana statewide, Gabriel points to Ann Arbor as an example of a place that "has not gone to hell since sanctions against the evil weed were lowered."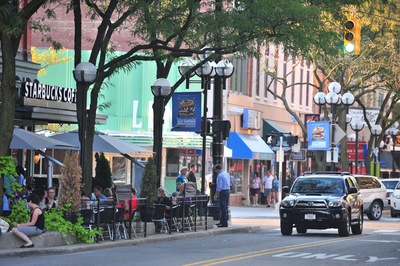 Ryan J. Stanton | AnnArbor.com file photo
"Maybe there's something in trying to embrace Ann Arbor's uniqueness," he concludes.
The Ann Arbor City Council in the 1970s reduced the city penalty for possession of small amounts of marijuana to a $5 civil infraction, essentially decriminalizing weed in Ann Arbor. That remains the case today, except it's now a $25 ticket for first offenses.
Following Ann Arbor's model, Irwin announced legislation on April 24 that would make the possession of 1 ounce or less of marijuana a civil infraction rather than a crime throughout Michigan.
Irwin's legislation, House Bill 4623, is co-sponsored by a mix of Republican and Democratic state lawmakers, including Mike Callton, Rose Mary C. Robinson, Phil Cavanagh, Mike Shirkey, Jon Switalski and Marcia Hovey-Wright.
But whether Irwin's bill will get a vote on the House floor remains to be seen. Ari Adler, a spokesman for House Speaker Jase Bolger, told MLive the House GOP has other priorities right now, but the leadership is not ruling out an eventual debate on decriminalizing marijuana.
"It will go through the committee process, but we're not going to close the door on having the discussion," Adler said. "There are a lot of important issues that we have to deal with first."
Ryan J. Stanton covers government and politics for AnnArbor.com. Reach him at ryanstanton@annarbor.com or 734-623-2529. You also can follow him on Twitter or subscribe to AnnArbor.com's email newsletters.