Posted on
Sun, Apr 29, 2012 : 5:59 a.m.
Some Ann Arbor residents seek moratorium as DTE Energy continues installation of 'smart meters'
By Ryan J. Stanton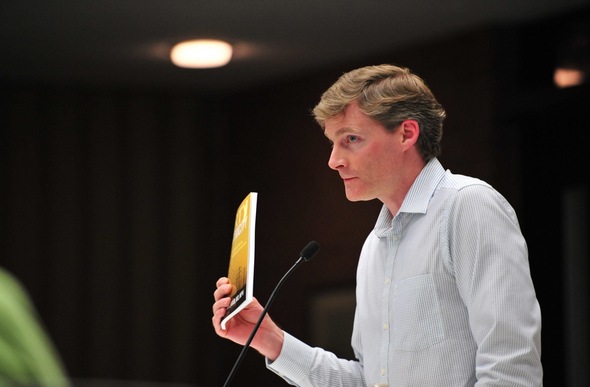 Ryan J. Stanton | AnnArbor.com
A group of Ann Arbor residents is lobbying city hall to stop
DTE Energy's installation of so-called "smart meters"
on area homes, voicing concerns about potential health risks.
"Having these smart meters put in our neighborhoods is like living in a microwave, and you can't turn them off," said Darren Schmidt, a holistic doctor and CEO of the Nutritional Healing Center of Ann Arbor. "We need to put a moratorium on this."
Schmidt shared that message before the Ann Arbor City Council at its last meeting, but city officials haven't been quick to act on the suggestion.
Mayor John Hieftje said a resident dropped off materials at his office and he's taking a look at it, but he thinks it's an issue better suited for the city's Environmental Commission.
"I'm still wading my way through the material and trying to separate what is reality and what is exaggeration," he said.
Ryan J. Stanton | AnnArbor.com
DTE in February launched a
plan to install smart meters at 120,000 homes
throughout Washtenaw County, including Ann Arbor, Saline, Ypsilanti, Chelsea, Dexter and the townships.
The Detroit-based utility's decision came as the Michigan Public Service Commission continues its statewide investigation into the health and cost implications of the devices.
Hieftje isn't yet convinced there's a problem with smart meters. He said the technology behind the new electric meters DTE is installing is not so different from the advanced water meters the city already installed on homes throughout Ann Arbor.
"The city of Ann Arbor has had a similar meter in that it sends a radio signal about how much water a person has used," he said, adding it's more efficient and saves the city money. "There have been no complaints and those have been in place a number of years."
Conflicting data about smart meters — which remotely transmit data about a consumer's energy usage — is being presented by groups on both sides of the debate.
The American Academy of Environmental Medicine sent a position paper to the MPSC on April 12 urging "immediate caution" on smart meters, expressing concerns that electromagnetic frequencies, including radio frequencies, can negatively impact human health.
The paper was jointly submitted by four doctors, including the groups's president-elect Amy Dean, a doctor of osteopathic medicine from Ann Arbor.
They claim existing federal guidelines for radio-frequency exposure, which have been used to justify smart meters, are inadequate and only address thermal tissue damage.
Citing peer-reviewed scientific literature, the AAEM paper concludes significant harmful biological effects occur from non-thermal radio-frequency exposure.
"This means that there is a cause and effect relationship between RF emissions, which are the emissions from 'smart meters,' and adverse health effects," the letter states, citing potential for genetic damage, reproductive defects, cancer, neurological degeneration, nervous system dysfunction, immune system dysfunction, memory loss and kidney damage.
Scott Simons, a spokesman for DTE, said about 34,000 of the smart meters planned for Washtenaw County have been installed so far and more are coming.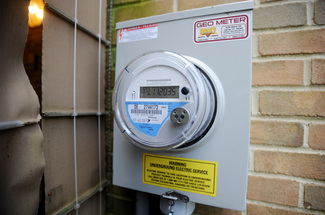 Melanie Maxwell | AnnArbor.com
Asked what DTE's response has been to people who don't want them on their homes, Simons cited an opt-out program that's in the works. Residents would pay a fee for opting out.
"We're absolutely confident in the safety, security and benefits provided by advanced meters," Simons said. "At the same time, we also recognize this is a very emotional issue for a very small number of our customers and that's why we're developing an option that would allow individuals to opt out of the advanced meter program."
The MPSC has been compiling information through a public comment period that ended April 16. Its staff is now sifting through hundreds of pages of documents that were submitted and will issue a report by June 29.
"The commission speaks through its orders, so anything the commission has to say will be done via order when that time comes," said Judy Palnau, a spokeswoman for the MPSC.
The MPSC launched its investigation in January after a number of municipalities throughout Michigan passed resolutions asking the commission to look into smart meters.
The City Council in Sterling Heights in January instituted a moratorium on smart meters until an option to refuse installation is given to all residents. Some residents want the Ann Arbor City Council to do the same before more of the devices are installed.
Ann Arbor resident Nanci Gerler said DTE is making no exceptions and isn't giving consumers a chance to opt out right now. She said she was told recently that if she refused to allow placement of a smart meter on her home that her electricity could be shut off.
"And I think this really violates my rights and civil liberties," she said, urging council members to approve a moratorium at their last meeting.
Gerler, a psychic practicing in Ann Arbor, said she's electro-hypersensitive and has an aversion to microwaves, computers, smartphones and other gadgets that send out electromagnetic frequencies, including radio frequencies.
Gerler said she and other neighbors have put up notices that they don't want smart meters installed in their neighborhood. She said that's led to tense encounters with DTE's meter installers who, in some cases, have ignored the notices.
As the battle continues, Gerler now has a locked wire cage around the old meter on her home in hopes of preventing installation of a new smart meter.
In its order back in January, the MPSC directed all regulated electric utilities to submit information regarding the deployment of smart meters.
DTE submitted a 98-page response on March 16, outlining its plans for installing nearly 2.6 million electric smart meters, while MichCon, its subsidiary, installs 1.3 million new gas modules as part of a project that began in 2008.
The total cost is shown at $586 million.
DTE says there are numerous benefits, including cost savings, associated with the installation of smart meters, which allow the company to remotely monitor power outages and allow customers to track their own personal energy usage online.
DTE addressed the health implications of smart meters in its response to the MPSC, claiming the radio-frequency emissions that occur when the meter sends data are at very low levels, and according to studies used by DTE, they do not cause negative health effects.
The company noted all of the smart meters it is installing fall well below the federal standards for radio-frequency emissions. DTE says the emissions from smart meters are similar to that emitted by a remote control or garage door opener.
"Further, the RF emissions from AMI smart meters are remarkably less than those emitted by many other household devices such as a remote control for a TV, remote car entry, baby monitor, microwave oven, and cell phone," DTE's response states.
DTE is installing meters manufactured by Liberty Lake, Wash.-based Itron Inc., which says its meters transmit for less than 100 seconds during a 24-hour period.
Some still aren't convinced, though.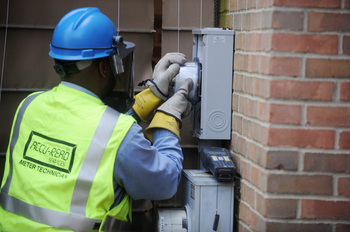 Melanie Maxwell I AnnArbor.com
Schmidt, of the Nutritional Healing Center, said he sees a lot of people with chronic diseases at his practice. About three or four years ago, he said, he started seeing problems with fatigue and brain problems, memory loss, sleep disorders and even Parkinson's disease.
"After about two years of trying to figure it out, I came upon dirty electricity — electromagnetic fields and radio frequencies causing this," Schmidt said.
Schmidt recommends a book called "Dirty Electricity," written by an epidemiologist who says electromagnetic and radio frequencies are the No. 1 cause of cancer in the U.S. and people who work with computers have a 50 percent greater chance of having a heart attack.
He also recommends another book called "Zapped," which offers ways to avoid the hazards of electronic pollution.
Schmidt said 3 percent to 5 percent of the population is "extremely hypersensitive" to electromagnetic fields and 35 percent to 50 percent are sensitive, "but they may not know it." He said many of those people will go to a doctor and get prescribed Prozac, "but that's not the solution."
"Most doctors don't know anything about this condition," he said.
Among the documents the MPSC is sifting through is a seven-page statement from State Attorney General Bill Schuette, who remains skeptical of smart meters.
Schuette said at least two substantial issues must be addressed before the MPSC authorizes or approves any further deployment of smart meters.
"First, there must be a sufficient demonstration that implementation of the smart meter programs will actually produce a net economic benefit to customers," he said. "Second, customers must be afforded a meaningful and fair opportunity to opt out of smart meter installation without being penalized by unwarranted and excessive costs."
Schuette said neither DTE nor Consumers Energy has demonstrated a net economic benefit to electric utility ratepayers from smart meters.
Until that's demonstrated, he said he'll continue to oppose any MPSC action that "unjustly and unreasonably imposes the costs of such programs upon ratepayers."
Schuette further stated that utility customers "should be given a meaningful choice of whether to have smart meters installed and operated on their property" and that requiring customers who opt out to pay an unwarranted penalty fee does not afford them that choice.
Gerler told Ann Arbor officials at the last council meeting that dozens of communities from Michigan to California are fighting smart meters because of concerns about health risks.
"We are so conscientious in so many ways, yet this one kind of slipped under the radar because it's new to us," she said. "We need to exercise the precautionary principle here. It has to be proven safe before it's implemented. Not let's just deal with the effects after the fact."
Ryan J. Stanton covers government and politics for AnnArbor.com. Reach him at ryanstanton@annarbor.com or 734-623-2529. You also can follow him on Twitter or subscribe to AnnArbor.com's email newsletters.