Posted on
Fri, Apr 16, 2010 : 6 a.m.
Ann Arbor residents raise concerns about trimming of trees at Leslie Park Golf Course
By Ryan J. Stanton
Tom Wassmer says he was walking through Ann Arbor's Leslie Park Golf Course last winter when he noticed the first sign of what he considers a series of alarming events.
"I saw this nice, 150-year-old oak tree lying down one day and it didn't seem that it needed to be cut," said Wassmer, who counted the rings on the tree and estimated its age at 150 years old.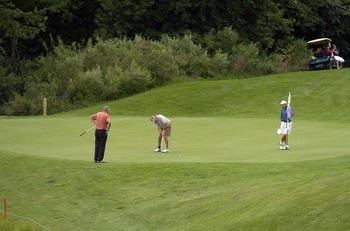 Lon Horwedel | AnnArbor.com
"Then the next thing that happened was actually the next tree in front of the golf course was decorated with a green dot — a bull's-eye," he said, mentioning another tree slated to be chopped down by the city. "I'm a biologist, not a forester, but I think the tree is actually healthy."
The northside resident said he continued to notice other questionable acts, including clear-cutting and harsh pruning of other trees on the city-owned golf course.
Wassmer and other Ann Arbor residents aired their concerns during a sit-down meeting with city officials Thursday evening.
Neighbors say the Leslie course is a much-loved green space. Recently, however, they say a great deal of clearance of vegetation, major removal of branches of healthy trees, and harsh pruning of trees that provide cover for birds and animals has taken place. That work has been done, in part, in the name of enhancement of wildlife habitat and indigenous vegetation, but also to improve playability on the course and increase ease of maintenance.
Thursday's two-hour discussion, which took place on the clubhouse patio, was at times acrimonious. But in the end, some common ground was reached.
Wassmer and his wife, Amy, along with neighbor Susan Wright, who has a background in biotechnology, submitted a proposal to city leaders calling for the formation of a committee to advise the city on the following:
Incremental removal of invasive plants
Protection of the many valuable trees and old orchards on the course
Maintenance of cover and roosting sites for wildlife
Protection of water resources from run-off from pesticides and fertilizers
Protection of the valuable aesthetic features of the park
The residents proposed the committee include a qualified forester, ornithologist, representatives of the Huron River Watershed Council, and members of the Northside Neighborhood.
"It is essential to recognize that the golf course is part of a complex ecosystem that includes land, mature trees, old orchards, Traver Creek and associated ponds that are part of the Huron River Watershed, wild animals, and a rich variety of birds," they wrote. "No part of this system can be addressed without thinking of the impact on other parts."
It turns out their suggestions might fit perfectly with an initiative under way to have the golf course become Audubon-certified.
"As part of the Audubon certification process, we need to have a small advisory committee to help us," said Doug Kelly, the city's director of golf. "This committee would be a temporary committee to help us obtain this certification and do it the right way. Through that Audubon certification is a lot of the issues that were brought up."
Colin Smith, the city's parks director, wrote in a recent e-mail to City Council Member Sabra Briere that staff at the golf course had been questioned about a number of recent changes regarding trees and plantings. Smith acknowledged various invasive species along Traver Creek had been removed in collaboration with Natural Area Preservation, a department of the city that protects and restores natural areas.
"Trees that interfere with the playability of the course have been trimmed where appropriate," Smith wrote. "What is important to note is that work done around Traver Creek is the beginning of an ambitious project to become certified with the Audubon Co-Operative Sanctuary Program for Golf Courses. There are almost 900 golf courses in the state of Michigan and only nine hold this certification."
Smith also said Audubon awards certification to golf courses that protect the environment, conserve natural resources and provide wildlife habitats. Achieving certification, he said, demonstrates a course's commitment to environmental management.
Residents at Thursday's meeting said they support the city's environmental goals. In fact, they said their own goals include seeing the golf course managed in a way that enhances wildlife habitat and indigenous vegetation, removes harmful invasive plants, and protects water resources through vegetation along the creek and ponds.
They said the problem is how those goals are implemented and achieved. They claim methods currently being used by the city need to be modified to maintain all components of a balanced ecosystem.
Residents say huge branches of healthy trees have been removed recently. As one example, they cite the cutting of a willow tree over the creek that provided cover for many birds, including kingfishers and blue birds. They also say harsh pruning of the old orchard trees has been carried out, with results detrimental to both trees and the landscape.
Kelly, who took over as golf director last January, made it clear Thursday night that Leslie Park Golf Course is a business operation first and foremost. He said it's a golf course, not a park, but that doesn't mean city staff is gong to ignore environmental stewardship.
Kelly added he isn't sure why a 150-year-old oak tree was cut down at the golf course before he arrived last January.
"I didn't understand why the first one was cut down," he said. "I do understand the safety issues of the second one. I would hate to see it go, but that's not my call nor is it my judgment to evaluate how safe or secure that one is. I just voiced concerns of, 'Can someone look at this?' And it has been rated poor by the outside consultant of the city that evaluates the trees, as well as the arborist in the city."
Briere, D-1st Ward, attended Thursday's meeting. She left confident cooperation could be achieved between the city and residents.
"The whole idea is increased cooperation and less of a sense of struggle and animosity," she said. "The people in the neighborhood clearly have been watching what's happening and feeling that they were left out of the decision. And that since has frustrated them."
City officials say it's ironic they're taking heat now that they're taking measures to better manage invasive species.
"Suddenly people try to make changes and that very change is threatening, even if it's good change," Briere said. "In this case, the golf course management is trying to make the golf course more ecologically sensitive. But to do that required both trimming and removal of plants and those were some drastic changes. As witnessed by the neighborhood they were significant visual changes and the neighborhood felt that these were lacking in care for the environment — even though they were intended to benefit the environment. It's an interesting problem."
Originally designed by E. Lawrence Packard and opened in 1967, Leslie Park Golf Course underwent a two-year renovation in 1994-95. The 18-hole course recently was rated by Golf Digest as one of best places to play.
Residents say if the city is serious about achieving environmental sustainability for the course, the following goals should be met:
Replace the golf carts that currently use diesel fuel with electric carts
Phase out the use of poisonous and environmentally detrimental pesticides and fertilizers
Protect the water resources with vegetation
Cease the massive cutting of trees and harsh pruning
Ryan J. Stanton covers government for AnnArbor.com. Reach him at ryanstanton@annarbor.com or 734-623-2529.