Posted on
Tue, Nov 1, 2011 : 10:05 a.m.
Ann Arbor resident: Collision at pedestrian crosswalk 'could have been tragic'
By Ryan J. Stanton
The case against Ann Arbor's new pedestrian safety ordinance is building as drivers say they've experienced rear-end collisions at crosswalks where motorists stopped for pedestrians.
Carolyn Haack, who lives on Ann Arbor's northeast side, said the law is poorly thought-out, especially when it comes to crosswalks along the busy, five-lane Plymouth Road.
Haack said her point was underscored on Friday when she was involved in a three-car crash in which she was slammed into from behind and propelled into the SUV in front of her at about 4:15 p.m.
She said the SUV had stopped in front of her for a pedestrian waiting to cross Plymouth Road at a crosswalk between Murfin and Bishop.
"The force of the hit was enough for my Fiesta to move the SUV at least six feet through the crosswalk," Haack wrote to AnnArbor.com in an e-mail. "Thankfully, the pedestrian who was waiting to cross made the wise decision to not take the opportunity to begin crossing. Had he been in the crosswalk, the outcome of this accident could have been tragic."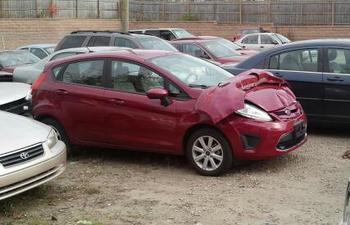 Photo courtesy of Carolyn Haack,
Haack said she's left with injuries, and her car is totaled now.
"And I, along with everyone involved, was traumatized," she said. "And according to the pedestrian, this is the second accident at this site in the past two weeks."
Another resident relayed photos via e-mail of an accident that occurred at a crosswalk on Plymouth Road at about 4 p.m. Monday. The photos show damage to multiple vehicles.
"All of the drivers I talked to live in Ann Arbor," the resident wrote. "I asked the drivers if the accident was because of a pedestrian in the crosswalk. The response was yes."
AnnArbor.com also has received reports of at least two other accidents that have happened at crosswalks because of motorists stopped for pedestrians.
Under state law, motorists are required to stop for pedestrians within crosswalks. The city's ordinance goes one step further to make it the obligation of motorists to yield to pedestrians approaching crosswalks — even if the pedestrian hasn't yet entered the crosswalk.
The penalty for not stopping is a $100 fine and two points on a driver's license. The Ann Arbor Police Department began enforcing the ordinance in September, but several council members now agree the law is confusing as written and many drivers have been slow to catch on.
Mayor John Hieftje brought forward a resolution unanimously approved by the City Council last week to closely examine possible pedestrian safety improvement options for crosswalks throughout the city, including on Plymouth Road. Staff is scheduled to report back on Dec. 12.
Council Member Sabra Briere, one of a number of council members rethinking the ordinance, provided AnnArbor.com with a police report of another rear-end accident that happened on Plymouth on Sept. 30 during the second week of enforcement of the new law.
Briere said she recently asked the Ann Arbor Police Department for any reports of accidents at or near crosswalks that were connected with pedestrians crossing and that was the only report returned. She said she's heard there also have been a number of near misses.
The report tells the story of another rear-end collision that happened after multiple vehicles stopped for pedestrians at a crosswalk along Plymouth east of Traverwood. The driver of one of the cars slammed on his brakes but couldn't stop in time to avoid a crash.
The report indicates it was 6:52 p.m. and it was raining out and road conditions were wet. Both drivers had young passengers.
AnnArbor.com is awaiting a response from the city to an Oct. 13 Freedom of Information Act request that sought other police reports related to potential accidents near crosswalks.
After last Friday's accident, Haack said her husband went down to Brewer's Towing and took photos of her wrecked Ford Fiesta. The rear bumper had to be torn off to move the car, she said, and it was left sitting on top of the crumpled hood.
"He made the comment that he wished he had had the composure to get photos of the scene of the accident when he drove up to collect me," she said. "However, he was overwhelmed by seeing not only my car smashed in the front and the back, the two other cars that were smashed, but also the fire truck, the police car, the ambulance, and the congregation of about 10 bystanders. Needless to say, he made it a priority to make sure I was OK."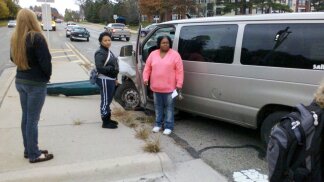 Courtesy photo
Haack said it still makes her sick to her stomach to think about the young man who was trying to cross the street and how close he came to being seriously injured.
Haack said she fully supports making it safer for pedestrians and bicyclists — of which she is both — but she fears the Ann Arbor City Council is trying to make serious traffic control changes "on the cheap" and without proper signs and signals. She believes pedestrian-activated crossing signals, known as HAWK signals, would be a better solution on Plymouth Road.
By not indicating to all drivers that a sudden change in traffic flow is occurring, Haack fears there are going to be more accidents, possibly some fatal.
"I can't believe that those that sanctimoniously support this ordinance without serious changes are willing to see this as acceptable collateral damage," Haack said, referring to comments by city officials that increased risk for accidents is expected during the learning curve.
Ryan J. Stanton covers government and politics for AnnArbor.com. Reach him at ryanstanton@annarbor.com or 734-623-2529. You also can follow him on Twitter or subscribe to AnnArbor.com's e-mail newsletters.