Posted on
Thu, Apr 14, 2011 : 5:59 a.m.
Ann Arbor residents voice concerns about cuts to fire department at town hall meeting
By Ryan J. Stanton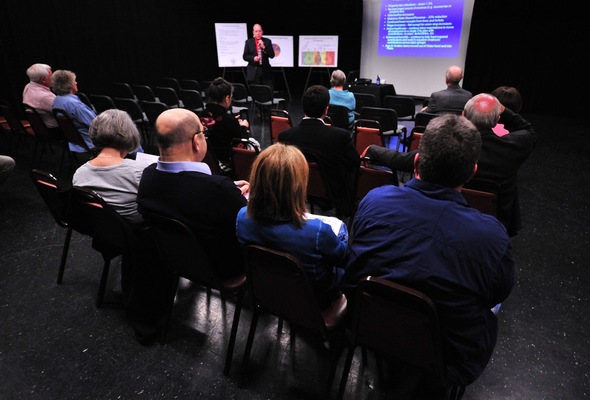 Ryan J. Stanton | AnnArbor.com
City Administrator Roger Fraser's proposal to cut 12 firefighters from the city's budget over the next two years drew the ire of Ann Arbor residents at a town hall meeting Wednesday night.
During a lively back-and-forth exchange, Fraser acknowledged he's recommending the city go forward with the cuts without certainty of how it will play out.
"The fact is that every bit of this is an experiment," he said. "We know how things worked when we had 23 people on a shift, we know that we have to do things differently in the future, and we're going to optimize the service that we have with the people we've got."
The job eliminations — which the firefighters union and recently resigned Fire Chief Dominick Lanza argue would put life and property at risk — aim to reduce the Ann Arbor Fire Department's ranks from 89 to 77. The department already lost five positions last July.
Aside from news media and city officials, only about seven residents attended Wednesday's meeting. Toward the end, Fraser appeared somewhat frustrated.
"If you want to take issue with us this evening, I'm not going to entertain a lengthy argument about the pros and cons of fire service," Fraser told residents.
Dean Kapp, a retired fire department battalion chief, asked Fraser what the city would do if it experienced two fires in different parts of the city simultaneously.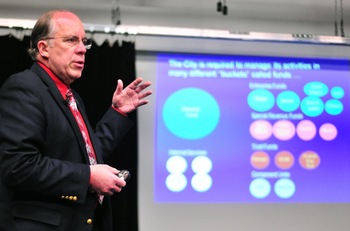 Ryan J. Stanton | AnnArbor.com
"There are protocols that drive the number of people who respond to particular types of fires," Fraser said, acknowledging a number of changes made in recent years have reduced those numbers. "But if we have reason to believe that we have a valid structure fire, we try to have a minimum of 20 people on the scene within 10 minutes."
"Where do you find the 20 people?" Kapp asked. "There aren't that many on duty."
Fraser said the city tries to keep a minimum of 15 to 17 firefighters on duty at any given time, and it relies on mutual aid agreements with surrounding municipalities for additional help.
"What if we're helping them at the same time?" Kapp asked, to which Fraser acknowledged: "That's all part of the analysis that we have to do."
That analysis is being done by the International City/County Management Association. The city is paying the group $54,000 to study staffing levels in the fire department and provide the city with a report by mid-summer.
"The fact of the matter is that fire services are provided in a variety of ways around the country, Fraser said. "And the model that we are operating under in Ann Arbor is essentially the same model that was used 100 years ago when we had people onsite 24 hours a day."
Looking around the country, Fraser said, there are "significantly different ways that firefighting is successfully done at much less cost to the taxpayer." He said his presumption is Ann Arbor has "a very expensive fire service for what we need today."
"And I have been pressing hard for changes in the way that we provide the service," he said, suggesting the fire department has been resistant to change.
During budget talks last year, city officials said their goal is to able to put 18 firefighters on the scene of a working fire within eight minutes, which is required to meet state and national standards. The firefighters union claims Ann Arbor fails to meet those standards.
The union last year pointed to a GIS analysis conducted in 2008 that revealed the department's best response provided for 17 firefighters in under eight minutes in just 24.8 percent of the city.
The union claims the department has not had the ability to send 18 firefighters to the scene of a fire in less than eight minutes since 2003. Based on an analysis of call data, the union reported last year the quickest time to assemble 18 firefighters at a scene was 11 minutes.
The city began a new practice in mid-February of closing one of the city's five fire stations on a rotating basis to curtail costs. Each month a different station is assigned to be closed and property owners receive service from the next closest open fire station.
A woman who identified herself as a lifelong Ann Arbor resident spoke at Wednesday's meeting about a serious accident she said she was in a year and half ago. She said she's grateful for the police and firefighters who secured the scene and made sure she and her friend could be transported safely to a hospital, which she said saved their lives.
"You have an amazing police and fire department who did that," she said, adding she wouldn't want to see those services compromised. But she doesn't see how they wouldn't be with 25 positions slated for elimination in the police department on top of cuts to fire.
Mayor John Hieftje acknowledged "there's going to be an impact," but he said the city has little choice given the size of the budget deficit it's facing — $2.4 million next year alone.
Hieftje stressed, though, that crime is on a downward trend in Ann Arbor and the number of serious fires is relatively low.
According to data found on the city's website, the fire department responded to 280 fires in 2009, the last year for which complete data is posted. The department also handled 3,290 emergency medical calls, 224 auto accidents, 695 false alarms, and 1,191 other incidents varying in nature that year.
Police and fire services would make up 49.4 percent of next year's general fund budget under Fraser's proposal, which includes expenditures of $78.9 million.
Hieftje said the city is having to cut public safety through little fault of its own. He said most of the city's budget problems can be traced to decreases in state revenue sharing, a projected decline in property taxes and the ever-increasing cost of employee health care.
Fraser said the police and fire unions have been unwilling to switch over to the city's new health care plan to help cut costs. The police contract expired in June 2009 and the fire contract expired in June 2010. The city has been unable to strike new deals with either union and now is entering into arbitration. The police case is expected to be heard later this summer.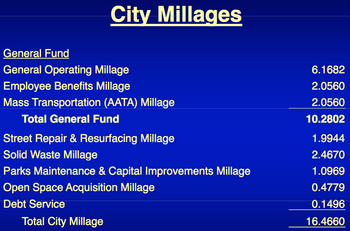 "Our firefighters have filed for 312 arbitration," Fraser added. "Once that gets started in a process, it's usually six to eight months before an arbitrator is selected, and then it's usually another eight to nine months after the arbitrator hears a case before we get a solution, so that's probably another one-and-a-half to two years before we see a settlement in that contract."
Fraser said about 40 percent of the city's employees have switched to the new health care plan, which reduces the city's costs by about 18 percent.
Ann Arbor resident Ed Vielmetti, former lead blogger for AnnArbor.com, told Fraser he's been frustrated with the "rhetoric" coming from both the firefighters and administration. He said neither side has presented accurate data to assist citizens in understanding the impacts of the cuts or whether current staffing levels provide adequate coverage.
Asked by AnnArbor.com what data he has examined, Fraser said he's looked at the response times for each fire station and the amount of time it takes firefighters to get from one area of the city to another. He said the city also has looked at national standards, but the interpretation of those standards is subject to debate and administration doesn't agree with the union.
"Those are precisely the reasons why we have asked for an independent study of what's happening in the fire service, what our capabilities are, and what our needs are as a community given modern-day technology, modern-day building standards and so forth," he said. "It's a fair question that I think deserves some additional exploration."
AnnArbor.com is awaiting the city's response to a Freedom of Information Act request seeking a number records related to the fire department, including data on response times and the most recent reports on calls handled this year compared to last year.
If Fraser's proposal to eliminate 48 jobs is approved by the City Council next month, the city will have reduced its work force from 1,005 to 688 full-time employees over the last decade.
"During the entire time I've been here, we have been reducing the number of people who are employed," Fraser said. "I think it was the first three or four years I was here that council said, 'We don't want to touch safety services.' The presumption was that we were going to work our way out of it, we'd make enough reductions so that we would be able to maintain into the future what it is that we have. That's proven not to be the case."
Hieftje cited estimates by the Michigan Municipal League that the state has lost about 2,500 police officers and about 2,100 firefighters in the last decade.
He noted Ann Arbor is similar in size to the city of Lansing, which is grappling with a $20 million budget deficit and is considering a plan to eliminate more than 200 jobs.
Lansing Mayor Virg Bernero's proposal to balance his city's budget would cut as many as 78 positions in police and 71 in fire. It also would eliminate all of the city's neighborhood watch and school liaison officers, and close as many as three fire stations. Bernero calls it a worst-case budget and is hoping voters instead will agree to a tax increase in May.
Hieftje said Ann Arbor has more police officers than most think. In addition to the 124 sworn officers in the Ann Arbor Police Department, he said the University of Michigan has 54 officers and they're available to assist the city in emergency situations.
One resident suggested maybe U-M also should have its own fire department. Hieftje said that might be a good idea for the university to consider.
Hieftje agreed with Fraser that sharing of fire services between local jurisdictions is becoming increasingly important as staffing levels are reduced.
"There was a large fire burning in Ypsilanti Township I think six or eight weeks ago, and there were fire people there from four different fire departments fighting the fire," Hieftje said. "That's a really good model. If you have something and it's not likely to occur very often where you're going to need to be in two places at once, you rely on relationships that you've been building up, and that's been improving a whole lot over recent years."
The firefighters union posted a video on YouTube last week:
Ryan J. Stanton covers government and politics for AnnArbor.com. Reach him at ryanstanton@annarbor.com or 734-623-2529. You also can follow him on Twitter or subscribe to AnnArbor.com's e-mail newsletters.