Posted on
Sun, Mar 11, 2012 : 5:59 a.m.
Ann Arbor residents win about 43 percent of property tax assessment appeals
By Ryan J. Stanton
It's that time of year again when property owners get fired up about their
tax assessments
and hundreds try to appeal the values determined by the city's assessor.
But what are your chances of winning an appeal and getting your assessment lowered if you live in Ann Arbor?
Maybe not as bad as you think.
An AnnArbor.com analysis of outcomes from the city's board of review hearings for the past five years shows residents win their appeals about 43 percent of the time.
Out of the 4,219 residential appeals between 2007 and 2011, residents were granted the adjustments they sought on 1,828 occasions.
But only a small percentage of residents ever take that step.
There are 27,750 residential properties in the city, and typically only 2 to 4 percent of those are the subject of an appeal each year.
"It's a small percentage that are actually appealing," said City Assessor David Petrak, noting many of those are people coming in with good evidence they were over-assessed, such as recent homebuyers or people who recently refinanced their homes.
"I wouldn't want to characterize it that if everybody in the city came in, 43 percent would get a reduction," Petrak said.
Last year, there were 623 residential appeals and 291 were granted. That amounted to a $5.5 million downward adjustment of the city's total taxable value or $18,763 per property.
City officials say that's a drop in the bucket when considering the city's total taxable value hovers just above $4.6 billion.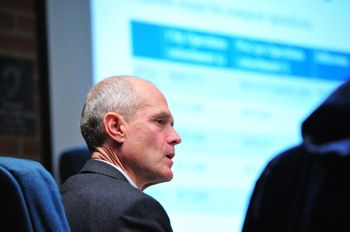 Ryan J. Stanton | AnnArbor.com
The biggest adjustment in the last five years came in 2009 when 517 residential appeals were granted for a $12.8 million downward shift in taxable value.
City officials are expecting a large number of appeals again this year as the city forecasts a 0.7 percent uptick in tax revenues, which means many can expect higher assessments.
The assessor's office breaks the city up into different neighborhoods and conducts sales studies for each neighborhood to determine assessments.
Petrak didn't have neighborhood-by-neighborhood data to share on Friday afternoon, but said some neighborhoods are going up and some are going down. Overall, he said, the assessed values across the city are increasing a little more than 2 percent collectively.
The new assessments will be used when the city sends out tax bills in July, and the collections from those bills provide revenue for the city's next fiscal year starting July 1.
Tom Crawford, the city's chief financial officer, said general fund property tax revenues are projected to come in $600,000 higher than expected this year.
"The bottom line is we're thinking tax revenues are going to be up like seven-tenths of a percent," Crawford said. "These are good estimates. We are expecting to be up 0.7 percent total in taxes, and that's compared to a minus 0.3 percent we had planned."
Crawford called that a "mild improvement," but an improvement nonetheless.
For residents interested in appealing their assessments, the city will hold board of review hearings over four days from March 19 through March 22.
The hearings take place inside city hall from 9 a.m. to 4:30 p.m. the first two days, from 1 p.m. to 9 p.m. the third day, and from 9 a.m. to noon the final day.
Residents should appeal in person or send an authorized agent. Residents unable to appear in person can submit a written appeal by noon March 22.
City officials warn that claiming your property taxes are too high and continue to go up is not a valid basis for appeal. To have a valid basis for appeal, you need to provide evidence that indicates the assessed value of your property is in excess of 50 percent of true cash value, and that requires some research and fact-finding on your part.
"The best cases are ones where they have some comparable sales that indicate a value that's less than the market value we have on their property," Petrak said.
Because commercial property owners can appeal directly to the Michigan Tax Tribunal, the city's board of review doesn't see many of those cases. Last year, there were 77 commercial appeals to the board of review and 15 reductions were granted.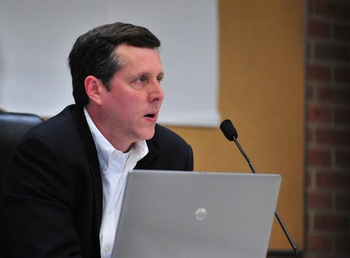 Ryan J. Stanton | AnnArbor.com
Crawford noted that people are appealing their assessed values, not their taxable values, so their taxes don't automatically go down if an appeal is granted.
"For the people who successfully appeal, that doesn't necessarily translate into a savings in taxes because the tax savings aren't achieved until the assessed value drops below the taxable value," he said. "Taxable value is less than assessed value in a lot of cases, so it depends on whether assessed value went down enough to hit the taxable value."
According to the city's website, board of review appointments typically last six minutes, but it could be 12 minutes if three or more properties are involved.
Members of the board of review are citizens appointed by the mayor, with City Council approval, and are not employees of the city.
Residents are required to first protest before the board of review. If unsatisfied with the board's determination, they can appeal to the Michigan Tax Tribunal.
Residents who want to go the extra step have until July 31 to appeal to the Michigan Tax Tribunal, while commercial property owners have until May 31.
Mayor John Hieftje, who gave up a career in real estate to become Ann Arbor's mayor a decade ago, said he thinks Petrak and the city's board of review do a good job.
"I know David closely follows every rule that is laid down in Lansing and he's pretty strict about it," Hieftje said. "And I think there are good people on the board. If that high a percent of people are getting relief, that shows they're really listening and paying attention."
To handle the large volume of appeals that came with the downturn in the economy, the city in recent years has established two separate board of review panels.
Hieftje noted that among the members are local appraisers, a University of Michigan regent with a legal background and a member of the city's Historic District Commission.
The board of review members listed on the city's website are Katherine White, Paul Herndon, Robert White, Timothy Somers and William Brogan.
Hieftje said he stays out of the assessment process as mayor, but he did field a call from an Ann Arbor resident recently who is "really fired up" that she's being penalized for installing solar panels on her property, which increased her assessment.
Hieftje said it's his understanding it's state law that solar panels are considered an addition to the property, and that increases the assessment. He said state Rep. Jeff Irwin, D-Ann Arbor, has introduced legislation so solar panels won't increase property assessments, but there isn't the political will in Lansing right now to take up the issue.
Stephen Ranzini, president of University Bank in Ann Arbor, said it's been his observation that the city over-values many properties and the board of review fails to be an effective watchdog protecting the citizens.
University Bank hired a lawyer and took the city to the Michigan Tax Tribunal to get an adjustment, which Ranzini said cost $16,000 in legal fees. He said the bank eventually settled with the city for a new assessment that valued the property at $2.1 million.
"Based on what I hear from our customers, this is a pretty typical experience, spending $5,000 for an appraisal and $16,000 on legal to reduce your property tax bill to close to what it ought to be," Ranzini wrote on AnnArbor.com. "From my point of view, the whole point of the effort by the city is to grind you down and make it hard to get a fair assessment."
Hieftje said he's happy with the board's performance and thinks the fact that Ann Arbor residents are granted their appeals nearly half the time is good.
"People do get relief at a fairly good percentage," he said. "It's not as if they're saying no to everybody. It sounds to me like they're digging into it and doing their work."
Ryan J. Stanton covers government and politics for AnnArbor.com. Reach him at ryanstanton@annarbor.com or 734-623-2529. You also can follow him on Twitter or subscribe to AnnArbor.com's email newsletters.