Posted on
Mon, Dec 12, 2011 : 9:58 a.m.
Ann Arbor salon hosts Barbie fundraiser; St. James Episcopal Church in Dexter offers annual 'Blue Christmas' service
By AnnArbor.com Staff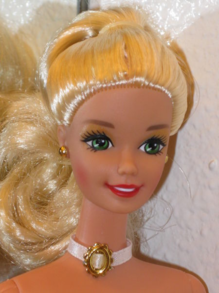 photo by Wikimedia Commons user CarrieBee
From a Barbie auction fundraiser for charity put on by Renew Salon and Spa to a 'Blue Christmas' church service in Dexter for those who are grieving during the holidays, here's a roundup of some of the stories posted on AnnArbor.com's Community Wall over the last few days:
By: Renew Salon and Spa: Renew Salon and Spa Toys for Tots Barbie Auction
We are having our clients vote based on three different categories; most creative hair design, most unique costume design, and best overall concept. After the voting we will be auctioning off the Barbies. and all of the donations will go to Toys for Tots
By: Jenny Ritter: A "Blue Christmas" Service
St. James Episcopal Church, Dexter, is offering its annual "Blue Christmas" service on Thursday, December 22, 2011 at 7 p.m. For those whose faith is waning, or seems lost, this service will offer silence and music, readings and prayers, filled with encouragement and hope.
By: sawashtenaw: Builders and Remodelers Association raises $154,000 for The Salvation Army of Washtenaw County Staples Family Center
By: Dane Jackson: The Crown House of Gifts to host food drive to benefit Food Gatherers, December 12 - 16, 2011
By: dan burroughs: Kiwanis Club Honors Don Kenny with Hixon Award
By: David Denoyer: U of M Art Exhibit In An Abandoned Factory
By: TimG: Redbud Productions Offers Winter Acting Classes For Adults & Teens
Arbor.com's Community Wall is a spot for local people to post local stories, news and announcements. To post a story, sign in to AnnArbor.com, then go to www.annarbor.com/community and use the Got News? Tell Us function at the top to submit your news. If you have a photo to add, e-mail it to us at community@annarbor.com and we'll insert it into your story.