Posted on
Tue, Jun 4, 2013 : 6 a.m.
Ann Arbor says goodbye to controversial 'Percent for Art' program
By Ryan J. Stanton
The Ann Arbor City Council gave final approval Monday night to a major overhaul of the city's public art program, eliminating the controversial "Percent for Art" funding mechanism.
Instead of automatically setting aside 1 percent of capital project dollars into a pooled public art fund — like the city has done since 2007 — city officials will decide on a case-by-case basis in the future whether certain projects might be enhanced by having art "baked in" from the start.
"There is, of course, uncertainty because it does rely on staff to conceive and propose interesting and useful and appropriate projects," said Council Member Christopher Taylor, D-3rd Ward.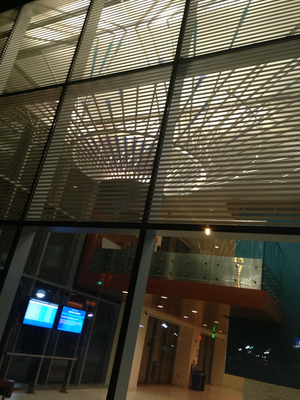 Ryan J. Stanton | AnnArbor.com
"And it relies upon future councils to make that commitment to go forward with public art associated with particular capital projects," he added. "I believe, however, that public art will compete for resources and that public art will find its proper level."
Both supporters and critics of the city's public art program agreed the changes made Monday night represent a step in the right direction.
"We are coming to a better place with our public art program," said Council Member Stephen Kunselman, D-3rd Ward, who questioned the legality of the old Percent for Art Program because it diverted money away from dedicated millages and utility funds.
"I think originally when we started this process, I was not too confident there was going to be a concerted effort for change," Kunselman said, praising his colleagues Monday night for the compromise and collaboration he witnessed in coming up with a new solution.
From 2007 to 2012, the Percent For Art Program channeled more than $2 million from various city funds to the city's pooled art fund. Some of those funds paid for a bronze sculpture doubling as a water fountain in front of city hall, a hanging sculpture inside the Justice Center, two orange metal trees in West Park, and a mosaic-style mural at Allmendinger Park.
New ordinance language approved by a 10-0 vote with Council Member Chuck Warpehoski absent states: "Funding for public art may come from private donations of cash or collateral (specific objects of art), crowdfunding for specific art projects, as part of a capital improvement project specifically designated as an enhanced project, or other funds that City Council may appropriate."
Council Members Sabra Briere, Sally Hart Petersen, Kunselman, Taylor and Margie Teall served on a task force that worked out the new plan.
The council took action several months ago to temporarily suspend the public art program while it studied the issue following November's voter rejection of a dedicated public art millage.
Council Member Jane Lumm, an Independent from the 2nd Ward, fought unsuccessfully Monday night to get more than $845,000 in uncommitted public art funds returned to their original source funds. Only Council Members Sumi Kailasapathy, D-1st Ward, and Petersen sided with her.
The bulk of the unspent art money — $451,956 — would have gone back to the sewage disposal system, while $237,314 would have gone to streets, $61,358 to the water supply system, $35,529 to solid waste, $28,492 to parks, $20,844 to stormwater, $6,416 to the airport and $3,120 to energy.
"I can't believe that we wouldn't all agree that we could find very good uses for those dollars with all these priorities — sewers, street-related projects that remain unfunded," Lumm said.
Other council members noted there's going to be a transition period between now and the realization of a functioning public art program under the new model and money will be needed to administer the program. It's possible those remaining pooled funds could be spent on art projects, too.
Briere reported that Craig Hupy, the city's public services administrator, has talked frequently about a potential public art project affiliated with the city's new wastewater treatment plant.
"He's got a concept in mind," she said. "He's described it thoroughly, and he's looked at the money for wastewater treatment as one of the funding sources for this piece of public art. I suspect other people also are looking creatively, but I don't know."
Mayor John Hieftje said he sees the $845,000 in uncommitted public art funds as the basis for future funding for art in the city.
"There are projects that may not have come forward yet," he said. "And I thought when we entered into this process in the beginning, we talked about the fact that we were comfortable with these funds staying in there. At least that's what I heard from many council members."
The council voted in May to approve a two-month extension of the employment contract with Aaron Seagraves, the city's part-time public art administrator.
It's still being discussed how the city will fund administration of the art program after July, and whether the city should have a part-time or a full-time art administrator.
"I would like us really to be able to continue to support an administrator," Teall said. "We had experts that came in to these committee meetings and said that's the one thing that a strong public art program needs — they need a full-time administrator."
While there has been some criticism of the city's art program, Hieftje noted each of the projects proposed came from citizen volunteers on the Public Art Commission.
"Some of those people are professionals working in art, local artists themselves, and I think they've done a fine job moving this along and bringing public art to the stage where it is," he said. "There's obviously been some hiccups along the way and some bumps, but I'd like to see our public art program continue and I don't see how we can do that without a funded administrator."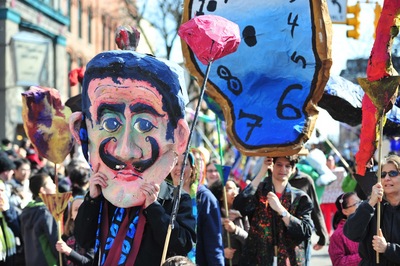 Ryan J. Stanton | AnnArbor.com
With the old program, Hupy said, 8 percent of the money set aside for public art was used for administration. But with the new program, that funding source goes away.
"The new ordinance will be at least two years — potentially three years — before it starts bringing projects to fruition," he said. "And that leaves the issue of the ongoing projects that are already identified, administering those, and carrying on planning for art in those three years."
Tom Crawford, the city's chief financial officer, said staff's recommendation would be to tap into the existing uncommitted public art funds to get through a two-year period. Hupy said they might look at crafting a program that uses some general fund money to support the arts administration.
Bob Miller, chairman of the city's Public Art Commission, said he's pleased council members and city staff were able to devise a new strategy for incorporating public art into the future of Ann Arbor's capital improvement plan, which he sees as a significant first step forward.
But he said he doesn't yet see potential for funding artistic endeavors outside of city capital projects — things like the FestiFools and FoolMoon community events in April, the Public Art Commission's mural program, and street-related art like temporary chalk art.
He suggested council explore the possibility of a new requirement that private development and new construction contribute to a public art fund.
While she's concerned there's still a mechanism in place for using capital funds to pay for public art, Lumm said there seems to be a greater recognition and focus on the role that private sources and fundraising can play under the new model.
"I continue to believe that if any community can successfully fund a public art program privately, it would be Ann Arbor," she said.
As part of its move to end the Percent for Art Program, the council voted Monday night to stop $326,464 from being transferred to the public art fund in the upcoming fiscal year budget.
Mark Tucker, who teaches art at the University of Michigan and is known as the creator of FestiFools, said the kind of projects funded by the city's Percent for Art Program were heralded by some as culturally forward-thinking and scorned by others as wasteful spending.
"However, there's another type of public art that is a vibrant part of what makes this city so unique," he said. "These are episodic art experiences that have been created by and for our community for the purpose of enhancing the lives of those of us who live in this community."
Tucker encouraged council members to consider the impact that "unconventional public art" has had on the community.
"By unconventional, I mean art that does not fit neatly into a particular capital improvement project and does not have the kind of value that can be easily depreciated," he said. "And I would challenge this council to find ways to support those types of public art projects — be they murals, outdoor music festivals, street art, or any number of new or unique art forms that could come our way."
Ryan J. Stanton covers government and politics for AnnArbor.com. Reach him at ryanstanton@annarbor.com or 734-623-2529. You also can follow him on Twitter or subscribe to AnnArbor.com's email newsletters.