Posted on
Tue, Apr 13, 2010 : 2:36 p.m.
Ann Arbor school administrators to recommend privatizing custodial services
By David Jesse
Ann Arbor school district administrators will recommend privatizing custodial and maintenance positions at the school board meeting Wednesday night, a move officials say could save $2.1 million.
But that recommendation comes with a caveat, Superintendent Todd Roberts wrote in a memo to school board members.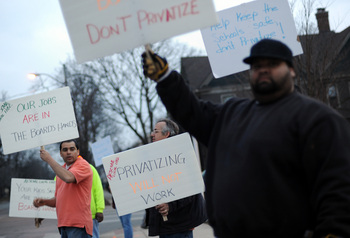 File photo
"This recommendation is a first briefing and would only be for approval on April 28th if we are unable to reach a negotiated settlement with AFSCME (the custodial union) prior to April 28th," he wrote.
The recommendation, contained in the board's agenda packet for the meeting at 7 p.m. Wednesday, calls for custodial services to be outsourced to GCA Service Group of Downer's Grove, Ill. The maintenance company would be
The bid from GCA calls for payments totaling $5,264,414. In a memo to the school board, Robert Allen, the district's deputy superintendent for operations, and Randy Trent, the district's executive director of physical properties, said that's a savings of $1,816,329 over the district's current custodial costs.
"GCA has extensive K-12 experience across the country with 1,400+ school buildings," the pair wrote. "GCA has three positive references from Southfield, Birmingham and Novi in Michigan. They have great depth in their operational and technological experience to improve efficiency.
"GCA has proposed 240, eight-hour days each year, for each custodian, with an insurance plan for the full family a composite cost of about $1,000 per worker and wage rate of $12.12/hour for all 90 of our tier one workers, a $19/hour wage rate for one repair person and maintaining the current pay rates for our lowest 49 tier two workers (15@$10.97 per hour, 17 at $10.45/hour and 17 at $9.85/hour)."
GLES, which is being recommended for the maintenance contract, would generate about $250,000 in savings for the district.
"Great Lakes and the local labor union have proposed 1,800 hours each year, for each maintenance worker, with an insurance plan for the full family at composite cost of about $1,000 per worker at a wage rate of $17/hour for all 25 employees"
"They have great depth in the Washtenaw County area and with the Ann Arbor Public Schools. They have been very cost effective in the areas of environmental, construction and parking services for the Ann Arbor Public Schools for the past 20 years."
In total, the cost for those services would be $1.2 million.
"The proposed custodial and maintenance services would save the district $2,100,000 and reduce our supervisory and office staff cost by $300,000 the first year and about $150,000 each of the next two years."
David Jesse covers K-12 education for AnnArbor.com. He can be reached at davidjesse@annarbor.com or at 734-623-2534.