Posted on
Fri, Apr 30, 2010 : 11:46 a.m.
Ann Arbor school board member expresses concern about student achievement numbers
By David Jesse
As a bevy of Ann Arbor school administrators walked school board members through piles of student achievement data Wednesday, trustee Simone Lightfoot broke in.
"These (numbers) for African-American and Hispanic children are abysmal," she said. "The seeming sentiment of 'Hold on, we'll get there,' isn't working for me."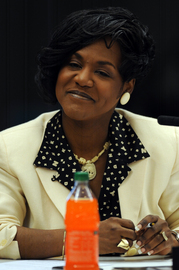 Administrators said that sentiment wasn't what they were trying to express. Instead, they said, they were attempting to highlight the numerous places where Ann Arbor students are achieving well above state averages.
And, they said, they were there to talk to the school board about hard work that remains.
"We're continuing to look hard at these interventions and how we can help our students," said LeeAnn Dickinson-Kelly, the district's administrator for elementary education.
Administrators spent nearly three hours Wednesday night discussing previously released student achievement numbers, including Michigan Educational Assessment Program results, ACT results and graduation rates. Several principals were also there to explain how the data is put to use in classrooms.
"It's active," said Joan Fitzgibbon, the principal at Allen Elementary School. "It's not just presented to them and put on a shelf. Our teachers and principals are always talking about students and their needs, keeping data in front of us."
Kevin Karr, the principal at King Elementary School, showed the board some new software to help teachers record data and share it with others working with a particular student.
Among the data shown to showcase the high achievement of students was the scores of fifth-graders, sixth-graders, seventh-graders and eighth-graders in math. District administrators pointed out Ann Arbor is between 8 percentage points and 20 percentage points higher than the state average in terms of percent of students deemed proficient on the MEAP test.
Administrators also showcased the percentage of elementary and middle school students rated as advanced proficient in reading and math. Ann Arbor's rate is, in some grades, nearly 30 percentage points higher than the state average.
Among the items that raised concerns for both administrators and school board members was the percentage of ninth graders earning less than a 2.0 grade point average in the first semester this year.
According to the district's data, 16.7 percent of all ninth-graders had less than a 2.0 GPA. That number climbed to 39.5 percent for black students (10.3 percent of white students had under a 2.0 GPA).
Despite that, board member Irene Patalan said the district should be proud of what it was doing.
"The numbers can discourage us, but there's improvement (over previous years). I'm confident we're doing whatever we can to make sure all students achieve."
David Jesse covers K-12 education for AnnArbor.com. He can be reached at davidjesse@annarbor.com or at 734-623-2534.