Posted on
Wed, Sep 15, 2010 : 11:04 p.m.
Ann Arbor school board names Robert Allen as interim superintendent
By Kyle Feldscher
The Ann Arbor school board unanimously selected administrator Robert Allen to lead the district Wednesday as the search begins for the next permanent superintendent.
Allen, the district's deputy superintendent of operations, will take over from Todd Roberts no later than Oct. 11.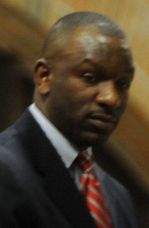 Allen was one of Roberts' first hires when he came to the district five years ago. Roberts said Allen's familiarity with the district will be a major asset.
"Everyone here on the board is familiar with Robert and his talents and capabilities," Roberts said. "He has been outstanding to work with and in his role he has guided the district through some very difficult times, he is very knowledgeable about the district and has a leadership style that would be what we need at this time."
Roberts announced he was leaving the district last month to move to North Carolina with his family. He will take over as chancellor of the North Carolina School of Science and Math in December. Roberts can step down any day between Sept. 29 and Oct. 11, but his final day will be decided between Allen and Roberts in the near future.
Roberts' recommendation for the interim slot was met with effusive praise from trustees.
Trustee Simone Lightfoot said Allen has always been willing to work with her, and she was looking forward to him taking over.
"His fiscal discipline, style of management and his follow through fit so well with this board," she said. "I believe he is a phenomenal choice."
Roberts said their close working relationship would lead to an easy transition process, which is why the date for the interim takeover was moved up from the original November timeline.
Board Secretary Glenn Nelson said Allen's personality and his ability to deal with bad news would serve him well as interim superintendent.
"He has absolute credibility, directness and honesty," Nelson said. "We had our share of bad news, and Mr. Allen is one of those people who doesn't shy from telling us what the facts are, but he also says, 'Here's how we're going to handle it.'"
Allen won't be a candidate for the permanent superintendent position at his own request. His position as deputy superintendent of operations won't be filled, but Nancy Hoover, district director of financial operations, will take on Allen's responsibilities in the interim.
Roberts also announced his intentions to fill the position of deputy superintendent for instruction, a position that has remained empty in past years. Lee Ann Dickinson-Kelley, the current director of elementary instruction, will fill that position on an interim basis. Ruth Williams, who recently retired as principal of Lawton Elementary, will take over Dickinson-Kelley's role.
Trustee Susan Baskett said it was a testament to Roberts' tenure that the positions could be filled quickly with people she believes will bring positive things to the district.
"As good leaders leave, you look at the team they left behind, and that's what's really important," she said to Roberts. "You'd led us right along, you've added stability."
Kyle Feldscher covers K-12 education for AnnArbor.com. He can be reached at kylefeldscher@annarbor.com.