Posted on
Sat, Mar 5, 2011 : 7 p.m.
Ann Arbor school board selects Patricia Green as its next superintendent
By Kyle Feldscher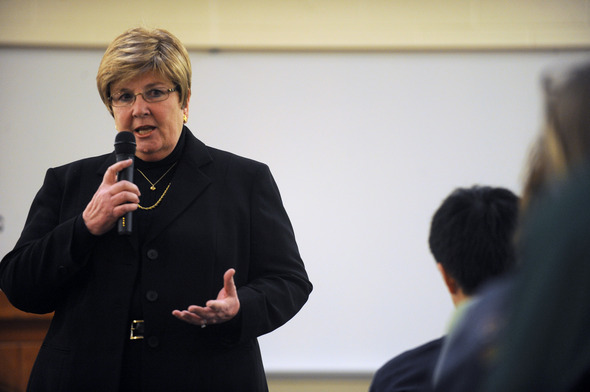 The Ann Arbor Board of Education selected Patricia Green as the new superintendent of Ann Arbor Public Schools in a vote Saturday afternoon.
Green is the current superintendent of the North Allegheny School District in Pennsylvania, where she announced she would be leaving at the end of the school year. The board voted 6-1 in favor of Green. Trustee Susan Baskett was the lone dissenting vote.
Before the vote, Green said she was looking forward to moving to Ann Arbor and becoming a part of the community. She closed her final interview by telling the board, "I'm your gal."
Earlier in the interview, she also assured board members: "I intend to be around a long time and I'm delighted to have that opportunity.
Green was not immediately available for comment after the meeting.
The board made the final decision after five unofficial votes with many board members changing their minds, citing the strength of the candidates.
Negotiations on a contract with Green are expected to begin shortly. Trustees set the new superintendent salary in the range of $245,000 near the beginning of the search process. Green will be getting a significant raise from her salary of about $189,000 in her current district.
The decision was the culmination of a process that started in August when former Superintendent Todd Roberts announced he was leaving the district to become chancellor of the North Carolina School of Science and Math. District administrator Robert Allen has been serving as interim superintendent since Roberts left the district in early October.
Ray & Associates, the firm hired to help trustees with the search process, received about 45 applications for the job. Board members interviewed six of those candidates in mid-February before narrowing down the choice to three candidates. The other finalists were Michael Munoz of Des Moines Public Schools in Iowa and Shelley Redinger of the Oregon Trails School District in Oregon.
Redinger withdrew her name earlier this week after taking a job as superintendent of Spotsylvania County Schools in Virginia.
Green began serving as superintendent of North Allegheny School District of May 2002 after working as acting deputy superintendent for instruction for the Prince George's County Public Schools in Maryland. Green has worked in education for most of her career, serving as a teacher, principal and in a number of administrative positions.
Green holds a bachelor's of science degree in elementary education, a master's degree in human development education and a doctorate in philosophy in education policy, planning and administration from the University of Maryland.
During her time as a superintendent in North Allegheny, Green won numerous awards.
In 2004, she was awarded the Outstanding Professional Award by the University of Maryland and was the first person to be awarded the Clarence A. Newell Distinguished Service to Public Education Award in 2008 by Maryland's college of education.
Her most recent award, and one that she has said she holds the most dear, is the 2011 Spirit of Unity Award from the North Hills Community Outreach and the North Hills Anti-Racism Coalition for her work in diversity.
Green will be facing a steep drop in per pupil funding from what she was used to in her previous district. North Allegheny schools receive about $15,000 per student in state funding from the state of Pennsylvania — considerably more than the roughly $9,500 AAPS receives from the state of Michigan.
Coming to Ann Arbor will also be a step up in district size for Green. North Allegheny schools have about 8,000 students; Ann Arbor has about 16,500 students.
Trustee Andy Thomas said he was drawn to Green because she challenged her previous district to build upon a good foundation and become a better district. He said this was something AAPS needed.
"The idea of that was this is a pretty good district and we're happy with what we're doing and her perception was, 'Yes, but you could be better,'" he said. "She was very effective at challenging people in a non-confrontational way to get people outside of their comfort zones to say this is what we need to do to make this an even better district.
"This is one of the things we in Ann Arbor really need. We are a good district, there's no doubt about that, but we could be better."
Green was held in great regard in North Allegheny, with every reference giving a glowing review in reference checks to the board.
Thomas said she was described as the hardest worker in the district — the first person in the building at the beginning of the day and the last one out at the end.
Green is coming to Ann Arbor from a district that is very wealthy, predominantly white and conservative, Thomas said.

Baskett said Green managed to keep good relationships with people in the district despite political differences.
"Everyone said she is very respectful," she said. "If there were issues, they were kept confidential."
Trustees said Green showed during her meeting with Ann Arbor community members on Friday night that she had the poise to handle the pressure of leading a district like Ann Arbor.
Although some community members said Green seemed like she gave general answers and had questions about her commitment to diversity, the majority of feedback was positive.
Julie Roth, an Ann Arbor Open School parent, attended the community forum Friday night and said Green's personality was one of her biggest assets.
"She was warm and very engaging and was a strong leader," Roth said.
Although funding is an issue in education across the country, trustees are wary about Green's — and any new superintendent's — ability to handle the budget crisis Ann Arbor finds itself in.
Trustee Christine Stead said she felt Green had the necessary leadership and experience in working with state lawmakers to help ease the budget process, but said the district's administrative team will have to shoulder much of the burden.
"I don't think either candidate has experienced what we've already experienced with budget cuts," she said. "That expertise and skill will rely on the team sitting here, the interim superintendent (Allen) and administrative team, that's where we'll get our expertise. What's distinct is her legislative leadership and I think in our near term that's going to play a big part."
Kyle Feldscher covers K-12 education for AnnArbor.com. He can be reached at kylefeldscher@annarbor.com.