Posted on
Wed, Apr 21, 2010 : 8:15 p.m.
Ann Arbor school board votes to issue 191 layoff notices to teachers
By David Jesse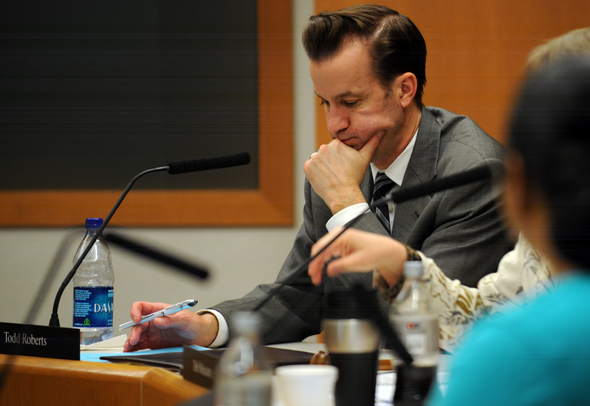 Melanie Maxwell | AnnArbor.com
Michael Hagen spent several months last summer hoping his interview with the Ann Arbor school district would lead to a job.
He said he was excited when he was hired as a teacher in the district where he attended elementary, middle and high school.
But that excitement has now turned to fear that he'll be unemployed in the fall.
Hagan , 29, is among 191 teachers who are to receive layoff notices Thursday morning informing them they're out of a job at the end of the school year. He's hopeful several factors will line up to allow him to return to teaching in the fall.
"I haven't gotten a clear answer," Hagan, a kindergarten teacher at Bryant Elementary School, said after school Wednesday. "But I don't think they have a clear answer. It's going to be a miserable summer."
The Ann Arbor school board voted Wednesday night to issue the 191 layoff notices. That represents 16 percent of the district's teaching force.
Melanie Maxwell | AnnArbor.com
"Even if there are no layoffs, the turmoil, the stress this does to our community is unacceptable," said school board Trustee Christine Stead.
No school officials - including Superintendent Todd Roberts, teachers union President Brit Satchwell and school board President Deb Mexicotte - can say how many teachers will be let go and how many who got layoff notices will be rehired. Not all 191 will lose their jobs.
As it stands right now the number of teacher positions eliminated could range from 50 to 90, depending on teacher contract negotiations. Retirements also could offset some or all of the positions eliminated.
Officials are not even sure what the district's shortfall will be next year since the state sets the per-pupil funding. Like all districts across the state, Ann Arbor relies on that funding for the bulk of its revenue.
Roberts and his staff have prepared a worst-case budget scenario that shows the district about $20 million short.
To counter that, administrators unveiled a series of cuts last month that includes eliminating about 50 teaching positions. Those cuts result in about $16 million in savings.
Roberts wants concessions from the district's union - most notably the 1,200-member teachers union - to help fill that $4 million hole.
Satchwell said he thinks the union and the district has a "very good chance" to solve the financial problems at the bargaining table.
Without concessions, Roberts is warning another 30 to 40 teaching positions will be eliminated. That could push the number of teaching positions axed to 90.
"It's something as a superintendent I don't relish sitting here tonight making this recommendation," Roberts, who called the budget cuts the toughest decisions of his 21-year education career. "It's what I have to do.
"I'm extremely disappointed where we are in the state and the inaction in Lansing."
He pointed out that across the state, about 3,000 pink slips have been issued to teachers and other school staff members.
"From where I sit, that's not acceptable."
A number of other factors will influence the number of actual layoffs by the fall.
Some teachers will retire - perhaps more than 50, officials said - significantly reducing the number who would actually be out of a job. If the union gives concessions, the number could drop as well. And if the state doesn't cut the per-pupil funding as much as projected, the number drops.
That uncertainly has parents and students across the district upset and frustrated.
"There's just no answers, no way of knowing who's going to be teaching my son next year," said Lori Cole, who has four children in the district at various levels.
Adding to the confusion is the process by which teachers would be let go or rehired. Seniority matters. So does what grade and what subject a teacher can legally teach.
All the teachers on the list was called into their principals' offices last week and told they were on the list. At the end of the week, Roberts sent a letter to the affected teachers, and earlier this week, district spokeswoman Liz Margolis sent an e-mail to parents.
As they wait for answers, parents and students have begun advocating on behalf of their favorite teachers.
Facebook groups have been organized. Letters have been written. And board members have been called.
"I don't see why the union isn't willing to make more concessions," said parent Tim Eric, who has two students in the district. "We're going to lose all our young, exciting teachers. That's not right. We need these teachers here. This is really going to hurt the district."
School board Trustee Glenn Nelson pointed out that if all 90 positions were eliminated, class size in grades K-5 would go up 8 percent; class size in middle school would go up 15 percent and class size would increase 18 percent.
Both Roberts and Satchwell have said they're hopeful no teachers will end up losing their jobs, but they can't make any guarantees.
"I have spoken with many of you these last two weeks by phone and e-mail," Satchwell said in an e-mail Wednesday to those getting the notices. "I recognize that many of you have spouses who are unemployed. I've heard your young children in the background over the phone. I know that some of you are single parents.
"I know that in every case you are worried, losing sleep, are feeling depressed and may have more cynicism about AAPS and even (the teachers union) than you have hope today. I want to assure you that it is my goal and the common goal of our bargaining team and AAPS to have each of you recalled before this year is out."
Still, actually getting the notice is going to hurt, Hagen said.
"It's going to be really tough. It's going to be crushing. I've worked so hard to get here. This is my goal - to be a teacher in Ann Arbor. I'm going to try to be hopeful, but it's going to be tough."
David Jesse covers K-12 education for AnnArbor.com. He can be reached at davidjesse@annarbor.com or at 734-623-2534.