Posted on
Mon, Mar 5, 2012 : 5:59 a.m.
Ann Arbor schools seek advice from Google, Thomson Reuters, other technology professionals
By Danielle Arndt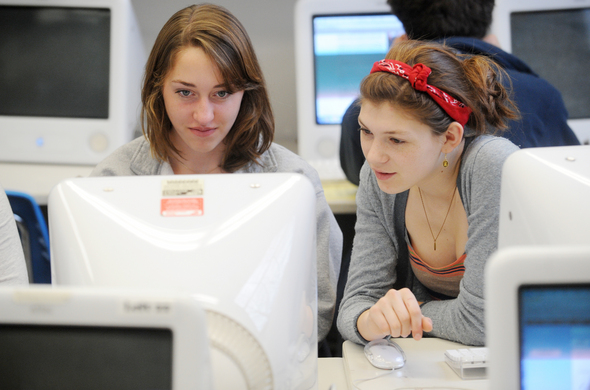 Melanie Maxwell I AnnArbor.com
A growing group of local technology professionals is gathering to give free advice to Ann Arbor Public Schools as district officials plan upgrades and improvements to the schools' technology infrastructure.
The upgrades and improvements would come only if residents approve a $45.8-million bond that is up for a vote on May 8.
The district began reaching out to tech professionals in January.
"We want to make certain we are making the right decisions at the right time for our kids," said Ann Arbor Superintendent Patricia Green. "So we are not working alone in this. The right help is critical in taking (the district's) technology use to the next level."
James Corey, a campaign manager for United Way of Washtenaw County and former project manager for Google Book Search, was key in organizing what is now called the Ann Arbor Technology Advisory Committee, which includes employees of Thomson Reuters, Microsoft, Menlo Innovations and Terumo Cardiovascular Systems.
Corey said the group is still very new and is open to additional tech professionals joining and donating their time.
The members received a copy of the district's initial bond plan a couple of weeks ago and met last week to discuss it.
"This is entirely about giving free advice to the schools," Corey said. "It's not about asking people to vote or about advocacy at all. It's more about people with a particular skill set or knowledge giving back to the district."
Steven Shu, who works for the information services giant, Thomson Reuters, in Ann Arbor, said curiosity is what drove him to volunteer.
"I wanted to see how both software and hardware were being used at the local school level," he said. "Working with the school board has been an enlightening experience. So many key factors went into play when drafting the technology bond."
Corey said in addition to analyzing the bond plan, technology professionals will speak with school leaders about trends and technology advancements they see coming down the pike. They also will give cost-saving suggestions, Shu said.
Some of those up-and-coming trends include the school-driven shift to a Mac-powered world, which is good news for AAPS, considering the bond plan would include an overhaul of the district's current laptop and desktop computers and provide more iPads.
Shu said districts have embraced Apple products and as a result, more businesses likely will embrace them in the long run. He said as children grow up and become the business leaders of the future, they will want to continue using the technology with which they are comfortable.
Shu said it appears AAPS currently uses several different types of software, adding it may not need to because many of them are used for similar tasks.
For example, it's not necessary for the district to purchase both Flash and Quicktime, he said since Quicktime is the video encoding piece in Apple projects and Flash is what other programs use.
"Depending on what the software package agreements are that the school has with Adobe (the maker of Flash), they could potentially save a significant amount of money (by not getting Flash)," Shu said.
In addition, technology professionals and AAPS staff members believe iPads, tablets and other mobile learning devices are the wave of the future.
Corey said tablets have many benefits — they are more portable than traditional computers and less expensive — but questions remain, such as "Can it do enough for teachers?" and "What type of WiFi investment would it require?"
Tablets and iPads can be great instruction tools, based on the applications that have been developed, he said. However, Shu said there aren't many applications that promote class participation yet.
"They are better for individualized learning," he said.
Kosta Kontoyiannakis, a manufacturing engineer for Terumo Cardiovascular Systems, agreed with Shu, noting tablets and iPads have software limitations. He said certain software requires Windows, while other kinds require a full-scale Mac.
However, Green said developing more personalized learning is precisely why Ann Arbor school officials would like to invest in the iPad. She said the iPad has considerable possibilities for helping special needs children develop better language acquisition skills. She also said the iPad has had a lot of success in helping students who struggle with math and reading.
"Young people gravitate so easily toward this technology," she said, adding it also can be used to promote social and emotional learning.
Apple is projected to come out with a variety of digital textbooks in the near future, tech professionals said. If that happens, the district could save money on paper copies of books by investing in the iPad.
Green said from what she has heard about Apple's digital textbooks, they sound "phenomenally impressive," are interactive and include features such as video for deeper learning on a concept.
Kontoyiannakis said the district is taking the right approach in looking to build a stronger infrastructure and network system as part of the bond. He said the district's need for a more efficient infrastructure only will increase as the trend toward personal mobile devices continues, and students keep receiving these devices at younger and younger ages.
But he said the No. 1 thing the district is doing right is not spending all of its money upfront.
"They realize that technology evolves very quickly. … Who knew back in 2000 we'd be walking around doing everything on our phones and regular computers would be virtually obsolete?" Kontoyiannakis said.
The district will continue to have ongoing discussions with the Technology Advisory Committee, not just in relation to the bond, but for future technology plans as well, said district spokeswoman Liz Margolis. The district really hopes to tap into its resources in the community as technology continues to change and evolve, she said.
"I think it's been good for them, too, to learn and see how things work in the schools and the funding limitations we have," she said.
Read this previous story for an overview of the district's tech bond plan.
Staff reporter Danielle Arndt covers K-12 education for AnnArbor.com. Follow her on Twitter @DanielleArndt or email her at daniellearndt@annarbor.com.