Posted on
Fri, Jun 3, 2011 : 9:28 p.m.
Ann Arbor school officials consider alternatives to cutting bus service for high schoolers
By Kyle Feldscher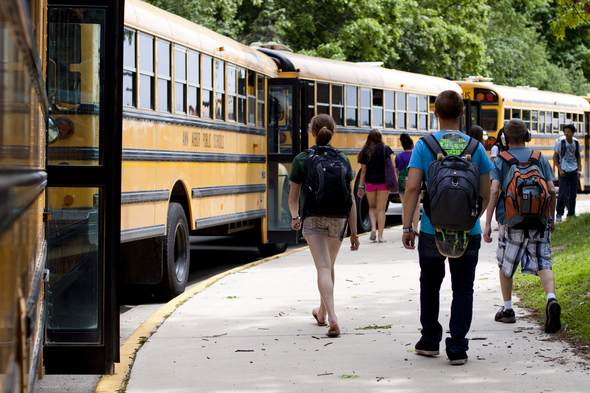 Jeffrey Smith | For AnnArbor.com
Although eliminating high school transportation is still in the proposed budget for now, the
Ann Arbor school board
heard a number of alternative solutions Friday, including simply enforcing an existing policy on how far apart bus stops should be located from each other.
Trustees were presented with a number of options to achieve the $1.482 million in savings that would come from eliminating bus transportation and after-school shuttles for high schoolers. On the list of alternative solutions was enforcing a board policy requiring a half-mile "walk zone'' around bus stops, meaning there should be at least a half-mile between any two bus stops. Applying the policy would save the district about $500,000.
Interim Superintendent Robert Allen said district administrators were not aware the board policy wasn't being followed and made that the top recommendation to the board.
"The assumption was all those policies were being enforced," Allen said. "When we went back and looked at the distance between the stops, we found some inconsistencies, so that's what triggered, 'Let's go back and look at all of it and see where we can make it more consistent.'"
Among the other solutions proposed by Allen at Friday's meeting were:
Eliminating noon-hour transportation, which would result in morning kindergartners not being brought home and afternoon kindergartners not being brought to school, a savings of $400,000.
Widening the walk zone around school buildings from 1.5 miles to 2 miles, meaning students who live within two miles of their school would not receive bus service. That would save $800,000.
Having a single, common bus stop for a larger area, rather than several bus stops in that area, which would save about $670,000, including fuel.
Trustees were also presented with a plan by administrators to add 7.2 full-time teaching positions back into the budget to help limit the increase of class sizes. The current budget proposal includes eliminating 70 full-time teaching positions.
No final decisions to include the proposals in the proposed budget were made Friday during the study session. Board members will vote on the proposed budget on Wednesday. The meeting also featured a discussion on possible revenue drivers.
Administrators said parents are already required to be with their kindergartners at the bus stop when students are picked up and dropped off, so the elimination of transportation for that group would not affect as many families. About 228 students use those services, officials said.
District spokesperson Liz Margolis said widening the walk zones around school buildings would have a greater effect on elementary school students than any other group. She estimated 50 percent of elementary school students, 30 percent of middle school students and 20 percent of high school students would be impacted.
Trustee Andy Thomas was among the board members who said they wished they had more data to base their decision on. He said he wanted the board members to announce a major change in transportation would come in September 2012 instead of September 2011 and take a year to figure out what the best options would be.
"There's a lot of room for discussion and figuring out some approaches to this but I'm not all that comfortable with trying to implement this for three months from now," Thomas said.
Board President Deb Mexicotte said one of the reasons she was originally comfortable with the cut to high school transportation was because of the various ways high school students can get to school.
She said high school students could drive, carpool, take public transportation such as the Ann Arbor Transportation Authority or walk to school in a much safer fashion than younger students.
Mexicotte emphasized she definitely did not like having to consider these types of cuts and the possible effects they could have on the district's future.
"I'm scared to death of this budget, I'm scared to death of the state (government) and I'm scared to death of the fund equity," Mexicotte said.
Part of the issue in making budget plans is the uncertainty over exactly what funding local districts are in line to get from the state.
The state Legislature passed a school aid budget last week that included a new $300 per pupil cut, a $170 per pupil cut from last year that was not restored and a number of provisions to restore $100 per pupil in funding. Retirement costs are expected to go up by $230 per pupil, but the budget passed by the Legislature allows for a one-time $100 per pupil increase in funding to help with retirement costs.
If the Ann Arbor school district was to qualify for the $100 per pupil increase for meeting state best-practices, that would mean about $1.4 million would come back to the district. The retirement payment means the district will receive about $2.6 million back from the state.
Allen said he understood the state's motivation in offering these payments to districts but said he was concerned that the details might actually prevent districts like Ann Arbor from reaping their benefits.
"I see the spirit of what they're trying to do but there are some details where I don't want them to penalize districts that have gone beyond (what they're proposing)," he said.
Kyle Feldscher covers K-12 education for AnnArbor.com. He can be reached at kylefeldscher@annarbor.com or you can follow him on Twitter.