Posted on
Sat, Mar 19, 2011 : 5:59 a.m.
Ann Arbor schools and U-M officials continue to make progress on Mitchell/Scarlett-UM Partnership
By Kyle Feldscher
The partnership between Ann Arbor Public Schools and the University of Michigan to set up a K-8 campus at Mitchell Elementary and Scarlett Middle schools is expected to be ready for the next school year.
Kathy Scarnecchia, the AAPS administrative liaison for the U-M Partnership, said the committee working on setting up the partnership is waiting on results of a survey that has been available for parents to take until Friday.
Much of the survey focuses on the contentious balanced calendar aspect of the program. In December, the district announced the balanced calendar would not be put in place for the 2011-12 school year, but Scarnecchia said the committee is anticipating having it in place for the 2012-13 school year.
She said the results of the survey — which asks parents from Mitchell, Scarlett and the other feeder elementary schools, Allen, Carpenter and Pittsfield Elementary — their opinion of the balanced calendar.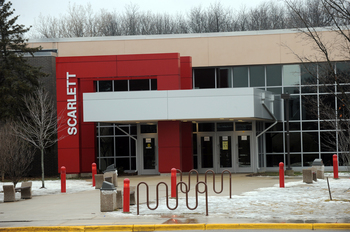 Lon Horwedel | AnnArbor.com
"We're really doing exactly what we said we'd do," she said. "There are a couple challenges that we have and we're trying to be sensitive to feedback we got from parents. One of the things they said was 'Tell us what the balanced calendar would look like early enough for us to adjust.' Even though we've tabled it for a year, we must be cognitive of the fact that they'll want information as soon as possible."
The Mitchell/Scarlett-UM Partnership will put U-M students in the classroom along with teachers from the schools to give them a chance to learn teaching skills while also giving students more personal attention from teacher candidates. The school district sees the program as a chance to increase student achievement and create a K-8 campus between the two schools.
According to the district's website, the balanced calendar could include school starting in the first week of August, have breaks for one or two weeks at the end of September, a break the full week of Thanksgiving, winter and spring breaks at the same time as the traditional school calendar, with one added week, school ending later in June than the traditional calendar and a six-week summer break.
During the breaks, the partnership will offer inter-sessions that will allow for additional learning opportunities. Inter-sessions are optional activities planned and taught by teachers from the buildings with participation from U-M interns and faculty. Possible inter-session activities discussed by planners in the past are writing camps and science camps.
Scarnecchia, who was principal at Mitchell until January, when she took over her current role forming the partnership, said many other aspects of the partnership are taking shape and are already in motion.
In a document she shared with AnnArbor.com, Scarnecchia highlighted some programs that already are being offered, including the Mighty Mustangs math project, which had interns and classroom teachers work with students in an after-school math program; study groups focused on teaching English language learners literacy skills; a section of U-M School of Education students who worked in fourth-grade classrooms to prepare for a family math night on Dec. 7 facilitated by teacher interns and Mitchell staff, along with numerous other initiatives.
"We're really proud of that," Scarnecchia said. "By the end of April, beginning of May, U-M needs to know what it'll look like for the fall so we're hoping to have a plan in place for fall projects as well."
Scarnecchia said the data from the survey will be analyzed and a presentation will be made to the Ann Arbor Board of Education's subcommittees later this month. She said the planners of the partnership will be looking to trustees for further direction on where to go next.
She said parents and staff have been involved in every step of the process, including on the calendar committee that is planning the balanced calendar. Scarnecchia said she wanted to make it clear the planners were sticking to their plan.
"We're doing exactly what we said we were going to do and we're not trying to do anything different than that," she said.
Kyle Feldscher covers K-12 education for AnnArbor.com. He can be reached at kylefeldscher@annarbor.com or you can follow him on Twitter.