Posted on
Mon, Oct 8, 2012 : 5:58 a.m.
Advertisements on Ann Arbor schools website expected to net $30,000 in revenue
By Danielle Arndt
Ann Arbor parents can now shop for tires or look for a new dentist while browsing their child's school website.
Ann Arbor Public Schools is in the process of launching advertising on the district's website. Banner ads soon will be integrated across the top of every page — including the homepage as well as topic, department and individual school pages.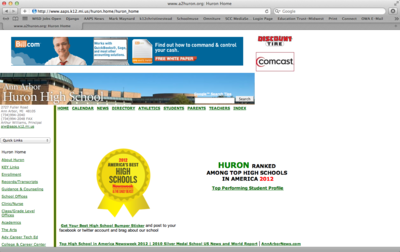 Screenshot
The ad program is expected to generate $25,000 to $30,000 in additional revenue for the Ann Arbor Public Schools within the first 12 months, said
Samuel Curcuru
, president and chief executive officer of
Alternative Revenue Development
, the company providing the marketing.
This past spring, district administrators proposed a number of potential revenue enhancements for AAPS, including advertisements on the district website, installing three digital billboards on district property, licensing high school logos and merchandise, and contracting with other districts to provide professional development or human resources and legal services.
The Board of Education was not required to approve any of the revenue enhancement proposals. However, board members expressed some concerns about the billboards, which would have been erected at Huron and Pioneer High Schools and Wines Elementary, as well as the licensing proposal. The website advertisements, in addition to marketing business office services to other districts, were two revenue enhancements the board desired to have administrators pursue.
District Spokeswoman Liz Margolis said officials had hoped to launch the advertisements prior to the 2012-13 academic year. However, the former webmaster moved out of state at the end of the previous school year, leaving a vacancy that had to be filled.
AAPS is having its own webmaster integrate the coding for the banner ads to eliminate the start-up costs typically associated with launching the ad program.
Placeholder banner ads and some advertisements for national and regional companies or products, like Discount Tire and Netflix, have been up on the AAPS homepage for a few weeks now, and the district's new webmaster, John Stahly, is currently integrating the ad coding into the interior webpages.
Margolis said in general, people are not typically fans of seeing advertisements on school websites. However, she said with the way education funding has been cut in the state, districts have to be creative and aggressive about bringing in new revenues.
Curcuru said the full launch process, which includes both installing the ads and attracting the sponsors, is about two months. He said within that time frame, ARD's goal is to secure four to six local sponsors and one to two regional sponsors for the school district.
"Then in the third year, which we consider as maturity, our goal is 30 local sponsors and 20 regional sponsors," Curcuru said. "And we are actually very excited about Ann Arbor and expect it to do even better than some of its similarly sized districts, just due to the uniqueness of the area and the business community and the high penetration of high speed Internet."
The district had its first local advertiser sign a contract this week,
Varsity Ford
. Car dealerships, insurance agents, Realtors, chiropractors, dentists, orthodontists, novelty shops, jewelry stores and specialty grocery stores do well on school websites, Curcuru said.
Alternative Revenue Development and its school-based program, called Unite, started about 3.5 years ago out of Troy, Curcuru said. Unite currently is installed in 68 districts in the state of Michigan, including Plymouth-Canton, Huron Valley, Farmington, Whitmore Lake and, new within the past few months, Ypsilanti schools.
"Our intentions are to expand, to branch off into municipalities and community organizations," he said. "But quite frankly, the growth and success from the educational side swamped us a bit. So it may be a few years."
Per its three-year agreement with ARD, Ann Arbor Public Schools receives 60 percent of the profits from local and regional advertisers placing a banner ad on the district's website, 65 percent of profits from national advertisers and 50 percent of profits from e-commerce advertisers, once this step is initiated.
E-commerce ads will take the viewer to a different landing page outside of AAPS' site where Web users can shop and purchase various goods from online retailers with a percentage of each sale coming back to the district, Margolis said. She said this option would not be launched right away.
Ann Arbor Public Schools has total control over the advertisements that appear on the site and can approve or deny a sponsor, Margolis said. Curcuru added companies promoting sex, tobacco, alcohol, weapons and ammunition are prohibited.
An added component of the Unite agreement is the company sends home a magazine with students three times per year. Past magazine features included a piece by Comcast on safe Web browsing for children and an article on the importance of winter tire maintenance by Discount Tire.
"It's all relevant, appealing content to moms and dads," Curcuru said. "We never market to students. It just arrives in their backpacks."
The cost of running a banner ad on the Ann Arbor schools website depends on the frequency of the ad but are typically between $300 and $650 per month, Curcuru said. ARD offers 12-month and packaging discounts for businesses that would like to pursue a larger regional audience and partner with multiple public schools.
Danielle Arndt covers K-12 education for AnnArbor.com. Follow her on Twitter @DanielleArndt or email her at daniellearndt@annarbor.com.