Ann Arbor schools report a 96-student increase in enrollment
Posted on Thu, Sep 30, 2010 : 11:37 a.m.
An increase of 96 students should put the Ann Arbor school district right on its target budget when enrollment numbers are audited, Superintendent Todd Roberts said this morning.
The district had 16,536 students in schools on Wednesday, an increase over the 16,440 during the fall 2009 count. The numbers will be audited and finalized near the end of October, Roberts said.
Wednesday's enrollment count makes up three-quarters of the formula for state funding for schools. It is blended with a count taken in the spring to form the full funding amount, which is expected to be about $9,057 per student in Ann Arbor.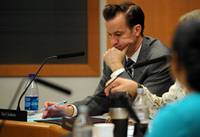 Roberts said the enrollment number did not include Ann Arbor students participating in the Washtenaw Intermediate School District's Widening Advancement for Youth program. He said another 25 to 40 students could be added from that program in the next week.
The main reason for Ann Arbor's enrollment boost was the decision earlier this year to allow out-of-district students to enroll through schools of choice. Several other local districts participate in the program, but Ann Arbor hadn't been one of them until this year. Ann Arbor gained about 120 students total through school of choice, school officials said.
Ann Arbor, the county's largest district, and Milan were the only districts to report an increase in students. Several districts said unaudited counts showed they had lost fewer students than anticipated. Manchester said enrollment was flat.
And a couple districts posted larger-than-projected losses, including Saline, Whitmore Lake and Dexter.
Kyle Feldscher covers K-12 education for AnnArbor.com. He can be reached at kylefeldscher@annarbor.com.