Posted on
Wed, Feb 8, 2012 : 2:12 p.m.
Ann Arbor school policy says police should have been notified of Eberwhite sexual assault claim
By Danielle Arndt
Ann Arbor Public Schools' legal obligation to report an 8-year-old's claim that she was sexually assaulted at Eberwhite Elementary to Child Protective Services falls into a gray area, according to legal professionals.
But the district's Code of Conduct and Consequences is clear. It says in incidents of alleged criminal sexual conduct, the building principal "must refer the incident to local and state enforcement agencies."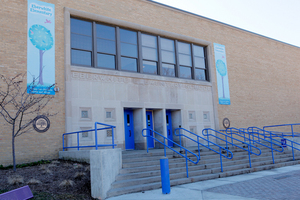 Chris Asadian | AnnArborcom
That didn't happen, according to available accounts of the incident that Eberwhite staff heard about on March 22. Police were contacted the following day by the University of Michigan, after the girl was taken to the hospital when her mother learned of the complaint.
AAPS officials would neither discuss the district's response to the assault claim nor answer questions about whether they've taken steps to correct any processes since that time. Spokeswoman Liz Margolis cited the pending litigation filed last week as the reason.
The lawsuit was filed in federal district court on behalf of the mother of the former Eberwhite pupil. It alleges a classmate assaulted her daughter twice in the bathroom of their special education classroom, once in October 2010 and again on March 22, 2011.
The classmate was charged with one count each of first-degree and second-degree criminal sexual conduct.
The boy was one of two students who continuously bullied the girl throughout the school year, according to the lawsuit. The lawsuit said both boys were suspended from Eberwhite for two days in March, due to their special education status.
The lawsuit alleges the district failed to protect the girl from the bullying and sexual assaults, "which significantly interfered with her ability to fully utilize (Ann Arbor Public School's) educational services." It also states the incidents were reported only by hospital personnel, after the girl's mother had her examined by doctors.
AAPS' Anti-bullying and Harassment Policy defines sexual harassment as "unwelcome sexual advances, requests for sexual favors, sexually motivated physical conduct or other verbal or physical conduct or communication that has the purpose or effect of substantially or unreasonably interfering with an individual's education or creating an intimidating, hostile or offensive … environment on school property or at any school-sponsored or related event."
The policy further states: "A student should report incidences of harassment to the building administrator with any supportive evidence that is available. The principal will examine the evidence and, if merited, speak directly to the person alleged to have harassed the complainant.
"If proven, the building administrator will: Have the offender sign a contract regarding appropriate behavior toward the complainant and/or refer the offender to an outside agency and/or initiate suspension or expulsion procedures."
The policy says the disciplinary action "should be commensurate with the behavior and developmental level of the student."
Meanwhile, AAPS' code of conduct also states Michigan Compiled Law 380.1311(2) requires anyone who commits criminal sexual conduct to be permanently expelled with possible reinstatement.
Mark Cody, legal director for Michigan Protection and Advocacy Service, an organization that protects the legal rights of people with disabilities, said the theory with special education is behavioral and instructional policies are individualized.
"They are intended to be custom-made to fit the needs of the child," he said.
He added the accepted and recommended policies for handling an alleged student-on-student sexual assault would be to convene in an Individualized Educational Program (IEP) meeting to discuss the appropriate accommodations that need to be made for both the victim and the child engaged in the assault.
This should be done in partnership with the parents, Cody said. He added MPAS becomes concerned when restraint or time-out rooms are brought up as possible to solutions to behavioral problems. He said suspensions also only exacerbate problems with special needs children.
"If you do go that route, it should be for the shortest time possible and only to reassess how best to assist the student and anyone else involved," Cody said. "It does not solve the problem to move it out into the community. … In my opinion, that is not a responsible school district."
He added the police being called is "pretty much a given under Michigan law." However, whether a teacher is obligated to report alleged child-on-child abuse or neglect to Child Protective Services is a "confused area," Cody said.
Teachers are listed as mandatory reporters under the Michigan Child Protection Law. The law requires mandatory reporters to make an immediate verbal report to CPS and a written report within 72 hours after suspecting a child has been abused or neglected. Anyone who violates that law can be charged with a misdemeanor and face up to 93 days in jail, if convicted.
Joshua Kay, a clinical assistant professor of law for the Child Advocacy Law Clinic at the University of Michigan, said he believes a strong argument could be made that the mandatory reporter law does not apply.
"You are not talking about an act by someone who is responsible for the child," Kay said.
Department of Human Services spokesman David Akerly agreed with Kay's assessment. He said mandated reporters do not have to call CPS to report child-on-child sexual contact, but if they did, CPS would refer the information to law enforcement.
He said the Child Protection Law would apply only if the children were, for instance, siblings and the school suspected the parents failure to provide supervision contributed to the alleged CSC.
Kay said if there were a continued situation where the teacher failed to do anything to protect the child, a CPS complaint against the teacher could be filed. He said this is a little speculative, but there is at least an argument to be made that teachers are at-school guardians and are responsible for their students' health and safety.
The Student Advocacy Center in Ypsilanti declined to discuss the lawsuit or AAPS' actions Tuesday. Volunteers at the center met with school officials and the mother of the girl to help get the child transferred to another elementary.
Several district administrators and Board of Education members did not return phone calls from reporters Tuesday. Trustees Andy Thomas and Christine Stead declined to comment, stating they take the accusations in the lawsuit very seriously but need to learn more about the incident and how it was handled before making a statement.
The story on AnnArbor.com Monday was the first they had heard of the incidents or allegations, they said
Trustee Susan Baskett said she was contacted by "ears in the community" and made aware of the sexual assaults in spring 2011.
"At this point, the mother was having issues trying to get what she wanted (to transfer her daughter) and was in crisis mode, frustration mode," Baskett said. "We left it as, if the mother does not get what she wants, please get back with me."
Baskett said she did not contact administration to see if an investigation had taken place and that she did not hear back from anyone in the community again regarding the incidents, so she assumed the situation had been handled.
She said she was "following due process and allowing due process to work itself out." When she was approached, Baskett said the family had just started working with the district to transfer, so she felt it was too early to get involved as a board member.
"How sad and how tragic that this would happen," Baskett said. "All I can think is the family must be very hurt to go to the next step, which is suing.
"The mother is probably trying to take a preventative measure to keep it from happening again — and who can blame her."
Staff reporter Danielle Arndt covers K-12 education for AnnArbor.com. Follow her on Twitter @DanielleArndt or email her at daniellearndt@annarbor.com.