Posted on
Sat, Jun 25, 2011 : 11:59 a.m.
Ann Arbor schools slashing freshman sports teams, cutting funding to several other programs
By Nathan Bomey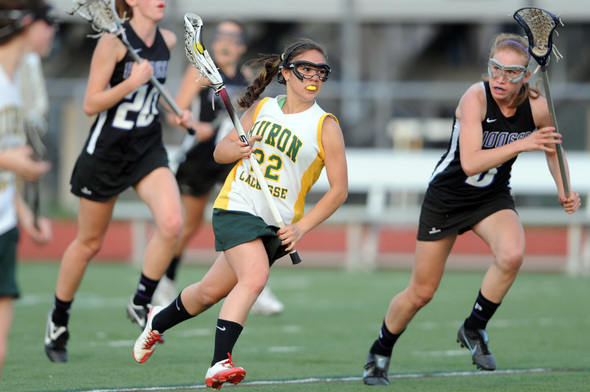 Melanie Maxwell | AnnArbor.com
(This story has been updated several times.)
The Ann Arbor school district said this morning that it is ending freshman sports programs — except football — at all three of its high schools.
The district also said that it would stop funding several other programs as part of a broader effort to make up for a $15 million reduction in K-12 funding from the state government.
District officials had asked the athletics directors at Pioneer, Huron and Skyline high schools to reduce spending on high school sports by $475,000.
Liz Margolis, a district spokeswoman, announced the cuts this morning in an email to school families.
Included in the announcement:
— All freshman teams will be cut, except football. The district said it preserved the freshman football teams because "safety issues were a major concern" if freshmen were forced to compete on junior varsity teams. Freshmen athletes can still try out for junior varsity or varsity teams.
Becoming a club sport

Ann Arbor high school teams that are losing their school funding could come back as club sports. These include men's and women's lacrosse; men's and women's bowling; figure skating at Pioneer and Huron; cheer at Huron; and dance at Skyline.

Here's the multi-step process for establishing a club sport, which are generally set up as nonprofit organizations:

Definition: An athletic program sanctioned, but not paid for, by the school district. It can participate in competitions as if it were an officially school-funded program.
Funding: All expenses, including coaching, officiating, transportation and equipment, and must be paid for by the club.

Participation: Must prove "adequate student interest, defined as double the minimum squad size."

Varsity letters: Awarded by the school but paid for by the club.
Pay-to-play: Athletes don't have to pay the district's pay-to-play fees, but they typically have to pay a larger sum to the club itself for the right to play.

Process: Must draft a charter; get budgets, transportation plans and insurance plans approved by the school principal; secure a faculty sponsor; file annual reports; meet standard athlete eligibility requirements; and hire coaches approved by the district.

Facilities: Teams must pay for officiating but are generally allowed to rent facilities for free.

— Several other programs will lose their district funding, meaning they'll be eliminated unless they are reestablished as "club sports," which require district approval and outside funding. These teams are: men's and women's lacrosse; men's and women's bowling; a second JV field hockey team at Pioneer and Huron; figure skating at Pioneer and Huron; cheer at Huron; dance at Skyline; and the fall crew season at all schools.
— The district plans to privatize its athletic trainer services in a contract with Michigan Rehabilitation Specialists, which will provide two trainers to each school.
— The district will contract with a third-party management service to pay coaches who are not employed by the district in some other capacity, such as teaching.
— Ice hockey teams will be required to pay the first $12,000 in rink rental costs.
"Let me make it clear that we're unhappy that we have to make any of these cuts," Margolis said in an interview. "For lack of a better way of saying it, these cuts suck. That's really how we feel about it."
But Margolis said that carving $475,000 out of the sports budget was necessary to prevent more cuts that would directly impact the classroom.
"That's a number of teachers we would have to cut if we didn't do these kinds of cuts," she said. "We're a public school district, so our main job is to educate students."
The decision is also the equivalent of a layoff notice for coaches of freshman teams and varsity programs that are no longer being funded. Those coaches are eligible to apply for empty positions on junior varsity or varsity teams — or they can apply for coaching jobs with club teams. Otherwise, they won't be coaching in Ann Arbor, anymore.
It was not immediately clear how many coaches are affected or how many students compete in freshman sports teams at Ann Arbor high schools.
Teams that are converted into club sports are still eligible to compete in Southeastern Conference games and qualify for Michigan High School Athletic Association playoffs — and club sports athletes still earn varsity letters, Margolis emphasized.
The cuts continue a series of reductions for Ann Arbor schools' athletics programs, which represent 1 percent of the overall district budget. The district has slashed $1.6 million in sports spending over the last two years.
Still, the cuts are already drawing criticism.
Preserving the freshman football team but cutting all the other freshman teams "opens a Pandora's box," said Pioneer varsity basketball coach Rex Stanczak.
"You're going to have women's sports saying 'wait a minute, that's 30 or 40 boys that are able to play freshman that you're funding. What about 30 or 40 girls somewhere?'" he said. "You're going to have basketball and baseball, and I think we're the two sports most against this, saying 'wait a minute, if you're going to do it for football you gotta do it for basketball, you gotta do it for baseball.'"
Margolis said there was concern that the "weight discrepancy" between freshmen and sophomore boys made it dangerous to fully integrate freshmen into the JV football teams.
"The ADs felt that it wasn't a safe thing to all of a sudden bring those ninth graders into the JV teams, so that's why they're keeping the ninth grade teams," she said.
The district emphasized that it always believed that some programs would not need freshman teams after a third high school, Skyline, was opened.
AnnArbor.com's Pete Cunningham contributed to this report.
Contact AnnArbor.com's Nathan Bomey at (734) 623-2587 or nathanbomey@annarbor.com. You can also follow him on Twitter or subscribe to AnnArbor.com's newsletters.