Posted on
Fri, Feb 8, 2013 : 2:30 p.m.
Ann Arbor school officials stand by decision to keep district open Friday
By Danielle Arndt
Ann Arbor parent Ken Clark said he drove his Skyline High School student and two of her friends to school Friday after the students' bus didn't arrive at Northside Elementary to pick them up. The students waited for 40 minutes before they called Clark to come get them, he said.
"I assume the bus eventually came," he said. "But the roads on our side of town were terrible. It was a mess. Not a single roadway I drove on was anything but packed snow."
He said he wishes Ann Arbor schools would have closed as did every other public school district in Washtenaw County Friday, after a winter storm left 1 to 2 inches of snow and a glazing of ice on area roads. Most private and charter schools also called off classes.
Clark was far from alone in his opinion. Ann Arbor school officials got dozens of complaints from parents Friday about their decision not to call off classes because of the weather. But a district spokeswoman said they still believe they made the right call.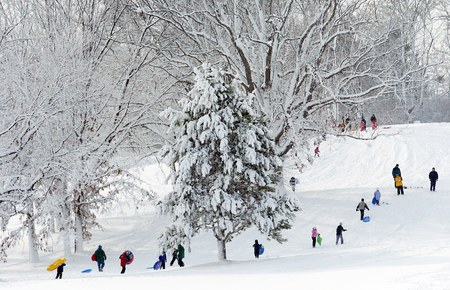 AnnArbor.com file photo
"We got some very reasonable complaints, we got some downright angry complaints and calls from people thanking us for staying open," said
Liz Margolis
, director of communications. "… If we'd closed, we probably would have gotten the same amount of calls. We're damned if we do, damned if we don't."
Margolis said all students got to school safely, although some preschoolers arrived about two hours late because the weather kept bus drivers from coming to work. Some high school buses were also late, a transportation official said.
Margolis said district officials had been monitoring the roads all night and facilities crews had cleared parking lots and sidewalks. The district was confident students could get to school safely, she said.
Though roads in the Ann Arbor area were judged to be passable, about 15 bus drivers for the Washtenaw Intermediate School District, which provides transportation for Ann Arbor, Willow Run and Ypsilanti schools, were forced to call in absent because of the weather, said WISD Transportation Director Thomas Moore.
The shortage of bus drivers resulted in Ann Arbor Public Schools officials mandating a two-hour delay for some students at the Ann Arbor Preschool and Family Center.
Margolis said only a small number of special education students attend the district's preschool program on Fridays, and an even smaller number of these students ride the bus. Because some drivers called in, the three preschool bus drivers had to fill in on regular routes and then pick up the students to take them to the family center, Moore said.
Margolis said only about 16 children were affected and all of their parents were notified.
Moore said when county transportation officials were out assessing the roads at about 4:30 a.m., they determined there was approximately 3 inches of snow on the ground in the northern parts of the county.
"There was about 1 inch in the I-94 corridor. It was snowing very lightly. The roads were not plowed and were still untreated, but there were still a few more hours before school started," Moore said. "Typically, with 1 to 3 inches it does not impede bus traffic. So our recommendation was the weather conditions were not going to impede the buses."
He added this was the message communicated, but the superintendents and other school officials are responsible for making the snow day call that is best for their specific districts.
"We always look at student safety first," Margolis said. "People may disagree with us or say teen drivers shouldn't be out in the weather. And if there is an inexperienced driver, that has to be a parental decision. … It is always the parents' right to make the decision that is best for their student."
Some parents did keep their children home from school Friday morning. But Margolis said anecdotally, attendance rates do not appear to be abnormal. Specific attendance data would not be available until Monday, but building officials usually get in touch with Margolis if their school has a high number of students absent, she said.
There were some teachers who live outside of Ann Arbor, where their residence-determined districts were closed because of slick driving conditions, who had to call in. "But again, nothing abnormal," Margolis said.
Clark, the Ann Arbor parent, said he knows deciding whether to close school can be a tough call.
"I'm just not sure why Ann Arbor was still reluctant when everybody else agrees," Clark said.
Danielle Arndt covers K-12 education for AnnArbor.com. Follow her on Twitter @DanielleArndt or email her at daniellearndt@annarbor.com.