Posted on
Tue, May 8, 2012 : 9:52 p.m.
Voters OK $45.8 million Ann Arbor Public Schools technology bond
By Danielle Arndt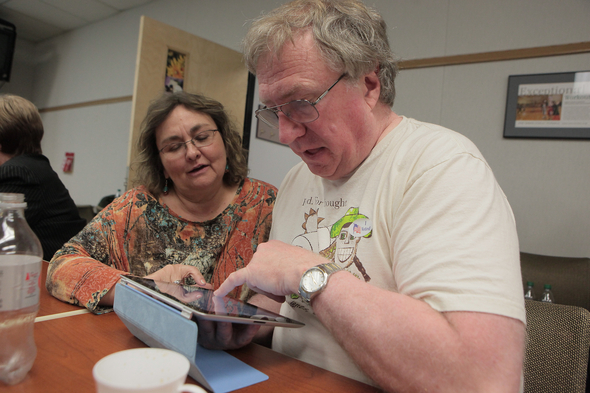 Chris Asadian | AnnArbor.com
Previous story: Ann Arbor Schools: Tech bond voter turnout likely to be less than 10 percent
With votes tallied in all 57 precincts, the Ann Arbor Public Schools $45.8 million technology bond is 70.35 percent a "yes."
"You can pretty much stick a fork in it," said school board secretary Andy Thomas, calling the election early at 9:30 p.m. with 42 of 57 precincts reporting.
A group of AAPS administrators, teachers, officials and parents advocating in favor of the bond proposal gathered at the Balas Administration Building at 8 p.m. Tuesday to watch the results trickle in.
Voters in the city of Ann Arbor carried the support, while support was down slightly in the townships, which is fairly typical, Thomas said. Eight precincts across six township accounted for 12.05 percent, or 427 of the 3,544 "no" votes.
The 1,746 absentee ballots came in mostly on the "yes" side of the vote, with 57.45 percent in favor of the bond and 42.55 percent opposed. Those watching the results at Balas were expecting absentee voters, generally categorized as retirees, to cast ballots against the bond.
The absentee ballots did account for 743 or 20.96 percent of the "no" votes, however.
In total, 9.21 percent or 11,953 of the 129,740 total registered voters within the Ann Arbor Public Schools district in Washtenaw County showed up at the polls Tuesday.
Thomas said school leaders and volunteers had to work harder to sell the idea of a technology millage to parents this year than with previous millage proposals.
"'We had a lot of people who were of the mindset that 'I'm inclined to support it, but you have to give me reasons it's needed and what it's being used for.' We had to really make a case for how it was going to be implemented in the classrooms," Thomas said.
Advocates also had to stress that putting more technology — and updated technology — in the schools was not going to take away from teacher-to-student learning or instruction, he said.
For Board of Education Treasurer Irene Patalan, the favorable vote on the millage reflects the Ann Arbor she has always known and loved — ever willing to give to its students.
"If it hadn't passed, I would have been befuddled as to what our community represents and stands for," she said. "I think people understood that — yay! — this is money that all comes from and stays in Ann Arbor."
The millage will levy, on average, an additional .51 mills per year until 2023. Taxpayers with a $100,000 to $300,000 home will pay an extra $26 to $77 per year.
The technology millage originally was planned for the November 2011 election. However, school officials decided in August to push it back so they had more time to prepare, research and present data to the public about the bond.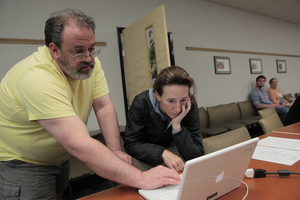 Chris Asadian | AnnArbor.com
The downside to being better prepared is AAPS has to foot the bill for the special election, which cost $86,000, said district spokeswoman
Liz Margolis
.
Some opponents of the bond accused AAPS of being fiscally irresponsible and trying to "sneak by" a tax increase during a low-turnout election. But to the naysayers, Superintendent Patricia Green said: "Everybody had the opportunity to cast their vote."
She said she and her team of administrators gave presentations at each school building, to the local chambers of commerce, the Ann Arbor Kiwanis Club and "anyone else who would listen."
Green added she is "thrilled" with the support of the nearly 8,500 people who showed up to vote and although this was her first school millage election, she said she was not nervous.
"I was confident that the community would come forward and see that this really was all about their children ... it was all about instruction," she said. "I am excited that (with this bond) we can continue to offer a 21st century education and ... work toward personalized learning."
The bond will allow AAPS to expand its wireless infrastructures, increase its bandwidth, upgrade server rooms and purchase new Mac computers, printers, iPads, document cameras and digital textbooks. It also will help the district to effectively assess students using the Measures of Academic Progress (MAP) test from the Northwest Evaluation Association.
The district's outdated computers created challenges in the testing this year, Green said.
The bond plan will be phased-in over the course of 10 years in three separate series, spending $27.27 million in 2012, $10.57 million in 2015 and $8.01 million in 2018. The first series will be for equipment and infrastructure improvements primarily, while the final two series are not entirely planned out yet.
More than half of the $45.8 million, about $25 million, will be spent to replace the district's nearly 8,250 computers — both laptops and desktops.
School officials said 99 percent of Ann Arbor's computers are three years old or older. Sixty-six percent are five to six years old and 34 percent are seven to eight years old.
Voters approved a five-year bond in 2004 with $20 million going toward technology. That money was spent on new computers; assistive classroom technology, such as Smart Boards and sound amplifiers; and career and technical education equipment.
The 2012 bond increases the estimated necessary debt-retirement levy for all bonds the district currently has outstanding to 2.6 mills or less.
Staff reporter Danielle Arndt covers K-12 education for AnnArbor.com. Follow her on Twitter @DanielleArndt or email her at daniellearndt@annarbor.com.