Posted on
Fri, Nov 23, 2012 : 2:58 p.m.
Ann Arbor sees its first snow shower of the season, cold weather expected to stick around
By Katrease Stafford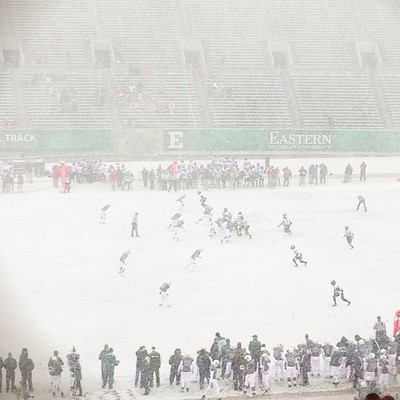 Courtesy Richard Retyi
Winter-type weather is making its way into the Ann Arbor area, with the first snowflakes of the season falling Friday afternoon.
AccuWeather.com Senior Meterologist Tom Kines said the cold weather is here to stay.
"The weekend forecast is definitely looking more wintery than the past couple weekends," Kines said. "The colder air is pouring in."
In Ann Arbor, snow showers have moved in and are expected to take place on and off through Friday up until possibly Saturday night. Forecasters are predicting a wimpy winter for the Ann Arbor area, but the temperatures will remain cold.
The flow of cold air over relatively warm water will cause lake-effect snow, possibly producing flurries and squalls across the Great Lakes and the midwest.
"We're not envisioning any warm weather coming soon," Kines said. "We're going to be stuck with a chilly weather pattern for the next several days.... I hope people enjoyed the past several days of mild weather."
Kines said the temperatures will stay in the mid- to low-30s Friday, with a low of 27 degrees. The wind will continue to gust, making Friday night temperatures feel as if its 11 degrees outside.
The clouds should break tomorrow, producing a partly sunny sky and a 38 degree high. Sunday's temperature will be slightly warmer and breezy with a 40 degree high.
For the past few days, fog advisories have been in place throughout the county and surrounding communities, but Kines said he doesn't foresee that happening in the near future with the mild weather gone.
AccuWeather.com notes that while everyone may not be a fan of the chilly weather, the pattern will stir out the atmospheric conditions that have helped to produce the dense fog during recent mornings.
While problem spots aren't expected due to the weather, Kines said drivers should be mindful of slick spots.
"We probably won't see any, but I guess it's not out of the question that if it's cold enough this evening, we may see some slippery spots," Kines said.
Late stragglers participating in Black Friday or shopping during the weekend should dress appropriately for the weather.
"The temps we had earlier in the week in the 50s and 60s are gone," Kines said. "Pull of the winter gear because you're going to need them for the next several days."
Cold air was pouring in across the midwest Friday morning, and is expected to sweep to the Atlantic coast Friday night, according to AccuWeather.com. Due to the cold front, temperatures across the area have been slashed by 25 to 35 degrees across the upper midwest.
Katrease Stafford covers Ypsilanti for AnnArbor.com.Reach her at katreasestafford@annarbor.com or 734-623-2548 and follow her on twitter.