Ann Arbor selected as a community in nationwide American Cancer Society study
Posted on Wed, Sep 12, 2012 : 4 p.m.
The American Cancer Society has selected Ann Arbor as a community for its latest large-scale, nationwide cancer prevention study.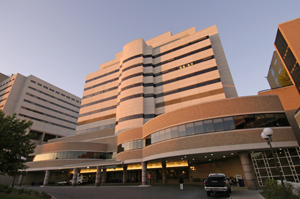 The study will examine lifestyle, environmental and genetic factors as they relate to cancer incidence.
Officials from the organization will announce the launch of the study in Ann Arbor during an event at 5:30 p.m. today in room 105 in the Morris Lawrence Building at Washtenaw Community College.
Speakers include Dr. Huira Kopera, a research fellow at the University of Michigan; Tiffany Hecklinski, cancer survivor and wife of University of Michigan football coach Jeff Hecklinski; and Carol Yarrington, oncology pharmacy coordinator for St. Joseph Mercy Hospital.
The American Cancer Society has been enrolling individuals in the study in 2008 on a community-by-community basis, and will cap enrollment at the end of 2013.
Across the country, the organization has found about half of its goal of 300,000 participants in the study - 18,000 of which are from Michigan and Indiana.
The American Cancer Society just wrapped up an enrollment period in April in the metro Detroit area, and is now turning its attention to the Ann Arbor market.
The study, called CPS3, is the fourth large-scale study conducted by the organization.
In Ann Arbor, a concentration of American Cancer Society volunteers and supporters make it a good location to find volunteers for the study, said Caryn Lorentz, CPS3 specialist for the organization.
"We've found most success with enrollments in places where we have supporters," Lorentz said.
The American Cancer Society has a number of partners in the Ann Arbor area - the University of Michigan Health System, several U-M departments and St. Joseph Mercy Ann Arbor.
"We knew we could very easily reach a lot of people that could help us spread the word," Lorentz said.
It will be the first study in which the American Cancer Society will require a blood sample for the study from its participants, which will come all 50 states and Puerto Rico. The blood sample will be used to track hormones, nutrients, vitamins, chemicals, metals, and genetic factors that may be related to a risk of developing cancer.
The American Cancer Society also is aiming for a 25 percent minority population of study participants.
Participants in the study must be between the ages of 30 and 65, and cannot have cancer or be a cancer survivor at the time of enrollment. They must also be willing to take a detailed survey once about every two to three years, for at least 20 years.
The first study of this magnitude conducted by the American Cancer Society in the 1950s linked smoking to incidence of lung cancer.
A third study that began in 1982 named CPS2 is ongoing - but most of the study participants are in their 80s and can't recall as much about their behavior for a survey as they used to, Lorentz said. The aging study population prompted the need for a new group, Lorentz said.
"It's a real great way for people to do something to affect the future," Lorentz said, explaining how many people that enroll in the study are friends of cancer survivors.
In Ann Arbor, participants can enroll from Oct. 27 to Nov. 2. To find out how to get involved, click here or call 888-604-5888.