Ann Arbor skate park supporters try to lower fund-raising barriers
Posted on Thu, Jun 23, 2011 : 5:59 a.m.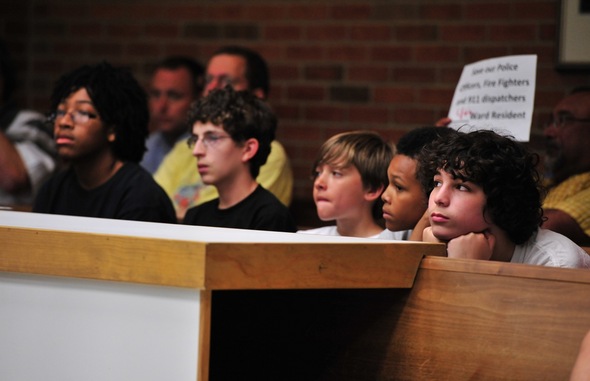 Ryan J. Stanton | AnnArbor.com

Thirteen-year-old Sam Saalberg is like a lot of teenagers in Ann Arbor: He loves skateboarding, but opportunities for practicing his craft locally are still in short supply after nearly a year of ramped-up fund-raising toward a permanent skate park.

"Like downtown, they made it illegal to skate on the streets there or anywhere else, so there's really no safe, fun place to skate," said Saalberg, one of several youth members of a street team supporting the construction of a skate park at Veterans Memorial Park.

His mother, Sandy Williams, says regular trips to skate parks in Farmington Hills, Brighton, Grand Rapids and Sterling Heights are the norm.

"Parents are getting really frustrated with having to drive their kids out of town all the time to visit other skate parks," she said. "It would be really nice to let them be able to stay in town and not have us waste the gas and figure out rides there and back, because they're not nearby."

Area skateboarding enthusiasts have been working for a few years now on raising money to develop a skate park on a 30,000-square-foot section of Veterans Memorial Park. Supporters appeared before the Ann Arbor City Council this week to provide an update on their efforts.

Scott Rosencrans, project liaison for the Friends of the Ann Arbor Skatepark, said it's a common misconception that skate parks are somehow unsafe compared to other sports, and he believes that's hindered the group's ability to raise funds.

"Safety is probably the No. 1 concern we hear from people as we go through the community and talk about the amenity," he said. "It's no surprise — we don't have a skate park here, so people are not as familiar with the sport, and it is kind of edgy, so people are concerned."

The Friends of the Ann Arbor Skatepark officially became a nonprofit corporation on Sept. 14, 2010. That's when fundraising shifted into high gear, but the group has struggled to raise the $1 million it needs for the project.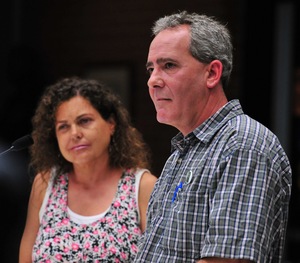 Ryan J. Stanton | AnnArbor.com
Washtenaw County's Parks and Recreation Commission has
pledged up to $400,000
in matching funds if the group can raise other funds. So far, it has raised about $75,000, said
Diana Kern
, treasurer and development chair.
"We continue to work on individual gifts and pledges," she said. "If everyone in Washtenaw County that had a child, grandson, granddaughter, or niece or nephew that liked skateboarding would donate $30 to our cause, we estimate we could raise another $60,000."
The project recently received a $5,000 boost from the Tony Hawk Foundation, in addition to $1,500 from Bank of Ann Arbor's Sweet 15 Local Charity Drive. The Ann Arbor Skatepark Street Team also held a bake sale recently at Arbor Brewing Co. that raised about $900.
So far, the city hasn't committed any funds directly to the project, but it did agree earlier this year to help the skate park group apply for government grants. The city now is seeking $300,000 in grant funding from the Michigan Department of Natural Resources and Environment and expects to hear back on its application by November.
Rosencrans said the group is moving aggressively toward a goal of making sure it has $100,000 in the bank before it releases a request for proposals on the project. Ideally, he said, the group would like to have all the funding it needs lined up by Jan. 1.
"Now is crunch time and now is when we need support from the private community, because the government entities are doing what they can, but it's a $1 million budget we project and there's no guarantee we'll get grants," Rosencrans said.
An agreement between the city and the skate park group from December 2008 states that construction must commence by Jan. 1, 2014, and the skate park group is responsible for raising all of the funds for the design, construction, operation and maintenance.
According to ConcreteDisciples.com, there are more than 80 skate parks in Michigan, but not one in Ann Arbor. The Ann Arbor skate park would be a free public amenity.
Members of the City Council signed their names to a letter last year in which they said they were "committed to working to identify further opportunities for the city to leverage capital or in-kind resources to further the realization of a skate park facility."
The Ann Arbor Commission on Disabilities Issues unanimously approved a resolution last week in support of the construction of a skate park in Ann Arbor that would be "a safe and reasonably barrier-free recreational amenity that would be accessible for all."
Members of the commission visited the Riley Skate Park in Farmington Hills, a 29,000-square-foot concrete park that opened in 2009 and is estimated to attract more than 200 skaters each day. They were able to view the sport firsthand and speak with skaters.
During a presentation before the City Council this week, Rosencrans, former chairman of the city's Park Advisory Commission, argued skateboarding is one of the least dangerous sports around. He pointed to a 1998 study by the Consumer Product Safety Commission that showed skateboarding ranked below all major sports for rates of injury, including basketball, football, hockey, baseball, soccer, fishing and golf — based on numbers of hospital visits.
For every 100,000 participants, the study showed 20.2 injuries from skateboarding, 62 from soccer, 115.7 from baseball and 223.5 from basketball.
Rosencrans said the highest rates of injury occur in sports that involve contact and collisions with other participants. In skateboarding, that's an anomaly, not an intention.
The Canadian Amateur Skateboarding Association issued a study in 2008 that showed only 5 percent of skateboarding injuries actually occur within skate parks, Rosencrans noted. He also pointed to a report by the Pediatric Orthopedic Society of North America that concluded in 2004 that injuries to skateboarders occur primarily when they practice close to traffic or use homemade ramps — a concern mitigated by construction of a "world-class skate park."
"What they mean by world-class skate park is a concrete, poured-in-place, well-designed-by-a-professional amenity like we are proposing," Rosencrans said.
Khalil Benson, a 15-year-old skater from Ann Arbor and another member of the Ann Arbor Skatepark Street Team, said an Ann Arbor skate park can't come soon enough.
"Skating outside in your driveway, it can be pretty boring," he said. "You know, you just want to be with, like, other skaters in a skate park where it's a lot more fun."
In the absence of a skate park in Ann Arbor, many area teens currently turn to skateboarding on rails and other fixtures downtown, which is illegal and an annoyance to pedestrians and businesses. City ordinance prohibits skateboarding in the following areas:
Main Street from Huron Street to William Street
Liberty Street from Main Street to State Street
State Street from Washington Street to William Street
South University Avenue from Forest Avenue to East University Avenue
Liberty Plaza
In any parking structure
Additionally, under city ordinance, it is unlawful for a person to skateboard in the street, except if the person is crossing in a designated crosswalk.