Posted on
Tue, Jan 8, 2013 : 5:58 a.m.
Ann Arbor Skatepark construction to start in spring with design now approved
By Ryan J. Stanton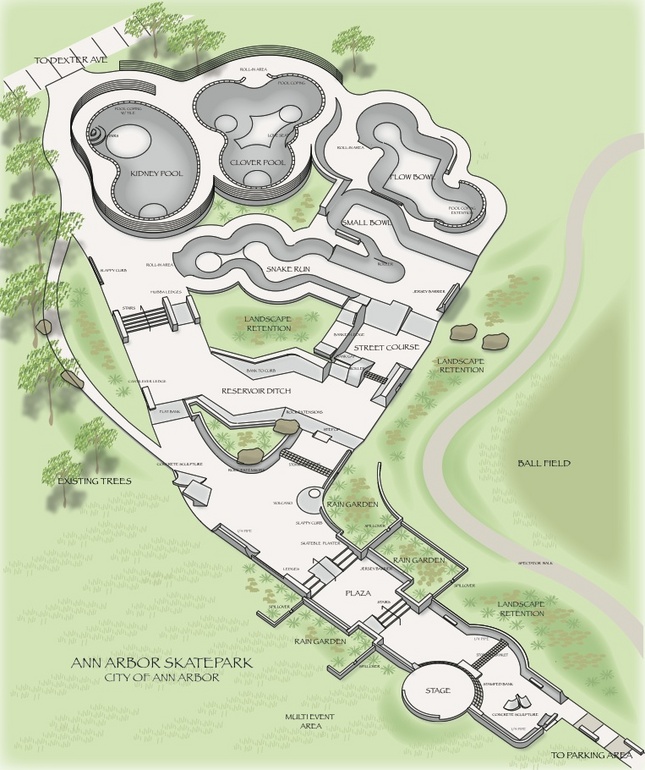 City of Ann Arbor
This story has been updated with comments from Trevor Staples and Colin Smith correcting a previously stated estimate that annual skatepark maintenance costs would be $10,000. They say it will be closer to $5,000 after talking with other communities with similar skateparks.
The Ann Arbor City Council approved the design for the city's newest recreational amenity Monday night: a new state-of-the-art skatepark at Veterans Memorial Park.
Construction on the 30,000-square-foot concrete park is now planned to start in the spring with completion by this fall, and council members said that's welcome news.
The vote was 10-0 with Mike Anglin, D-5th Ward, absent.
"This has been a long time coming," said Stephen Kunselman, D-3rd Ward. "This has been quite a community effort. It has been one effort that I think we can say truly involved kids.
"They came to the meetings, they came and expressed their desires," he said, "and for that I think we should be very grateful that our youth have stepped up."
The city and the county have been working closely with the nonprofit Friends of the Ann Arbor Skatepark and California-based skatepark designer Wally Hollyday on the design.
The drawing included in the council packet shows the proposed skatepark will include a wide range of elements, including a snake run, kidney pool, clover pool, flow bowl, small bowl, street course, reservoir ditch, volcano, slappy curbs, quarter pipes and concrete sculptures. There also are landscaped stormwater retention areas and rain gardens integrated throughout.
"It's very nice to see this come forward. I'm very happy," said Council Member Marcia Higgins, D-4th Ward.
Higgins asked the city's staff if there's adequate parking to accommodate a large skateboarding tournament, while at the same time having a baseball or softball tournament. Community Services Administrator Sumedh Bahl said he couldn't answer that question off hand.
The Friends of the Ann Arbor Skatepark has raised more than $100,000 from private donors, plus a $300,000 grant from the state's Natural Resources Trust Fund and $400,000 from the Washtenaw County Parks and Recreation Commission to pay for the skatepark.
Under an agreement with the city, the nonprofit group also is responsible for an endowment fund that will contribute toward maintenance costs and future capital repairs.
Colin Smith, the city's parks manager, and Trevor Staples, president of Friends of the Ann Arbor Skatepark, both said other communities with similar skateparks have reported having averaged about $5,000 in annual maintenance costs. They expect the endowment should be near $100,000 at the time of opening and fund raising will continue with events expected to help replenish that amount.
While the skatepark will become city property, city officials say it will be managed by the city in partnership with the Friends of the Ann Arbor Skatepark, and there are opportunities for volunteer assistance. In the coming months, city staff and the skatepark group plan to develop an operations and maintenance agreement that will detail roles and responsibilities.
It's the intent of both parties that the skatepark will not have assigned staffing or monitoring and visitors will use the facility at their own risk. City officials say that's not uncommon for municipal skateparks across the country, nor for other recreational amenities offered by the parks system, including a dirt bike course at Bandemer Park that is unsupervised.
There will not be a charge to use the skatepark.
The city has liability insurance that covers all city property and that will include the skatepark. City officials say the additional cost of insuring the skatepark, if any, will not be material.
Council Member Chuck Warpehoski, D-5th Ward, suggested he's going to welcome seeing skateboarders take to Veterans Memorial Park.
"I live very near this park. It's a space that I don't see well-used often," he said. "It's pretty much empty most of the time."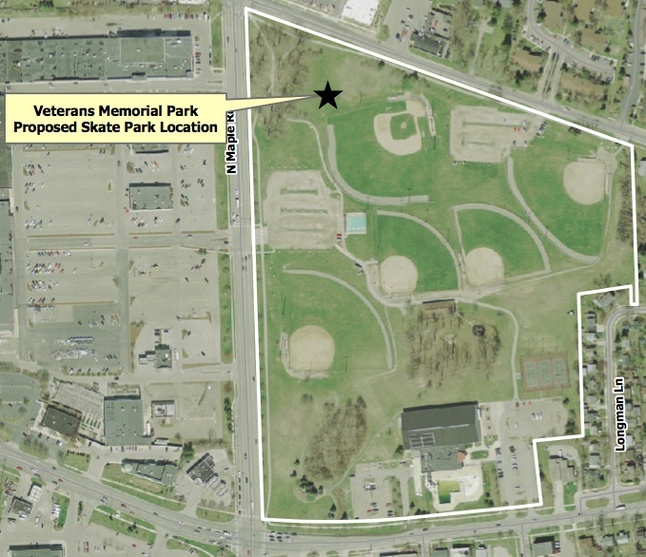 City of Ann Arbor
Ryan J. Stanton covers government and politics for AnnArbor.com. Reach him at ryanstanton@annarbor.com or 734-623-2529. You also can follow him on Twitter or subscribe to AnnArbor.com's email newsletters.