Posted on
Sat, May 22, 2010 : 4:06 p.m.
Ann Arbor Skatepark unveils (almost) final design
By James Dickson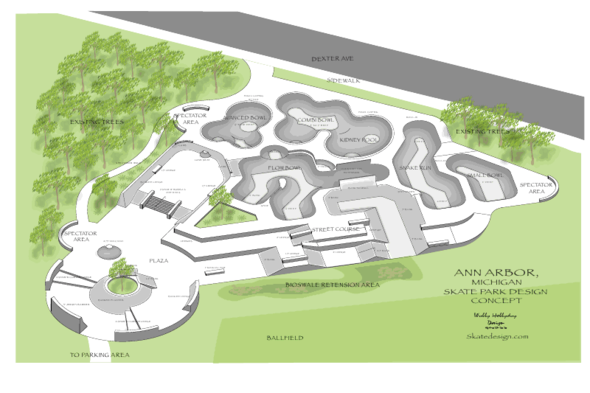 Courtesy, the Ann Arbor Skatepark Action Committee
The Ann Arbor Skatepark has long been a dream of skateboarding enthusiasts in the area. That dream took another step toward reality Saturday night when the skate park's final concept was unveiled at the Ann Arbor Art Center.
But don't call it a final design. There are too many other stakeholders that need to give their go-ahead before the design is finalized, said Trevor Staples, head of the Ann Arbor Skatepark Action Committee.
Staples said that beyond the input of skate park committee members, the opinions of both city and Washtenaw County parks and recreation departments, Ann Arbor City Council, and the Ann Arbor Area Community Foundation will factor into the final design.
The final concept is the work of Wally Hollyday, a veteran stakepark designer from Oakland, Calif., who devised the concept after two feedback sessions with local skating enthusiasts. The Ann Arbor Skatepark, as it is tentatively called, will reside in a 30,000-square-foot section of Veterans Park.
The consensus among skaters at the unveiling is that the skate park offers "something for everyone."
Alex Aho, 21, said that he's looking forward to a place to skate in town without the threat of a ticket. Aho said he received his first ticket recently while boarding downtown on his way to work.
Nowadays, when Aho wants to skate for real, he and a few friends will pile into a car and head for Riley Skate Park in Farmington Hills. Aho was impressed with the design of the skate park and said that it would blow Riley Park "out of the water."
"There's really something here for everyone," said Dale Decker, 19. "There's plenty of space for beginners and enough to keep advanced skaters challenged.
"It'll be nice to have a place to just go skate, and not have to worry about the cops."
All told, the skate park will cost between $800,000 and $1 million to build. The skate park committee scored a major coup when the county's Parks and Recreation Commission dedicated up to $400,000 in matching funds to the project.
Including those matching funds, the committee has raised about $80,000 toward the total.
Jim Reische, who handles development for the park, said that the committee is in talks with donors right now for major donations. Last week, the skate park committee pulled in about $10,000 with a skate deck auction at the Vault of Midnight comic book shop, but big donors are needed to raise big sums.
Another member of the committee, Gregg Iddings, said that no one would object if a six-figure donor offered a large sum of money in return for naming rights. Committee members are united in the belief that fundraising has become an easier task now there's something tangible to show prospective donors — whether the design is final or not.
Said Iddings: "Pardon the pun, having something concrete makes all the difference when you're raising money."
James David Dickson can be reached at JamesDickson@AnnArbor.com.