Posted on
Fri, Apr 22, 2011 : 5:55 a.m.
Don't cut bus service, Ann Arbor Skyline parents and students say
By Tom Perkins
Karen Peterson picks her daughter up and drops her off at Skyline High School every day, so the loss of bus service wouldn't affect her personally.
But Peterson said she generally opposes cuts to education, and doesn't think the Ann Arbor school district should eliminate busing for high school students.
"Just because I don't need it doesn't mean somebody else doesn't," she said. On Wednesday, the district unveiled a proposed budget that includes eliminating transportation for high school students and cutting after-school shuttles at the district's middle schools.
As school let out at Skyline on Thursday, parents picking up their kids from school, students boarding buses and student driving home from school almost unanimously expressed opposition to the idea.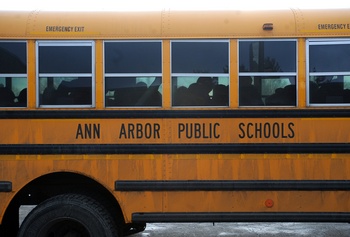 Melanie Maxwell
Linda Haines
, who also drops off and picks up her child every day, said the loss of bus service "is going to be a problem'' for many parents.
"I have a lot of friends who work or have situations where they can't do what I'm doing," she said. "How are their kids supposed to get to school?"
The district is attempting to close a budget deficit of approximately $15.6 million, and introduced a number of proposals — including eliminating 70 teaching positions — to cut costs. Interim Superintendent Robert Allen said eliminating transportation would save the district about $1.482 million.
According to Michigan law, school districts are not required to transport regular-education children if the school board decides against providing the service. However, the school district is obligated to provide for the transportation of a special education student if a committee has determined the transportation is necessary.
Skyline junior Ben Kaldjian said he takes the bus every day, and would likely have to figure out a car-pool arrangement if transportation were cut. He said he didn't think eliminating busing was a good idea.
"It's a lot more efficient to take the bus and it saves on gas," he said.
His friend, junior foreign exchange student Rafael Oriol, can't get a license and said he isn't sure what he would do if taking the bus weren't an option.
"For me, the bus is really important," he said.
Several students said they didn't know how they would get to school, but the responsibility would ultimately fall on their parents.
"My mom would have to drive me, but I don't think she would be too happy about it," sophomore Carmen Flescher, 16, said.
According to district estimates, about 4,700 students at the high school level are eligible to take the bus, but only about one-third use transportation. On Wednesday, Allen said there are other options for high school students to get to school, such as using the Ann Arbor Transportation Authority buses, car-pooling or driving themselves.
Sophomore Sanna Fraleigh, 16, was giving her brother Max Fraleigh, 15, and her friend, Tanner Gerhart a ride home on Thursday.
Sanna Fraleigh said she drives to school except on days when she runs out of gas money and has to take the bus, which is about once a week. She said she would have to beg her mom for a ride on days when she couldn't drive.
"The buses are important — they're essential," said Max Fraleigh, who added that he rides the bus about three times a week. He said he would be doing a lot more skateboarding if transportation is cut.
Gerhart said he takes the bus several times a week and opposed cutting transportation.
"That's a really dumb idea," he said. "I know a lot of kids who take the bus every day."
Several parents waiting for their kids in front of Skyline, including Rob Knisley of Saline, said they live beyond the area served by buses, so the change wouldn't have any effect on them.
Amber Osborne is a nanny who picks up a child from school most days. She also said she wouldn't be impacted, but didn't think cutting transportation was a good idea.
"It wouldn't be good for a lot of kids who can't get rides," she said.