Posted on
Mon, Feb 21, 2011 : 5:51 a.m.
Winter storm dumps 8-9 inches of snow across southeast Michigan; schools closed today
By Amalie Nash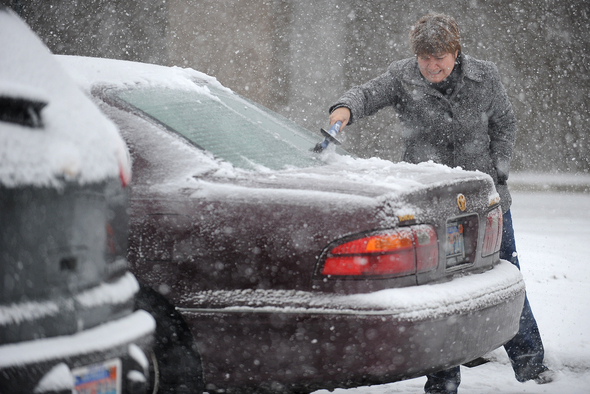 Melanie Maxwell | AnnArbor.com
The winter storm wreaking havoc on area roadways this morning dumped 8 to 9 inches of snow and a layer of freezing rain across southeast Michigan.
Washtenaw County wasn't hit too hard with freezing rain — just a lot of snow, meteorologists said. No local school districts are open today, and Eastern Michigan University called off classes for today.
The bulk of the snow fell before midnight, and the storm has now moved through, meteorologists said. A winter storm warning was set to expire at 7 a.m. today.
By midnight, 8 inches of snow had fallen in Ypsilanti, according to weather observers. In Ann Arbor, 9.6 inches had fallen by 7:30 a.m., while Manchester only saw 4.6 inches of snow.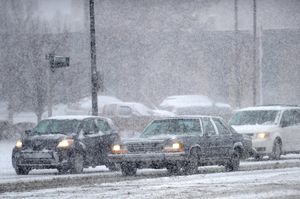 Melanie Maxwell | AnnArbor.com
Meteorologist Steven Freitag of the National Weather Service's White Lake Township office said the region generally saw 8 to 9 inches of snow. The weather service didn't get reports of ice accumulation in Washtenaw or Wayne counties — but ice was posing problems in Lenawee and Monroe counties, he said.
"The storm was pretty uniform across the entire area, with areas north of I-94 seeing heavy snow and those south of I-94 seeing freezing rain," Freitag said.
The Washtenaw County Road Commission had its full fleet of crews out all night working to clear the primary roads, officials said. The efforts are continuing this morning, but those who live on secondary roads and in subdivisions may not see a snow plow for a day or two, officials said.
Michigan State Police Trooper Joseph Brodur of the Ypsilanti post said police were extremely busy with crashes all afternoon and evening, up until traffic died down at 1-2 a.m. He said road crews got the highways pretty well cleared by this morning, so anyone commuting by expressway shouldn't run into problems — but motorists should be careful on the entrance and exit ramps.
"It was nonstop from the time it started snowing," he said. "We had 30 calls pending at some points. It was almost all runoff crashes were people went off the road and didn't have much damage, but needed a wrecker."
Brodur said he didn't see much freezing rain while he was out patrolling, and no serious crashes were reported.
In Ann Arbor, city officials said a four-truck crew is assigned to major roads and likely will remain there all day. Local snow plowing began at 6 a.m. on Tuesday's solid waste routes.
The current complement of equipment includes 13 dump trucks, two pick-up trucks and a loader assigned to local plowing. City officials say the plan is to focus on clearing roads, with cul-de-sacs and dead ends following on Tuesday.
Most Washtenaw County school districts were already off today due to mid-winter breaks or the President's Day holiday. The only two districts that were expected to have classes — Ypsilanti and Milan — declared a snow day for today.
Other closures include:
CHS Group
Clonlara
Community Day Care
Early College Alliance at EMU
Michigan Islamic Academy
Milan Children's Nursery
Perry Nursery of AnnArbor
South Arbor Academy
Summers-Knoll School
Washtenaw Community College has canceled classes that start before noon today
Freitag said the region could see a touch of light snow this afternoon, but no accumulation is expected. Residents can spend Tuesday and Wednesday digging out, with sunshine and low temperatures predicted, before another winter storm is possible Thursday into Friday, Freitag said.
Check for an updated forecast and more on AnnArbor.com's weather page.