Posted on
Mon, Oct 24, 2011 : 5:57 a.m.
Ann Arbor stockpiling thousands of tons of street salt in anticipation of winter's arrival
By Ryan J. Stanton
The city of Ann Arbor is preparing to purchase somewhere in the neighborhood of 6,325 tons of salt to control snow and ice accumulations on city streets this winter.
The Ann Arbor City Council voted unanimously last week to approve the bulk purchase, taking advantage of what city officials consider low prices.
Each year, the state of Michigan solicits a statewide bid for bulk ice control salt allowing those who participate to receive advantageous pricing, Craig Hupy, Ann Arbor's field operations manager, said in a memo to council members.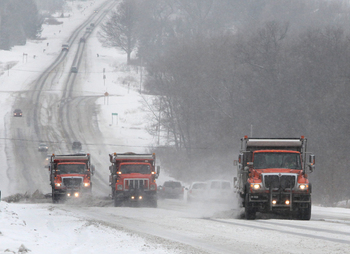 File photo
Morton Salt Inc.
was the low bidder for the early fill-up portion of the bid and
The Detroit Salt Co.
was the low bidder for the seasonal backup. The city is expecting to pay $128,910 for 3,000 tons from Morton and $156,748 for 3,250 tons from The Detroit Salt Co.
That works out to $42.97 and $48.23 per ton, respectively.
Hupy said the city also has about 2,700 tons of salt remaining in storage from the prior year and will receive the early fill-up during the month of October.
Last year, the city's crews applied 7,011 tons of salt during the winter season. The city used 4,882 tons during the 2008-09 season, 8,500 tons during the 2007-08 season, 4,700 tons during the 2006-07 season, and 7,076 tons during the 2005-06 season.
Hupy said the approved contract allows the city to purchase up to 130 percent of the seasonal backup contracted quantity or only 70 percent of the contracted quantity.
If the city requires additional quantities beyond the 130 percent, it would be subject to market rates, which were as high as $140 per ton in January 2009, Hupy said. Current market rate pricing for ice control salt is about $94 per ton, he said.
"This rate is based on supply and demand, and most road salt used in Michigan is imported from other areas such as Ontario, Cleveland or Chile," Hupy wrote to council members.
Working within its policy for snow and ice control, Hupy said the city has a successful history of salt usage within contract limits and has not purchased salt at market rate in recent history.
In fact, the city actually has loaned salt to other local agencies in two of the past six years. In those cases, Hupy said, the agencies returned salt quantities loaned on a ton-for-ton basis.
Ryan J. Stanton covers government and politics for AnnArbor.com. Reach him at ryanstanton@annarbor.com or 734-623-2529. You also can follow him on Twitter or subscribe to AnnArbor.com's e-mail newsletters.