Posted on
Tue, Nov 8, 2011 : 8:50 p.m.
Ann Arbor voters favor street and sidewalk millage proposals
By Ryan J. Stanton
The city of Ann Arbor asked voters on Tuesday to approve a tax increase to pay for future sidewalk repairs, and residents responded with support.
With all precincts reporting, the sidewalk millage passed 8,010 to 5,314 (60.1 percent).
Ann Arbor voters favored renewal of the city's 2-mill street millage for another five years. With all precincts reporting, the street millage passed 10,345 to 3,038 (77.3 percent)
According to city officials, the 0.125-mill sidewalk millage translates to $13.37 a year in new taxes for the average homeowner. The continuation of the 2-mill street millage amounts to about $214 a year in taxes for the average homeowner.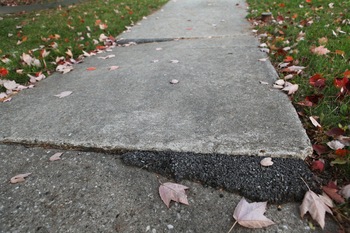 Jeff Sainlar | AnnArbor.com
City officials were confident heading into the election the street millage — which brings in about $9.1 million a year and is essential to paying for streets and bridges in Ann Arbor — would be renewed. But they were less certain about the sidewalk millage.
Ann Arbor's city code currently requires property owners to maintain the sidewalks adjacent to their properties. With the $560,000-plus a year the sidewalk millage will raise, city officials plan to shift that responsibility away from individual property owners to the city.
But opponents saw it as a double tax.
In recent years, a large number of residents have been forced by the city to fix their sidewalks — 47,000 slabs throughout the city from 2005 to 2011, to be exact — and some have argued a sidewalk millage doesn't seem fair to those who've already shelled out big bucks.
But city officials believe the $13 a year the average resident will pay — about one-tenth the cost of a single slab — is a good insurance policy against potentially larger costs.
City officials maintain this election was the perfect time to put the sidewalk millage question before voters, following completion of a five-year sidewalk inspection program.
In 2005, the city began an aggressive program of inspection and enforcement in order to bring all sidewalks up to a uniform level of quality and safety.
Over the course of five years, one-fifth of the city's sidewalks were inspected each year, and homeowners with faulty sidewalks were ordered to pay to fix them.
That program is now complete and the city's inspectors have combed through every neighborhood in the city. City officials stress that all faulty sidewalks either have been repaired or — in the case of those that aren't yet fixed — the city will complete the needed repairs by the end of 2011 and assess the costs to the property owners who failed to comply.
City officials say passage of the millage marks a shift away from an admittedly unpopular program that's placed a heavy burden on individuals.
They contend sidewalks are a public good used by all, and so spreading out the maintenance costs across all property owners is a more fair and reasonable approach.
Ryan J. Stanton covers government and politics for AnnArbor.com. Reach him at ryanstanton@annarbor.com or 734-623-2529. You also can follow him on Twitter or subscribe to AnnArbor.com's e-mail newsletters.