Posted on
Mon, Jun 25, 2012 : 5:59 a.m.
Missing Ann Arbor street signs: Sophomoric humor, common names and college keepsakes
By Pete Cunningham
Just north of downtown Ann Arbor sits a tiny one-way street connecting Carey Street and North State Street.
Once on the road, there's no way of actually knowing because there are no street signs along it. The name of the street makes it pretty obvious why.
It's the three-block stretch of High Street.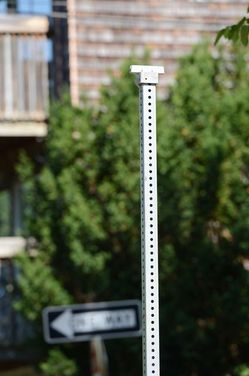 Melanie Maxwell | AnnArbor.com
For the entirety of the two years
Katherine Hollins
has lived on High Street, the street sign at the Carey Street intersection has been missing. She said the Elizabeth Street intersection sign went missing about six months ago. She assumes it was stolen, along with the other missing signs on the street.
"I don't know where it went or what happened to it, or if the city is planning to replace it, but it's a short street so I guess it doesn't matter that much," Hollins said.
According to city records, signs on 27 of the more than 1,000 streets in Ann Arbor have been replaced two or more times in the past five years, including High Street. Though the city doesn't track why street signs need to be replaced, with street names like Easy, High, Morehead and Hiscock on the list, it's probably safe to assume many are stolen by young people looking for a cheap laugh.
"I don't know if I think a couple kids stealing street signs is exactly the most dangerous thing in Ann Arbor…it's not that big of a deal to me," said Clare Croft, who lives at the corner of Gott and Hiscock streets, both of which are on the city's replacement list.
The signs at that unfortunately named intersection stand roughly 30 feet in the air - about three times as high as the signs in the surrounding area - to ward off theft.
Croft said she believes foot traffic minimizes theft as well.
"I feel like this is a very busy intersection, actually, so you'd have to have a pretty big desire to get those signs with all the people walking around here," Croft said.
Street signs on Morehead Street also stick out as mounted particularly high compared to those surrounding.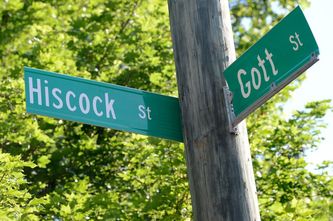 Melanie Maxwell | AnnArbor.com
City spokeswoman Lisa Wondrash said some of the street signs that have been replaced repeatedly by the field operations staff have been mounted high to deter theft. Sometimes, though, she said signs are mounted higher to avoid obstruction or simply because a tall pole was at the city's disposal rather than a short one.
A resident on Morehead Street knows which category his block falls under.
"Our street sign makes the list of everyone's scavanger hunt," the resident said via email.
Not every missing sign is related to sophomoric humor. Others on the list such as John and Elizabeth streets are common names that may have a higher amount of people seeking a keepsake.
According to the U.S. Social Security Administration, John was among the top 20 most popular given male names in the years that today's undergraduate students would have been born, and Elizabeth was the ninth most popular given female name every year from 1990-94.
Undergraduate students are, of course, prime suspects the missing sign culprits with streets heavily populated by student housing and known for general debauchery on the list such as Greenwood and Oakland avenues and nearby Arch and Vaughn streets.
Mike Roarty, a 2008 University of Michigan graduate and former East University Avenue resident, said he and his friends found stealing a street sign was easier said - or rather, drunkenly considered - than done.
"On a whim we tried (to steal a sign on East University). We had a ladder and everything, but we got beat by technology…it was screwed on there pretty good," said Roarty. "We tried for about 15 minutes, then realized there was more beer left in the keg."
Roarty said he and his roommates wanted the sign as memento from their college days and that buying one at a store or online just wouldn't have been the same.
Roarty now lives in Chicago and said he hasn't attempted to steal a sign since his college days.
"I'm not sure how much money is in that career field," he said with a laugh.
Contact Pete Cunningham at petercunningham@annarbor.com or by phone at 734-623-2561. Follow him on Twitter @petcunningham.