Posted on
Tue, Sep 14, 2010 : 3 p.m.
Ann Arbor students take in President Barack Obama's back-to-school speech
By Kyle Feldscher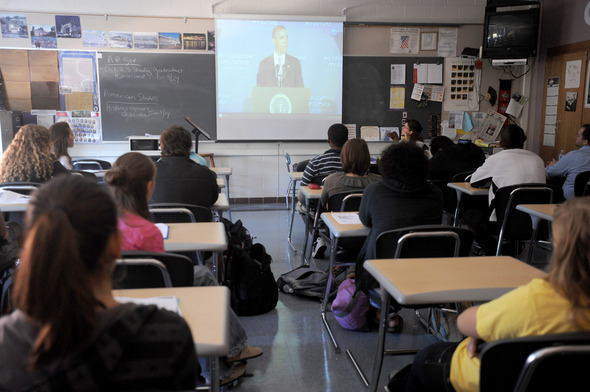 Angela J. Cesere | AnnArbor.com
Ann Arbor Pioneer High student Damian McGlothlin wasn't too impressed by President Barack Obama's back-to-school speech today.
"I thought it was a little trite, to be honest," he said. "We've heard a lot of it before, there was nothing new or different. … I think it was fine to give the speech, but I don't really think he spoke out."
Students in Tracey Van Dusen's Advanced Placement Government class at Pioneer High and a neighboring law class watched Obama's speech. Many students in the class said they thought the majority of the 30-minute speech was simply rhetoric.
The Associated Press
The speech was Obama's second annual back-to-school speech. It was considerably less controversial than last year's edition, which was hotly debated in the days before it was delivered.
Read the prepared speech here.
Students in Van Dusen's class engaged in a discussion beforehand about some of the challenges the country is facing when it comes to education.
"Things are changing," Van Dusen said. "More support is being given to reform efforts, and statistics are showing that America is falling behind and shows the status quo is not working."
Van Dusen is one of 15 Teaching Ambassador Fellows for the 2010-11 school year, working with federal policy makers and other teachers to encourage input into efforts to improve education.
Despite the lackluster reviews of the speech, about half in the class believe it was a good idea for Obama to give the speech. Students said they believe it shows the president cares about their education.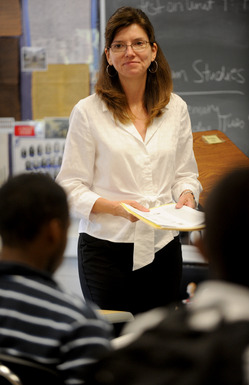 Angela J. Cesere | AnnArbor.com
Speaking from Masterman High School in Philadelphia, Obama touched on many of the themes students predicted beforehand: Stay in school, work hard and stay focused. He talked about his own experiences when he was in school and how he had to buckle down and get serious during his high school years.
"If hard work could make the difference for me, it can make the difference for you," he said.
Working hard in school isn't only beneficial to individual students, but also would benefit the entire country, Obama said. It was a message that rang true with Van Dusen's class after students spent a few minutes prior to the speech discussing the United States' dropping standing in world education.
Van Dusen told her class that, despite spending the most money in the world on public education, the United States had dropped to 12th in college graduations rates in the world. She said not much has changed since the 1920s in education — from how the school year is laid out to teachers' salaries.
Students argued teachers unions are one of the things keeping education reform from happening. Van Dusen said the situation in Washington D.C. is unique, with a president and education secretary who are both Democrats and working with teachers unions to agree to reform.
Kyle Feldscher covers K-12 education for AnnArbor.com. He can be reached at kylefeldscher@annarbor.com.