Posted on
Sun, Mar 31, 2013 : 5:59 a.m.
New roundabout and crosswalks among options for improving Ann Arbor's North Main corridor
By Ryan J. Stanton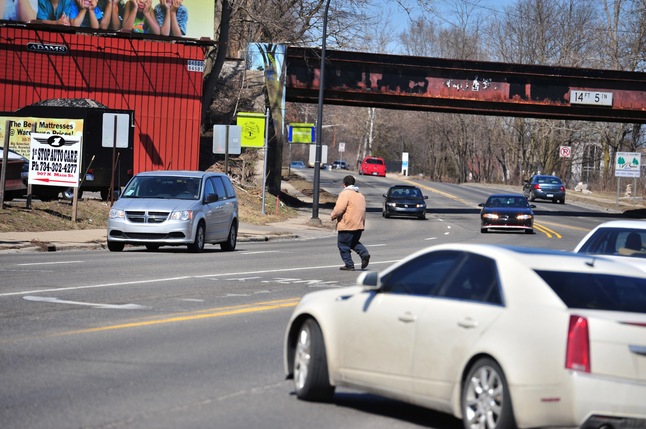 Ryan J. Stanton | AnnArbor.com
North Main Street
is a major gateway to the city of
Ann Arbor
, but it's anything but a grand entrance, and city leaders are the first to admit that.
The corridor is riddled with blight, lacks basic amenities for pedestrians and bicyclists, and fast-moving traffic can make getting from one side of the road to the other a formidable task.
"It's got to be one of the top hazardous areas of Ann Arbor," said George Creswell, an employee at Main Street Motors at the corner of North Main and Depot Street.
Creswell spoke with AnnArbor.com on Friday after making his way across Main Street without the aid of a crosswalk by doing what many people have to do — wait for a gap in traffic, and go for it.
City of Ann Arbor
"It just makes it difficult for the drivers as well as the pedestrians," Creswell said, adding he witnesses a lot of close calls along North Main.
The city's citizen-led North Main-Huron River Corridor Vision Task Force has been meeting for months and is starting to form a conceptual plan for solving those sorts of problems, while at the same time improving access to nearby recreational amenities along the Huron River.
Some of the ideas emerging: new crosswalks and traffic signals, a roundabout for traffic coming off the highway onto North Main, a park-and-ride lot off M-14 to take more cars off the road, bicycle lanes, new sidewalks on both sides of the road, improved lighting and signage, a pedestrian bridge over North Main, and a pedestrian tunnel under the railroad tracks north of Depot Street.
North of Summit Street, there isn't a single crosswalk along the entire stretch of North Main for roughly three quarters of a mile before it turns into M-14, creating a divide between popular nature areas to the west and riverside recreation amenities to the east.
Another barrier to those amenities is the railroad that runs along the south and west side of the river, with only one legal crossing at Lake Shore Drive — which also is at risk of closing.
Task force members believe the corridor should reflect Ann Arbor's civic pride in everything from landscaping to road design, complete with wayfinding signs and nonmotorized paths.
Rather than just an automobile-oriented thoroughfare cars race through to get in and out of town, there's a desire to make North Main a destination and give people a reason to slow down.
"This is not a complete street by any means. This is a highway entrance ramp," said Doug Allen, a property manager for Peter Allen and Associates, which owns a number of properties along North Main, including the Riverfront Building at 1250 N. Main St.
Allen spoke with AnnArbor.com outside the Riverfront Building on Friday. He said he's doing his part to beautify his own properties, including the recent installation of an "art fence" painted different colors with an image of a snake on one side. He also made a galvanized steel sign that lights up at night.
"We've got five properties on North Main, and so we're just trying to do our little bit with our properties, and we totally would enjoy more help from the city in making this a safe, inviting entryway to Ann Arbor," he said. "I'm trying to do it with art, class, nice buildings and nice architecture lit at night."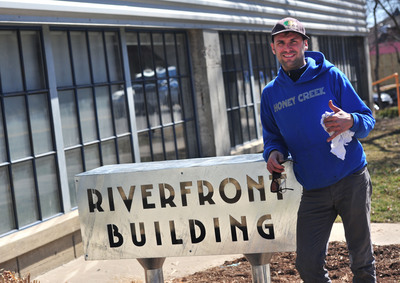 Ryan J. Stanton | AnnArbor.com
Allen attended the most recent meeting of the task force where draft reports from four subcommittees were shared. He said he likes a lot of what he hears so far.
There has been mention of a potential tax-increment financing zone to fund some of the improvements along the corridor that the task force is talking about.
One idea aimed at calming traffic on North Main is a new roundabout where M-14 and Huron River Drive become Main Street at the far north end of the corridor.
"We think that might be a good idea," said City Council Member Sabra Briere, D-1st Ward, the lone council member on the citizen task force.
Another idea being discussed is a park-and-ride lot at M-14 and Barton Drive, where there's a highway on- and off-ramp near Bandemer Park. The idea is that buses could pick up commuters and head down Barton Drive toward Pontiac Trail and into town, taking traffic off North Main.
"The goal here is to make bike lanes safe, to provide a better environment for bus service, and to encourage pedestrians to use the sidewalk, which they aren't right now," Briere said.
Another idea mentioned at the last task force meeting is a user-activated HAWK signal where Lake Shore Drive meets North Main.
That would allow pedestrians and bicyclists to safely cross North Main, including people going between Bluffs Park to the west and Bandemer Park and the Border-to-Border Trail to the east.
"I love it," agreed David Santacroce, the task force's chairman.
Briere's subcommittee believes the city should create well-defined pedestrian and bike paths through the Bluffs, leading to the proposed crosswalk at North Main at Lake Shore Drive. She said there might even be opportunities to work with the terrain to create vistas of the river.
"You've got some great views through the trees," she said. "It would be possible to emphasize those views as part of how you anticipate the river."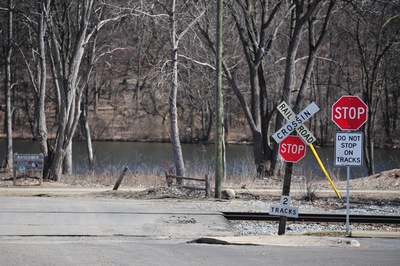 Ryan J. Stanton | AnnArbor.com
Briere said it remains a goal to make sure the at-grade railroad crossing into Bandemer Park at Lake Shore Drive remains open for the foreseeable future.
Task force members fear the Michigan Department of Transportation, which acquired the tracks from Norfolk Southern, could close the crossing when it implements high-speed rail.
"Everything we talked about doing is to funnel bikes and pedestrians somehow to the Lake Shore entrance to the park because we think Lake Shore should remain open," Briere said, suggesting the crossing could be improved with fencing and gates as the city looks for another solution.
"One long-term solution is to build a pedestrian bridge over Main Street or over Depot and the railroad tracks," she said. "We also think it's possible to build a tunnel adjacent to Depot Street."
Task force member Tamara Burns said her subcommittee, which focused on riverside amenities, likes the idea of trying to keep the Lake Shore Drive crossing open as long as possible, but she said it seems clear it's definitely going to close at some point.
"And I don't have any problem with trying again, but I know they've been trying and trying to put gates there and have not been successful," she said.
Burns said the city has wanted to install signals and gates for years, but that would make it an official public crossing.
"If it is an official public crossing, it has to be closed/removed (or another crossing has to be closed) because there can be no net increase in crossings," her subcommittee report states. "This has still not been solved despite the city's efforts, and it remains a situation no one wants to touch."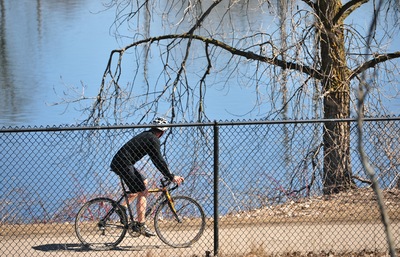 Ryan J. Stanton | AnnArbor.com
As a short-term solution, the subcommittee recommends allowing access to the rowing center area in Bandemer Park via a new road parallel to the railroad tracks through the park.
It also recommends additional bike racks at the rowing center, rental storage lockers for kayaks/canoes, and annual weed mitigation in the river channel just north of the rowing docks.
Additionally, the report highlights a number of opportunities for improving the Border-to-Border Trail, including adding more trash and recycling receptacles, dog waste stations, a new drinking water station, improved lighting, and benches at scenic overlooks.
Widening the Border-to-Border Trail along the river so there's less conflict between pedestrians and bicycles also is being discussed.
Another task force subcommittee looked at opportunities for easing traffic congestion at Main and Depot at certain times of day.
"We spent a little more time and effort on the getting-out-of-town part, because that seemed to be the bigger issue," said Darren McKinnon, a member of that subcommittee.
Traffic on southbound Main Street backs up in the morning for those trying to turn left at Depot. And in the afternoon, westbound Depot backs up for those trying to turn right at Main.
Task force members said the congestion is frustrating for motorists and creates dangerous situations for pedestrians wishing to pass through the intersection during peak times.
McKinnon's subcommittee recommends installing pedestrian crosswalks across Depot at Fourth Avenue and across Main at Depot to improve safety.
Other short-term solutions include adding a right-turn green arrow for westbound Depot traffic and converting the existing "left turn only" lane on Depot to allow right turns as well, essentially creating a double right-turn lane. Because North Main is a state highway route, the city would have to work with MDOT to implement those kinds of changes.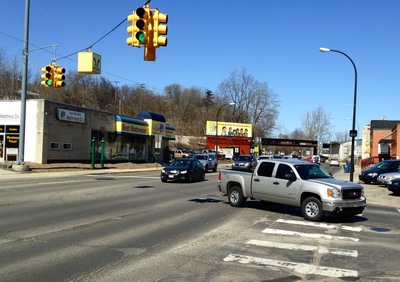 Ryan J. Stanton | AnnArbor.com
Longer-term solutions include extending the left-turn lane on Main from Depot back to M-14. That would require widening the road and reconstructing the railroad overpass over Main.
McKinnon said the city should consider taking advantage of the vast amount of city-owned property to the west of Main Street to widen the right-of-way.
Task force members have talked about increasing the right-of-way about 15 feet to the west to put in a shared-use bicycle and pedestrian path on the west side of the road. That would require asking some private property owners for use of a portion of their land.
McKinnon's subcommittee also looked at flooding issues, noting the block bordered by Depot/Main/Summit/Fourth is completely within the floodway.
One idea is to have the city purchase those properties over time as they're put up for sale by their owners, and demolish the buildings to remove them from the floodway. Once clear, the extra space could be used to reconstruct the Depot/Main intersection.
Briere's subcommittee recommends the Planning Commission complete a North Main Corridor Improvement Study prior to 2015, so the findings could be used by MDOT in planning improvements along North Main in conjunction with road construction that's scheduled for 2018. The plan could include added lighting and streetscape improvements for pedestrian and nonmotorized use.
Task force members also are concerned about the condition of some properties along North Main, noting they don't exactly provide the most attractive entrance to the city.
"We talked about what could be done to improve options in that area, whether it's looking at the zoning for new construction, whether it's encouraging the property owners to actually maintain a 360-degree awareness of their property and clean it up from the riverside as well as the Main Street side," Briere said. "We think all of those are really valuable options in there."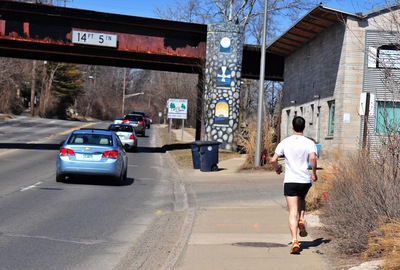 Ryan J. Stanton | AnnArbor.com
Installing a sidewalk on the west side of Main and improving the sidewalk on the east side of Main are considered major opportunities. Briere said there also should be a bike and pedestrian path that goes under the M-14 bridge, making it possible to move from Main to Bandemer to Barton, or from Main following Huron River Drive to the Kuebler Langford Nature Area to Barton.
Briere said it could be possible for a path that moves from Main Street through the former Allied Building Products property at 1380 N. Main St. and underneath the bridge.
"There should be a bike and pedestrian path adjacent to the M-14 on-ramp and under the M-14 bridge," she said. "And we think well-defined bike and pedestrian paths in Bluffs could lead from Sunset to Huronview for access to either Beechwood or Bird Hills also."
Looking at the bigger picture, task force members see opportunities for new development and economic vitality along the corridor as it undergoes a transformation. And they believe the views of the riverside parks, which they hope to see improved, will be a major selling point.
The task force is working to finalize a set of recommendations that will go to the City Council by July 31. There will be chances to provide input at community meetings on May 22 and June 12 from 6:30 p.m. to 8:30 p.m. at the Ann Arbor Community Center.
Ryan J. Stanton covers government and politics for AnnArbor.com. Reach him at ryanstanton@annarbor.com or 734-623-2529. You also can follow him on Twitter or subscribe to AnnArbor.com's email newsletters.