Posted on
Tue, Mar 20, 2012 : 7:31 p.m.
Ann Arbor teen heads to New York City to continue 'Bully' rating plea
By Julie Baker
Greenhills School junior Katy Butler is in New York City this week to continue her efforts to get the Motion Picture Association of America to lower its "R" rating for the documentary "Bully."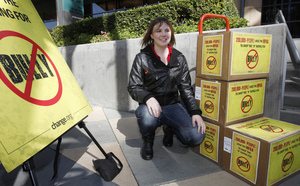 AP photo
She'll be there raising awareness of her campaign to lower the film's rating to PG-13. She has garnered more than 425,000 signatures on her
online petition
. Butler also will attend a special film screening of "Bully" hosted by actress Meryl Streep.
Butler also will be recognized by producer Harvey Weinstein at a Media Awards ceremony hosted by the Gay and Lesbian Alliance Against Defamation, according to a news release.
Her efforts have drawn considerable attention from public figures, including Ellen DeGeneres, Randy Jackson, Michael Jordan, NFL quarterback Drew Brees, as well as U.S. Rep. Nancy Pelosi and U.S. Sen. Kirsten Gillibrand.
The MPAA has cited strong language as the reason for the rating. Butler says the higher rating will prevent students from seeing the film when they're the ones who will benefit most from it.
Read previous AnnArbor.com coverage of Katy Butler's efforts.