Posted on
Mon, Nov 30, 2009 : 6:04 a.m.
Ann Arbor third-grade students getting chance to learn Spanish
By David Jesse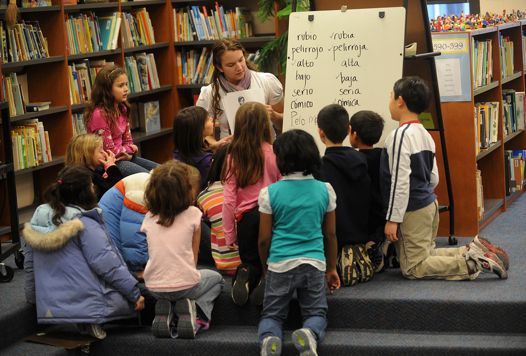 As the third-graders started giggling, Shelagh Fehrenbach quickly stepped up to make sure she didn't lose control of her class.
"Estudiantes. Atencion. Atencion."
Her command worked. The students quickly calmed down and continued with their lesson - learning how to describe each other in Spanish.
Fehrenbach, a University of Michigan senior, was one of two U-M students teaching the class almost entirely in Spanish.
The students were catching on quickly - calling out words when Fehrenbach would point to a piece of clothing she was wearing.
The class isn't just confined to Ann Arbor's King Elementary School. It's one example of the new push by the district, in cooperation with the university, to offer all its third-graders Spanish instruction. The program will grow with the students, with plans to add higher elementary grades next year.
University of Michigan students who are training to be foreign language instructors are teaching the classes, supervised by Ann Arbor elementary school media specialists.
This is the first year the program has been offered at Ann Arbor's elementary schools. Some other elementary schools in the area also offer an elementary world language program.
The third-graders go twice a week for 30 minutes at a time.
District administrators say they're excited about offering it.
"This is all third graders in all 21 elementary schools," said Lee Ann Dickinson Kelley, the district's elementary administrator. "This is not about gifted and talented. This is about giving all third graders a skill that will allow them access other opportunities in their future.
"We are a multi-lingual world, and our children have to have this skill."
It's also been wonderful for the 37 U-M students working on the project, said Maria Coolican, a U-M faculty member working with the program.
U-M professors observe their students every other week in the classroom and work with them on structuring lesson plans and then deconstructing what happened in the classroom.
The lesson plans are worked in with the student's social studies curriculum, district administrators said.
The goal is to make sure students are getting the opportunity to embed their Spanish learning into their curriculum.
School officials say they're also seeing another benefit.
Some native Spanish speakers who might be having struggles in other topics or are sometime marginalized in their classes are emerging as key leaders in their classes during these sessions.
"It's so amazing to see," Coolican said. "It really levels the playing field."
David Jesse covers K-12 education for AnnArbor.com. He can be reached at davidjesse@annarbor.com or at 734-623-2534.