Posted on
Sun, Jan 31, 2010 : 6:05 a.m.
Ann Arbor to Detroit rail could be running by year-end, officials say
By Tom Perkins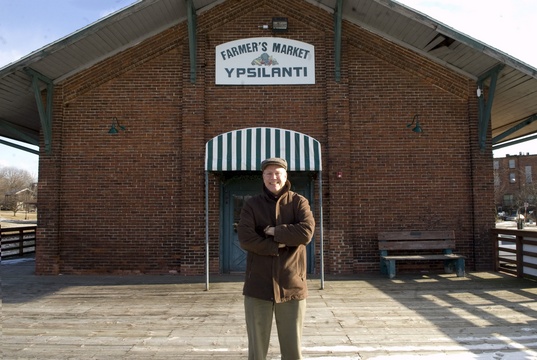 Tom Perkins | For AnnArbor.com
An effort to link Ann Arbor and Detroit with a commuter train is inching toward reality, with officials optimistic some trains could be running by year-end.
The Southeast Michigan Council of Governments and Michigan Department of Transportation are spearheading the Ann Arbor-to-Detroit Regional Rail Project. And project managers say it has gained momentum because of broad regional support.
"There hasn't been one elected official or resident who has called or written an e-mail saying this is a bad idea," said Carmine Palombo, director of transportation programs for SEMCOG. "We're still enjoying remarkable support from legislators at every level, and I think that's one of the key things on this project."
SEMCOG and MDOT have been meeting with government officials for months, and Palombo plans to give an update on the project to the Ann Arbor City Council on Monday.
For the first three years, the rail line will be a "demonstration project," intended to obtain more detailed information about ridership projections and costs. If the data shows high enough interest in the rail at the end of that period, the project will become a higher priority to receive Federal Transit Authority "New Starts" grant money.
"Everyone has to follow a pretty strict regime of analysis in order to receive the money," Palombo said. "We're competing against places that already have commuter rail, and right now, we just don't have that data they have."
One of the most significant steps thus far is memorandums of understanding being developed between SEMCOG and freight train companies to allow passenger trains to travel their tracks between Ann Arbor and Detroit. Amtrak will likely operate the trains and act as the rail authority until one can be established, and contracts are signed to purchase cars and locomotives.
Because the tracks are already in place, the initial investment is much lower than it has been for similar projects in other regions, officials say.
"The project has taken a while for one reason - because it's Michigan, and a lot of people think there's a built-in bias against public transportation," Ann Arbor Mayor John Hieftje said. "But we have an advantage in this region because we don't have to build a new rail system."
In the coming months, SEMCOG and MDOT will design and lay sidings, which allow trains to wait on the sidetrack while trains with the right-of-way can pass. The agencies also plan to start investigating the environmental impact of the sidings and drawing up a marketing plan.
"At the planning level, this much closer to implementation than we have ever been," Palombo said.
So far, no price structure has been developed. Initially, the train will make four roundtrip runs on weekdays and three trips on weekend days.
Stops are scheduled for Ann Arbor, Ypsilanti, Metro Airport, Dearborn and Detroit's New Center area. The respective transportation authorities are planning to adjust bus routes around the train schedules to quickly transport passengers closer to their destinations.
It's expected to take about 50 minutes to travel from Ann Arbor to Detroit via the commuter train. An estimate on the time between Ypsilanti and Ann Arbor isn't yet available.
All officials involved acknowledge four trips a day isn't enough, but say it's a starting point.
"You build these things in increments," Palombo said. "You don't necessarily get the whole system up at once because it's an issue of money and timing. We can wait for maybe six or eight trains to start with, but everybody wants this train to start running ASAP."
Ypsilanti Mayor Paul Schreiber concurred.
"When you get your first car, do you get a Cadillac or a BMW?" he said. "Especially since the funding is coming externally. I'd like to see more trains, but I think it's enough for us to demonstrate that it's going to work - it's a marketing study."
Finding funds
Palombo said funding for the project, at an estimated cost of $60 million to $80 million in capital costs and another $8 million to $10 million per year in operating costs beyond what's collected from riders, will come from a patchwork of sources.
Thus far, those include several small federal grants, Federal Highway Administration money, state funding through MDOT, and funding obtained by Michigan's congressional delegation. Palumbo did not have a figure of how much has been raised to date.
"We've gotten a couple dollars here and there and are passing the hat here and there and everywhere to get money for this thing," Palombo said. "Because we don't have a dedicated source of funding, we have to do it this way."
Addressing popular criticism that money earmarked for road repairs is diverted to rail, Palombo said federal highway money is strictly for planning and isn't going toward the capital investment or operation. He added SEMCOG is hoping to see federal railroad money, some foundation money and local governments "chip in whatever they can."
Mayors and officials in Ann Arbor and Ypsilanti said they have not been asked to invest money yet and are no position to do so.
Schreiber said he was under the impression most of the money was coming from external sources.
"We're talking about reducing the budget, so I think we're going to have to see how it goes," he said. "Obviously we need to be part of the process, but I don't know what that would entail financially."
Eli Cooper, the transportation program manager for the City of Ann Arbor, said the city has not been asked to contribute funds.
"We look forward to SEMCOG identifying operating revenue sources," he said. "We are hoping the resources needed will be available using non-city funds, because we are trying to do this on somebody else's dime."
The City of Ann Arbor is also seeking grant and stimulus dollars for projects related to a new intermodal transit station.
Washtenaw County Commissioner Jeff Irwin, who has long been involved on the project stakeholders' committee, voiced concern that SEMCOG has yet to lay out a plan for funding operation costs.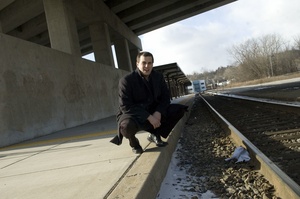 Tom Perkins | For AnnArbor.com
"All of us on the stakeholders committee have been excited about this and are expecting it to move forward, but there is a little trepidation on my part," he said. "None of this visioning or studying is any good unless we know how we are going to pay for it and have a credible plan on how to make this a long-term project instead of a short term demonstration."
The Ann Arbor stop
For the first 18 months, the current Amtrak Station on Depot Street will serve as the Ann Arbor stop until the city can complete construction of a large "intermodal hub" next to the University of Michigan Medical Center campus on Fuller Road.
But Cooper said the initial concern is access. The depot currently has 70 long-term parking spots, which the city aims to roughly triple. An agreement with DTE to allow motorists access to the lot north of the station is being sought.
Cooper said the Ann Arbor Transportation Authority will increase the frequency of routes and adjust its schedule so buses meet the trains as they arrive.
Ann Arbor officials expect the majority of riders will arrive at the station by bus or car from as far away as Jackson. A quick and smooth transition to the rail is critical to its success, Cooper said.
"The experience of our potential riders begins as they approach the station," he said. "If it's congested then the commuter has a choice - they can keep driving to where they were going, or they can try to get on the train. So the experience of getting to where they are going by rail from their car needs to be seamless."
Once the new Fuller Road intermodal hub is completed, all the commuter and Amtrak trains will arrive and depart at the new location. It will include several levels of parking, a bus station and will be close to a bike path that leads to Ypsilanti.
Officials expect to hear from the U.S. Department of Transportation soon on the status of their application for $40 million in grant money to complete the project.
Hieftje said it makes sense to have the station at the base of the city's most concentrated employer, with 17,000 employees daily and 2 million visitors annually.
Cooper said the university and city are working closely on the project, and he expects construction to begin within a year after receiving stimulus money. The project's target completion date is June 2012.
Hieftje anticipates the rail will alleviate some of the congestion and parking issues in Ann Arbor, which has an estimated 70,000 daily commuters.
He's also optimistic the rail will spur "transit-oriented development" that attracts commercial investment and boosts the appeal of neighborhoods near public transportation hubs.
"People will say 'Wow honey, we can buy a house near the train station and I can take the train to my job at the hospital. That way we don't need to buy two cars,'" he said.
Ypsilanti stop
The Friends of the Ypsilanti Freighthouse is using MDOT grant funds to renovate the small Freighthouse to the west of the tracks, which will serve as the train stop and could include a small coffee bar. SEMCOG is providing funding for a 300-foot platform with an awning and kiosk.
Although the plans for the station are relatively modest, Ypsilanti Planning Manager Richard Murphy sees development potential in the immediate surrounding area.
"Depot Town is there because the train once stopped in it," he said. "It's first generation transit oriented development all by itself, so hopefully new train service could help support second-generation transit oriented development."
When the trains begin running, Ypsilanti officials expect rail passengers will park in two lots - one to the south of Cross Street and west of the tracks and one between the tracks and River Street to the north of the Freighthouse.
The lots currently offer 150 spaces, of which the city will designate a portion for rail passengers. Should parking become an issue, city officials say they can make the necessary adjustments.
Murphy said the increase in foot traffic in the area could accelerate renovations of the Thompson Block, the old train station or largely abandoned factory on several acres of property at River and Forest streets.
"There are several of these under utilized former commercial or industrial spaces that are well within walking distance of the freighthouse," he said.
Growing optimism
Officials say they're confident residents will find the rail a convenient alternative.
"I think the public will be open to rail, and they want options other than using their cars," Palombo said. "They will use it if it's good public transit that's reasonably priced, reliable, safe and clean, we will be concentrating on providing just that."
Schreiber said convenience is key to the rail's success. He sees the ability to send e-mails and be productive during the commute as one of the selling points.
"I think the game changer is going to be commuters being able to use WiFi on the train - people are going to see it's going to be worth their time," he said.
Irwin envisions benefits beyond just providing an alternative to cars. He sees it as a key piece to southeast Michigan's economic infrastructure.
"Southeast Michigan is very far behind in transit, and it's a huge hindrance to our economic development and quality of life," he said.
Palombo is also hoping for partnerships with a light rail planned for the Woodward corridor between Detroit and Pontiac, a proposed high-speed train between Detroit and Chicago and possible line extensions to either Toledo or Jackson.
"We have the feeling this could jumpstart the whole system," he said.
Tom Perkins is a freelance writer for AnnArbor.com. Reach the news desk at news@annarbor.com or 734-623-2530.