Posted on
Wed, Feb 17, 2010 : 6 a.m.
Ann Arbor to find out today if East Stadium Bridges receive grants
By Ryan J. Stanton
Ann Arbor officials have their fingers crossed, hoping the city will be on the list when the federal government announces TIGER grant recipients today.
At stake is about $21 million the city has requested to put toward a $22 million project to reconstruct the East Stadium Boulevard bridge spans over South State Street and the nearby railroad tracks.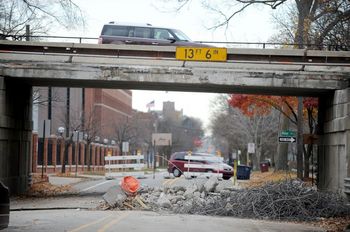 File photo
The city already lost out on state funding and, absent federal funding, may have to deplete its street millage funds for the next two years to complete the needed repairs to the crumbling bridges.
City Administrator Roger Fraser spoke of the significance of the TIGER grant at Tuesday's Ann Arbor City Council meeting.
"Tomorrow may be sort of a significant day in that we're either going to fall flat on our faces or we're going to stand up and run around the block a few times," Fraser said.
City officials, however, sound less than optimistic about Ann Arbor's chances. The federal TIGER program - standing for Transportation Investment Generating Economic Recovery - has reportedly received $56.5 billion in requests for $1.5 billion in available stimulus funding.
Many cities across the country slated to receive some of that money already have been tipped off by congressional sources. Detroit, for instance, already has been told it will receive $25 million for the Woodward Avenue Light Rail project. In Ann Arbor, the silence suggests the city may not be so lucky.
Homayoon Pirooz, head of the city's project management unit, said last August that, in a best-case scenario, the city will use about $2 million from its street millage and $20 million from state and federal grants. In a worst-case scenario, the city would pay the entire $22 million cost from its street millage.
Pirooz said at the time if the city doesn't receive state and federal assistance and depletes its millage fund, it would have to eliminate 29 planned street resurfacing and reconstruction projects between 2010 and 2012. That would result in further degradation of city streets and increase maintenance costs, he said.
Ann Arbor resident Arnold Goetzke told council members Tuesday night they should forget about replacing the Stadium Boulevard bridges and convert them to at-grade crossings, which he argued would save several million dollars.
Sue McCormick, the city's public services administrator, said the city looked extensively at that as an option, but found it won't work.
"We've exchanged a number of conversations with the railroad. They finally put it in writing to us that under no circumstances would they consider granting us an at-grade crossing," she said. "I'm not aware of whether or not we can exercise eminent domain against the railroad. I don't believe that legally that's a possibility."
While an at-grade crossing sounds advantageous from a construction cost standpoint, McCormick added, logistically it may not be the best option for traffic flow anyway.
"Traffic movement becomes an issue, significant backlogs during peak hours becomes an issue," she said. "And when you begin to take a look at the societal cost associated with that, including energy waste and things of that nature, it takes a lot of analysis to really get an apples-to-apples comparison over the construction of the bridges, which allows a much straighter thoroughfare without stops."
With or without the TIGER grant, Fraser said Tuesday night there is some good news for Ann Arbor on the transportation front.
University of Michigan officials are recommending to the Board of Regents on Thursday that the university move forward with its Central Campus Transit Center project, which will provide bus shelters and resurface North University Avenue between Fletcher and Church streets. It also will add bike lanes and reduce traffic from two lanes to one lane in each direction, while creating bus drop-off locations on each side of North University.
The estimated cost of the project is $4.5 million. The city normally would manage construction of a roadway resurfacing project and associated water main replacement work, and provide significant funding. But the city isn't in a position to contribute funding to the project right now, so the university plans to go ahead with the work regardless.
"The nice part of the story is that the staff of the university is recommending to the Board of Regents that they proceed with the transit center and that nearly $450,000 in costs that would otherwise be paid by the city would be paid by the university with no expectation of payback," Fraser said. "That's an interesting twist that I don't expect to see repeated often, but I would encourage them to do it more often. And I want to celebrate, frankly, their willingness to make that recommendation to the Board of Regents. We think that it's extraordinary in extraordinary times."
Ryan J. Stanton covers government for AnnArbor.com. Reach him at ryanstanton@annarbor.com or 734-623-2529.